Wife, mum, former fashion designer
author of historical romantic comedies
Gentleman of Her Dreams and A Change of Fortune
 ~~~~~~~~
What did you do on/for your 13th birthday?
If memory serves me correctly, I had the flu on my 13th birthday, which meant I spent it in bed, reading a good book, yet completely miserable.  I did hold a sleep-over with my fabulous girlfriends the following week, and I'm sure we did all those things adolescent girls do, such as board games, truth or dare, and ate far too much junk food
What 3 adjectives would your friends/family use to describe your personality?
Well, let me think.  I guess zany comes to mind, as does loyal, and strangely enough, somewhat shy.
Where did your penchant for writing historical romance begin?
I didn't start off writing historical romance.  I started off with a middle grade book about these really smelly creatures, written for my son when he was in the third grade.  That book went absolutely nowhere, but it did spark a love for writing.  After my dad died, I wrote a contemporary romantic suspense, but unfortunately, it was entirely too long – as in four hundred pages too long, and I was about to give up, when my girlfriend suggested I try my hand at one of those "Fabio" books.  Since historical romance was what I read all the time, it seemed like a good idea, and I've been writing them ever since.
The Most Peculiar Circumstance
Miss Arabella Beckett has one driving passion: to help the downtrodden women of America. Naturally, she supports the women's suffrage movement and eagerly attends rallies and lectures across the country. On her travels, she makes a simple offer of assistance to a young woman in need that goes sadly awry and lands both ladies in more trouble than they can manage. An independent sort, Arabella is loath to admit she needs help and certainly doesn't need help from an arrogant, narrow-minded knight in shining armor.
Mr. Theodore Wilder, private investigator extraordinaire, is on a mission. A mission that began as a favor to his good friend Hamilton Beckett, but swiftly evolved into a merry chase across the country. By the time he finally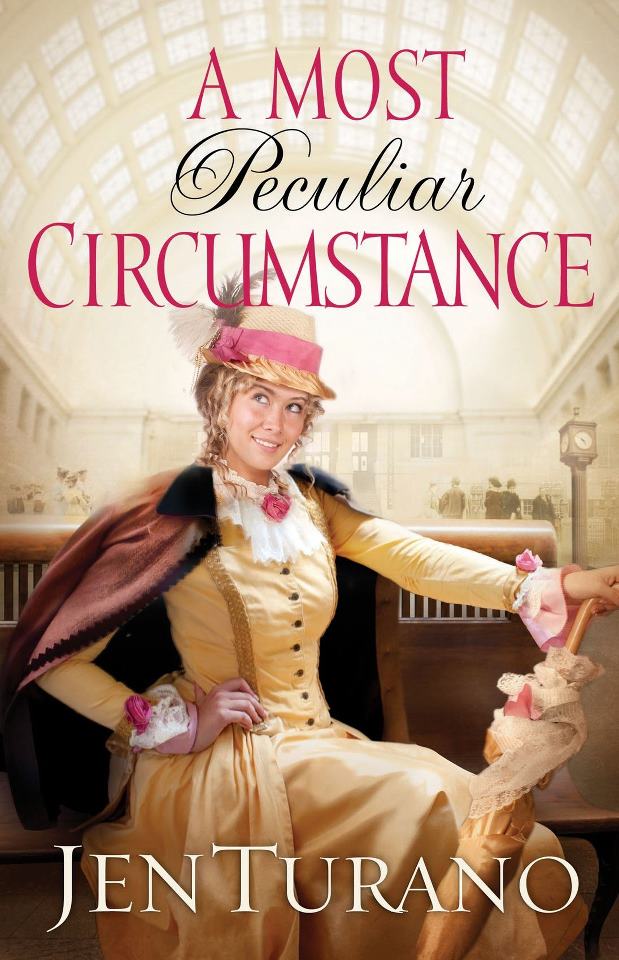 tracks down Hamilton's sister, Arabella, he is in a less than pleasant mood. When the lady turns out to have radical ideas and a fiercely independent streak, he soon finds himself at his wit's end.
When they return home to New York, circumstances force their paths to continue to cross, but the most peculiar feelings growing between them certainly can't be love. When the trouble Arabella had accidentally stirred up seems to have followed her to New York and threatens her very life, the unlikely couple must face the possibility that they might have landed in the most peculiar circumstance of all: love.
Describe in The Most Peculiar Circumstance in 5 adjectives
Quirky, or at least that's how I hope readers find it – instead of odd, or worse yet, peculiar.
Suspenseful, although I will admit it did have a bit of a thriller aspect to it when I first wrote it, until my editor very kindly pointed out I was supposed to be writing a light-hearted romance and I had to go back and tone it down just a touch.
Thought-provoking, even though that was not my intention at the beginning of the writing process, but Someone seemed to think otherwise, and I'm not one who likes to argue with God.
Slightly amusing, but I would be absolutely thrilled if some readers found it hilarious.
Romantic – because, well, it is a romance after all.
What creepy crawly or critter do you most fear?
I absolutely loathe snakes.  When I was a teen, my parents owned a lot of land, filled with a ton of trees, and I was cutting the grass underneath one of them with a push mower, when a huge snake – we're talking big as a python(okay, that's a bit of an exaggeration) fell out of the tree and landed on me.  Well, I let go of that mower, which just happened to be self-propelling, and ran screaming up the yard after I got the snake to let go of its python-like grip on me (again, that might be a stretch, but it did curl around my arm.)  My dad came hurtling out of the house, but to my dismay, he wasn't that concerned about me, but more over the fact the lawnmower had taken off down the hill and cut a lovely swath of destruction through his lima beans.  I've kept an eagle-eye out for the vile things ever since
If you could bring one character to life from your own books, who would it be, and why?
I wish I could bring them all to life, because after completing four books and a novella where the characters appear again and again, I've gotten rather attached to them, but…I'd bring back Miss Agatha Watson.  She's such a fabulous character – witty, charming when the occasion warrants it, intelligent, and she has a distinct knack for getting into trouble.
What's guaranteed to make you laugh?
Those videos people post online where their pets get into mischief.
Please share a favourite Bible versePlease share a favourite Bible verse (feel free to explain why it's a favourite if you wish)
My absolute favourite verse is Isaiah 30:21 – Whether you turn to the right or to the left, your ears will hear a voice behind you, saying "This is the way, walk in it.
This verse speaks directly to me because every time I've had a monumental decision to make, I always hear that voice.  When I've listened, marvellous things have come about, and when I haven't, I'm normally left with a huge wallop of disappointment.
Thanks Jen
Relz Reviewz Extras
Character Spotlight on Arabella & Theodore
Character spotlight on Hamilton & Eliza
Review of A Change of Fortune
Interview with Jen
Download Jen's Gentlemen of her Dreams (Ladies of Distinction novella) free at Amazon
Jen's Author Alert
Visit Jen's website and blog
Buy A Most Peculiar Circumstance at Amazon or Koorong