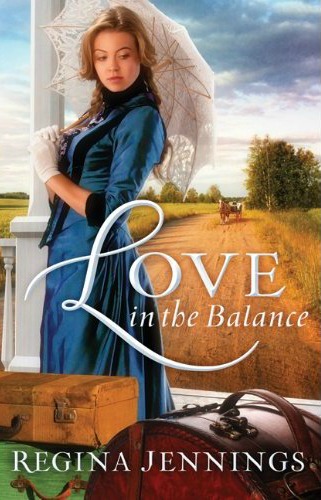 Meet a fashion plate and a cowboy in
Regina Jennings'
historical romance
Love in the Balance
Bethany House
The Story
Molly Lovelace dreams of being a society leader in 1878 Lockhart, Texas, but being smitten with handsome wrangler Bailey Garner doesn't seem the quickest route. If only he would settle down so he could support a family.
Bailey imagines doing great things for God, but his biggest issue is Molly. As long as he thought they'd be married, he excused their stolen kisses, but when she keeps refusing, he vows to earn her love. In town, he tries his hand at several different trades, but everywhere he turns he runs into the mysterious stranger Edward Pierrepont. No surprise that Molly's always making calf eyes at the wealthy adventurer. 
One large fight and some crossed wires later, Molly is prepared to swear off Bailey forever, especially since Pierrepont seems to be hinting at marriage–only he's also about to leave Lockhart. As pressure from Molly's parents grows she is forced into a hasty decision. Had she weighed all her options and will she find love in the balance?
Enjoy meeting Molly & Bailey
Brief physical description
Molly Lovelace is a fashion trendsetter and skilled at finding the perfect colors to set her blonde hair, blue eyes and dark lashes to their best advantage. If only her love for sweets didn't stretch her corset-strings so.
Bailey Garner's lanky frame matches his "aw-shucks" personality and his boyish good looks have got him out of a lot of scrapes.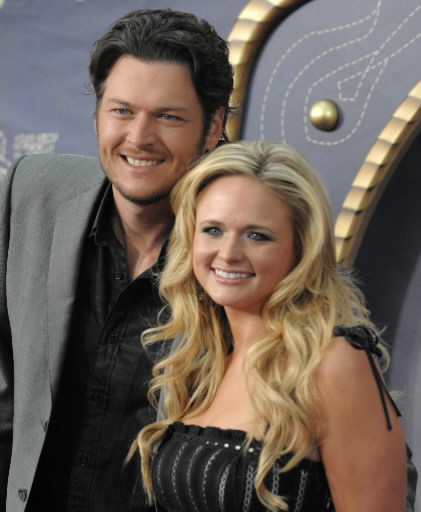 Resembles…
For Molly and Bailey's celebrity inspiration I went with a real life couple – country singers Miranda Lambert and Blake Shelton.
Strengths and weaknesses
Molly loves the finer things in life and she can be swayed by expensive gifts and flattery. On the other hand, she's a faithful friend and cares for her family even when they've treated her shabby.
Bailey has the best intentions, but sometimes he's waylaid by mistakes he should've avoided. He also worries about losing his good reputation, even though he wonders if he deserved it in the first place.
Quirk (if any) 
Molly is a list-making, goal-setting, box-checking lady—until it comes to her own room. Scattered jewelry, piled clothes and errant shoes are one reason she counts the days until she will have a maid to pick up after her.
Although a cowboy, Bailey sings, plays the guitar and is teaching himself the play the piano. He doesn't do much reading, because his eyes bother him sometimes and although he'll never admit it, he probably needs glasses.
Your inspiration for the characters 
Like Elle Woods from Legally Blonde, Molly is smart and determined, but because of her love of fashion, people underestimate her. Her father in particular can't acknowledge her intelligence and would rather give her gaudy baubles than answer her questions about his management of the family business.
Bailey reminds me of many young people I've met through working in the youth ministry over the years. More than anything he wants God to use his life in spectacular ways, but in his race to accomplish great things he's overlooked some fundamental discipline, the lack of which could bring about disaster.
Background to the story
Bailey's always had his eye on Molly, but Molly's parents were pushing her towards his wealthier cousin, Weston. Molly's time at the Garner's ranch opened her eyes and her heart to Bailey, although they both realize that even if Molly can adjust her financial expectations, getting her parents to approve of her choice will be nearly impossible.
Thanks Regina!
Relz Reviewz Extras
Review of Sixty Acres and a Bride
Character Spotlight on Rosa & Weston
Visit Regina's website and blog
Buy Love in the Balance at Amazon and Koorong