Wife of a cowboy, mum to four daughters, educator, & Grandma
Historical romantic comedy author ~
Swept Away, In Too Deep, Over the Edge & more…
~~~~~~~~
Rel:~ What did you do on/for your 13th birthday? 
Mary:~ My family always celebrated birthdays with just the family. I had seven brothers and sisters, plus mom and dad and my grandma lived two miles away. We had angel food cake and ice cream and usually Mom would let the birthday girl pick her favourite meal. That's about it.
What 3 adjectives would your friends/family use to describe your personality?
Wow, I shudder to think. I know I'm sarcastic, but I save a lot of that for my books. I love my kids so much they have to know it, so I'd say they'd describe me as the best, most wonderful mom who ever lived. (you're not going to show this to them, right?) My little brothers and sister, might think of me as bossy, but I always know exactly how things should be done so I tell them. That's not the same as bossy!!!
Where did your penchant for writing romance begin?
I wrote my first book when I was twelve. I have no idea where that got to. I began my first full length novel, written as an adult in, I'd say…counting…removing socks to use toes for more counting…1994 or maybe '95. The year my baby, my fourth daughter, went to Kindergarten  And I've been at it ever since!!!
Describe Swept Away in 5 adjectives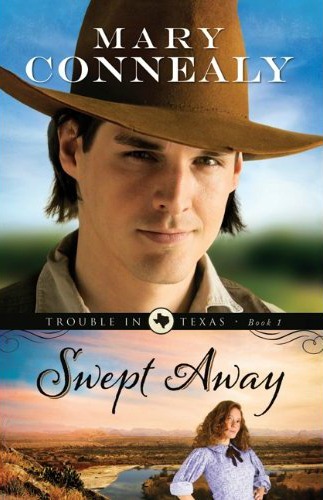 Romantic, funny, sweet, high-stakes, and action-packed (note the hyphen, those are one word, girl!)
What creepy crawly or critter do you most fear?
What a dreadful question. I have a total phobia about mice. It's irrational. I know they won't hurt me. And as soon as they go away and I can quit screaming, that knowledge returns immediately to my head.
If you could bring one character to life from your own books, who would it be and why?
Wow, tough question. I tend to love the book I'm working on right now because my head is so full of the characters. So I'm going to say Ruthy from Swept Away. I think maybe, if I was really nice to her, she'd help me get my disorganized life in order. Poor kid. That's not a very nice reason for wanting a character to come to life, for the free labor.
What's guaranteed to make you laugh?
These are really hard questions, Rel! It's like you're trying to make my think! And it's painful!!! My brain is pretty much in 1860 full time and all this thinking of the here and now is unnatural. SHAME ON YOU. My grandkids make me laugh, but only because they are the funnyiest, more brilliant, most beautiful children in the world. That's the honest truth, it has nothing to do with my bias, it's just the way things turned out.
Please share a favourite Bible verse
I've got so many that have touched me at different times but one I love and use a lot, whether outwardly or just the attitude, in my books is Psalm 27:1 The LORD is my light and my salvation; whom shall I fear? the LORD is the strength of my life; of whom shall I be afraid?
Thanks Mary! Sorry for the hard questions 😉

Relz Reviewz Extras
Character spotlight on Luke & Ruthie (Swept Away)
Character spotlight on Seth & Callie (Over the Edge)
Get to know Mary Connealy
Reviews of Over the Edge, Doctor in Petticoats and Out of Control
Visit Mary's website and blog
Buy Swept Away at Amazon or Koorong