So it has been a while since new cover art has hit Amazon's "shelves" but here is the latest batch from the fabulous Bethany House Publishers.
You will see that I'm still waiting on Lynn Austin's and I will post it as soon as they come available. So, we continue to have the usual historical fiction covers of pretty young women with the tilted and turned heads! What struck me as I looked at these was the emphasis on browns and beige. If we are going to have the girl in the dress covers, I think I'm missing seeing a really striking dress!
So, Mary's cover appeals much more than her previous covers – I like that the cover is more simple and without the heavy title font and background, yet still maintains the Connealy look Bethany have been focussed on. Beverly's is to be expected and reflects all things Amish, so nothing new there. I feel like Tracie's would have looked better without the white background to the title – it seems to overwhelm the cover and draws the eye away from the girl and her delicate dress.
Julie's is good ~ reflecting her style and story, I love the young boy on Jody's but wonder at another of her heroines in a shawl – LOL! Regina's is cute and immediately brought to mind Dee Gist's recent covers.
So, my favourite, which may surprise you or not, is Davis Bunn's – love the pop of colour and the scroll is terrific
Jump in and share your thoughts, dear friends!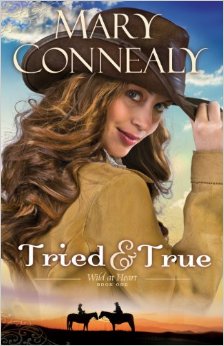 Tried and True by Mary Connealy
Kylie Wilde fought in the Civil War dressed as a boy and now she's homesteading as a man. But she makes one lousy man! When land agent Aaron Masterson comes to inspect her claim, he immediately realizes she's a woman. She begs him not to tell, but can he in good conscience defraud the U.S. government, even if she really did serve in the war?
Aaron is interested in the little spitfire from the moment her long hair falls from her cap, but when he tells her of his plan to stake his own claim, farther west and up in the mountains, she draws away. Kylie's focus is to "prove up" her homestead, sell it for a profit, move back east, and live the rest of her life in civilization.
But all Kylie's future plans are put in jeopardy when someone tries to burn her out. Who would attack her way out here? Aaron and Kylie suspect it's the local land baron–but Gage Coulter denies any involvement. He does suggest a way for Kylie to stay safe, though–marry him! More attacks scare Kylie near to death, and she can't face living on her own any longer. Should she tie her fortune to Gage or Aaron? Either choice will put an end to her dreams of a civilized life. And what if marrying doesn't stop the attacks after all?
September, 2014
Formerly Amish, Tilly Lantz Barrows and her younger sister Ruth Lantz find themselves plagued by the memories of their family's trauma when they return to Eden Valley for their parents' landmark wedding anniversary. Each woman carries a burden of past guilt, unknown to the other, along with unresolved relationships with their six married brothers…and aging parents. Headstrong Tilly urged Ruth to flee the People as well, welcoming her into the fancy English world. Neither had joined the Amish church. Tilly has since married and is the mother of identical twin girls. But Ruth remains single, still smarting from a failed courtship with her first beau. When she sees Will Kauffman again, old feelings resurface, leaving her to ponder anew how things might be different had she stayed in Lancaster County.
Meanwhile, Tilly is faced with a life-altering discover that calls everything she knows into question. As past meets present, Tilly and Ruth struggle to find redemption and embrace acceptance. Can they face the future in the light of a past they can't undo.
September, 2014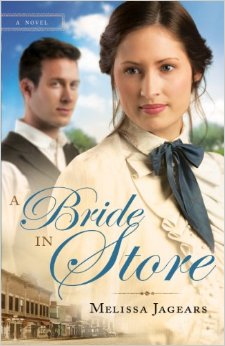 A Bride in Store by Melissa Jagears
Mail-order bride Eliza Cantrell is on her way to meet her intended groom and help him grow his general store business when her train is held up by robbers and she loses her dowry. She's further thwarted upon arriving in Salt Flatts only to find Axel, her groom, away on business.
Hoping a wife would push Axel to become a better business partner, William Stanton had encouraged him to seek a mail-order bride. With Axel gone, Will feels responsible for Eliza, so he finds her a place to stay and lets her help in the store.
Working together isn't what they'd expected, and when Axel is further delayed, neither can ignore the sparks that fly. But Eliza is meant for Axel and is set on a future with the store, while Will is biding time until he can afford medical school.
September, 2014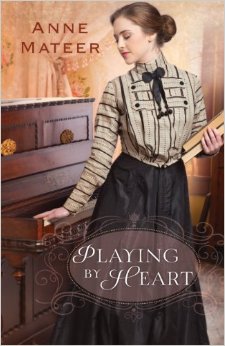 Playing by Heart by Anne Mateer
Lula Bowman has finally achieved her dream: a teaching position and a scholarship to continue her college education in mathematics. But when she receives a shocking telephone call from her sister, Jewel, everything she's worked for begins to crumble.
After the sudden death of Jewel's husband, Jewel needs Lula's help. With a heavy heart, Lula returns to her Oklahoma hometown to do right by her sister. But the only teaching job available in Dunn is combination music instructor/basketball coach. Neither subject belongs anywhere near the halls of academia, according to Lula!
Lula commits to covering the job for the rest of the school year, determined to do well and prove herself to the town. Reluctantly, she turns to the boys' coach, Chet, to learn the game of basketball. Chet is handsome and single, but Lula has no plans to fall for a local boy. She's returning to college as soon as she gets Jewel back on her feet.
However, the more time she spends in Dunn, the more Lula realizes God is working on her heart–and her future is beginning to look a lot different than she'd expected.
September, 2014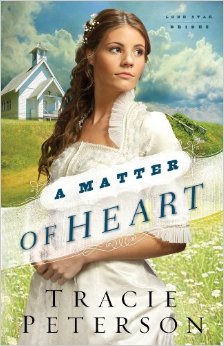 A Matter of Heart by Tracie Peterson
Texas born and raised Jessica Atherton is a wealthy young woman whose heart was broken when the man she intended to marry wedded another. But her world is upended when two men come into her life and both manage to stir her heart. Harrison Gable is a rich young lawyer who intends to travel the world and live a life of opulence. His ambitions match Jessica's dreams, but her heart has begun to change.
Austin Todd, former Secret Service agent, enjoys working now as a Texas Ranger cattle inspector. But learning of forged gold certificates and missing printing plates, he's drawn back into the world of intrigue and agrees to help solve the case. Austin is well-thought-of and admired in the community. Jessica is drawn to his kind nature and the unspoken pain she sees in his eyes.
Will Jessica choose financial security or follow her heart?
October, 2014
Keepers of the Covenant by Lynn Austin
In one life-changing moment, the lives of the Jewish exiles in Babylon are thrown into confusion and despair when a decree arrives from the king's palace in Susa. It calls for the annihilation of every Jewish man, woman, and child throughout the empire on the thirteenth day of Adar, in less than one year. Ezra, a quiet Jewish scholar and teacher, is suddenly called upon to lead the community as they seek God for a reason for this catastrophe. When a second decree arrives, authorizing them to fight back, Ezra is thrust into the role of military leader as they defend themselves against their enemies.
When the battles come to an end, Ezra's brother Jude is dead and Ezra is required by the Law he so diligently studies to marry Jude's widow, Devorah, and provide an heir. Fatherhood changes Ezra, and he asks God to make a way for him and the other exiles to leave Babylon for good and return to Jerusalem. His prayers are answered and the exiles move to Judea to revitalize worship at the temple–but the fight to keep God's Law is never easy. As more and more of his community are tempted, a new battle emerges…this one for the survival of God's covenant and the souls of His chosen faithful.
October, 2014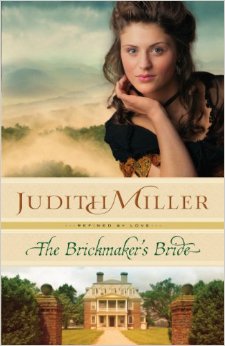 The Brickmaker's Bride by Judith Miller
Yearning for a fresh start, Ewan McKay travels with his aunt and uncle from northern Scotland to West Virginia, promising to trade his skills in the clay business for financial assistance from his uncle Hugh. Hugh purchases a brickmaking operation from a Civil War widow and her daughter, but it's Ewan who gets the business up and running again. Ewan seeks help from Laura, the former owner's daughter, and he feels a connection with her, but she's being courted by another man–a lawyer with far more social clout and money than Ewan. Besides, Ewan has resolved he'll focus on making the brickmaking operation enough of a success that he can become a partner in the business
and be able to afford to bring his sisters over from Scotland.
But when Hugh signs a bad business deal, all Ewan's hard work may come to naught. As his plans begin to crumble, Laura reveals something surprising. She and her mother may have a way to save the brickworks, and in turn Ewan may have another shot at winning Laura's heart.
October, 2014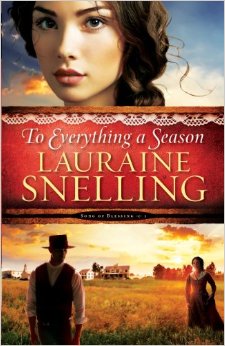 To Everything a Season by Lauraine Snelling
Trygve Knutson has been promoted from well drilling to heading a construction crew for the fast growing town of Blessing, North Dakota. Though devoted to the land and his family, he sometimes dreams of other horizons. But is he willing to leave Blessing permanently?
Miriam Francini hopes to become an accredited nurse in a large city hospital. She is simply tolerating her assignment at the hospital in rural Blessing because it will give her the experience she needs to accomplish her goal. She can't wait to finish her training and head to New York to begin a nursing career.
Then Miriam meets Trygve Knutson and all her plans are suddenly in a jumble. She quickly realizes she doesn't want to live without him, yet she's a smart, independent woman–she's even a suffragette. She can't let anything get in the way of her own plans, even if she's in love. Or can she?
October, 2014
Zook only wants to devote herself to God, but struggles with patience toward others. Her sister's challenge that she can't serve God if she isn't willing to serve His people finally opens her eyes and she soon finds herself helping a family overwhelmed by triplets. Much to her surprise, she has a knack with the babies, and her confidence in dealing with others, both young and old, grows.
One person she'll never be able to find peace with, though, is Ben Rupp. They've known each other forever, and Ben understands precisely how to antagonize her. What neither she nor Ben realize is that beneath all their bickering awaits an attraction neither will admit. When their friends decide to try and bring the couple together, will the pair be able to find true love? Or damage their relationship beyond repair?
October, 2014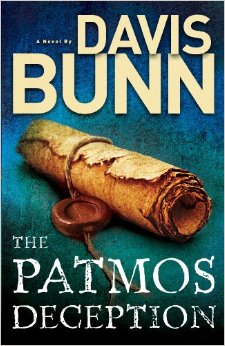 The Patmos Deception by Davis Bunn
Carey Mathers arrives in Athens to take a coveted position at the Classical Institute, only to discover the building is shuttered, the institute bankrupt. Journalist Nicholas Tyler believes he is headed for the big time when his paper sends him to Europe. But four months into his assignment, the office is closed. Now he must find freelance investigative projects–or go home.
Dimitri Roubinos, born into a seafaring family, knows the Aegean and its islands better than anyone alive. But his looks and charm are not enough to overcome the collapse in the tourist trade.
Economic chaos is threatening Greece's future–and its past. Three distinctive characters are drawn to the storied isle of Patmos, and as they uncover a plot to plunder ancient religious treasures, the stakes are raised to a breaking point. A revelation from beyond time will give new meaning to the sacrifices all three must make…and hold a special promise for each of them.
November, 2014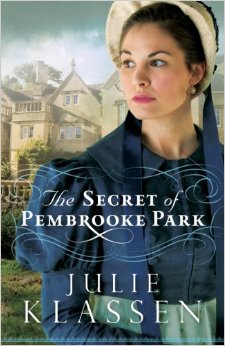 The Secret of Pembroke Park by Julie Klassen
Abigail Foster fears she will end up a spinster, especially as she has little dowry to improve her charms and the one man she thought might marry her–a longtime friend–has fallen for her younger, prettier sister.
When financial problems force her family to sell their London home, a strange solicitor arrives with an astounding offer: the use of a distant manor house abandoned for eighteen years. The Fosters journey to imposing Pembrooke Park and are startled to find it entombed as it was abruptly left: tea cups encrusted with dry tea, moth-eaten clothes in wardrobes, a doll's house left mid-play . . .
The handsome local curate welcomes them, but though he and his family seem to know something about the manor's past, the only information they offer Abigail is a warning: Beware trespassers who may be drawn by rumors that Pembrooke contains a secret room filled
with treasure.
Hoping to improve her family's financial situation, Abigail surreptitiously searches for the hidden room, but the arrival of anonymous letters addressed to her, with clues about the room and the past, bring discoveries even more startling. As secrets come to light, will Abigail find the treasure and love she seeks…or very real danger?
December, 2014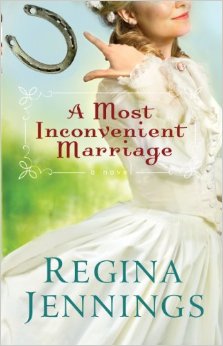 A Most Inconvenient Marriage by Regina Jennings
Having fled a difficult home life, Civil War nurse Abigail Stuart feels like her only friend in the world is sweet but gravely wounded patient Jeremiah Calhoun. Fearing he won't survive, the Confederate soldier's last wish is that Abigail look after his sickly sister at home. Marry him, return to his horse farm,
and it'll be hers.
Left with few choices, Abigail takes him up on his offer and moves to Missouri after his death, but just as the family learns to accept her, the real Jeremiah Calhoun appears–puzzled to find a confounding woman posing as his wife. Jeremiah is determined to have his life back to how it was before the war, but his own wounds limit what he can do on his own. Still not fully convinced Abigail isn't duping him, he's left with no choice but to let the woman stay and help–not admitting to himself she may provide the healing his entire family needs.
December, 2014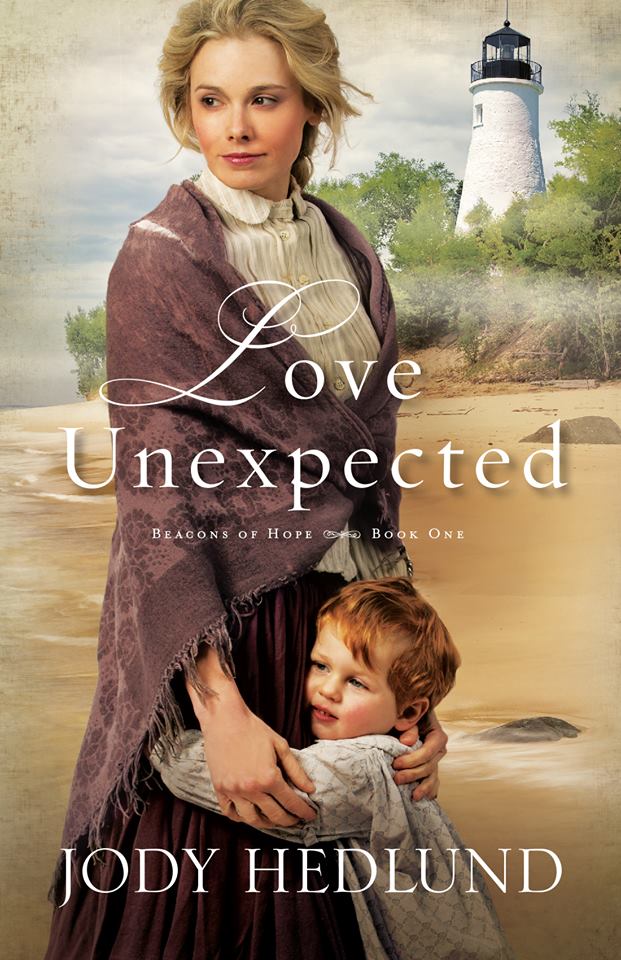 Love Unexpected by Jody Hedlund
All she's ever wanted was a home. But stranded at Presque Isle port after their steamboat sank, Emma Chambers and her brother, Ryan, couldn't be farther away from security. While Ryan at least can find work, Emma can't even find a place to stay. An unlikely solution arises when the lighthouse keeper, who recently lost his wife and is struggling to raise his young son, arrives in town. A traveling preacher believes they might be the answer to each others' problems, and after a hasty marriage, Emma is headed back to the lighthouse with this handsome but quiet stranger.
But nothing in her wandering life has prepared her for suddenly being asked to raise a child and keep a house. Struggling at every turn, Emma also suspects Patrick may be keeping something hidden from her. In town she hears whispers about strange circumstances surrounding his previous wife's death, and it seems as though Emma's answered prayer for a home and family may actually be something much more dangerous.
December, 2014