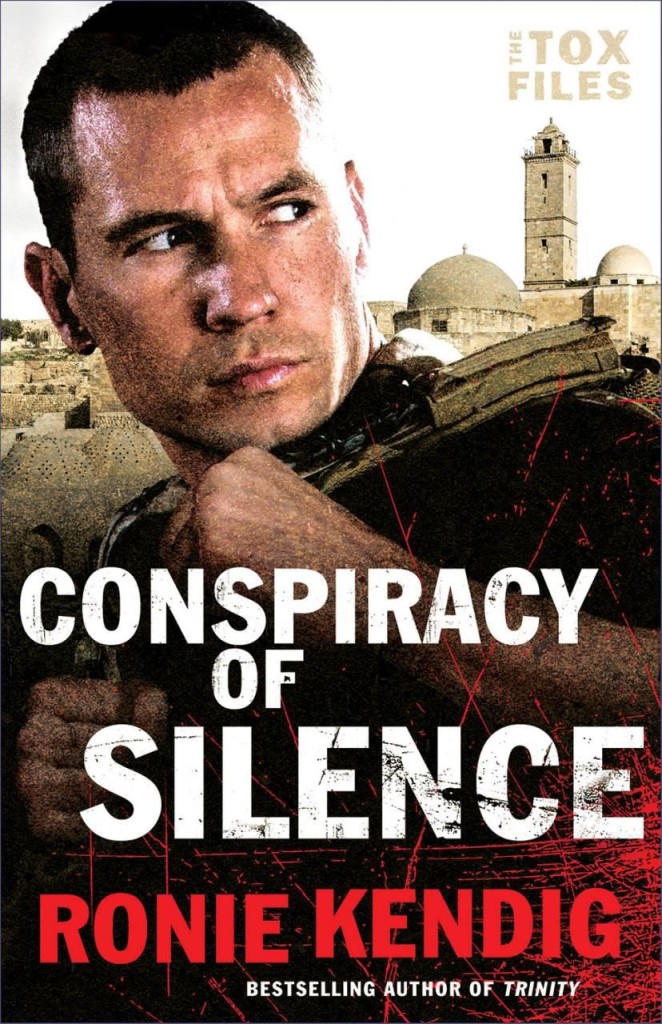 Synopsis:~
Kendig Ratchets Up the Action in Her New Suspense Series!

Four years after a tragic mission decimated his career and his team, Cole "Tox" Russell is persona non grata to the United States. And that's fine–he just wants to be left alone. But when a dormant, centuries-old disease is unleashed, Tox is lured back into action.
Partnered with FBI agent Kasey Cortes, Tox has to pull together a team to begin a globe-spanning search for answers–and a cure. As their quest leads them from continent to continent, it slowly becomes clear they're not just fighting a plague–but battling against an ancient secret society whose true goals remain hidden.
With time running out and opposition growing on every side, the key to everything may rest in an antique codex, the Crown of Jerusalem–but will Tox and his team be able to trust each other enough to break this century-spanning conspiracy of silence?
My take:~
To say I'm excited that the first full length novel in Ronie Kendig's The Tox Files releases today is a little bit of an understatement! Conspiracy of Silence captures everything I love in a fast paced, intriguing thriller. Ronie is the master of heart palpitating action, authentic military engagement scenes, and brilliant characterisation. Once again she has created a team of warriors with complexity, mad skills, made up of unique personalities and backgrounds. Tox is terrific as a man betrayed and marginalised because he chose to remain loyal, willing to sacrifice all for his family, friends, and country. His friend Chiji is a scene stealer with his sage like words and strong faith, and his teammate, Cell, gets all the fun lines! With a touch of romance that is subtle and perfectly placed, this story is a book for all – men and women – who are looking for some Jason Bourne energy, a captivating plot, and an international conspiracy in their reading material!
"This fast-moving, roller-coaster thriller, with its powerful clandestine society, ancient secret, nefarious conspiracies, search spanning the globe, and under-pressure romance is sure to please fans of romantic suspense and military ops romances."–Booklist

"Kendig's first book in her Tox Files takes readers on an explosive, action-packed global journey to stop a terrorist from releasing a deadly toxin with biblical origins. Kendig has pulled out all the stops in this highly entertaining read that has plot elements of a Tom Clancy or Dan Brown novel. This is a thrill ride with a story that barely stops to catch its breath before the action revs back up again. The hero, Tox, is riveting, the heroine is strong, the secondary cast is well developed and the romance is light but sweet. Kendig has out done herself."–RT Book Reviews Top Pick

"Kendig keeps the tensions high and the pace lightning fast, with military action scenes worthy of Vince Flynn. Especially noteworthy is watching the character development of elite modern warriors forced to confront and accept ancient history, faith, and supernatural power. Kendig fans will love this opening novel in her new series."—Publishers Weekly
With thanks to the publisher for my review copy
Check out the book trailer  and be sure to enter Ronie's fantastic giveaway opportunity via the Rafflecopter form below!
Relz Reviewz Extras
Download the free prequel, The Warrior's Seal
All Things Kendig @ Relz Reviewz
Visit Ronie's website and blog
Buy at Amazon: Conspiracy of Silence or Koorong