Today I'm chatting with author and illustrator Monte Wolverton about his novel, The Remnant, his fascinating career, and the scenes he finds hardest to write.
Enjoy!
I grew up in Vancouver, Washington (just across the Columbia River from Portland, Oregon). My father, Basil Wolverton, was a well-known comic book cartoonist in the 1930s through the 1950s, including Mad Magazine. He later wrote and illustrated a story of the Old Testament.
I earned my undergraduate degree at a rather unconventional and authoritarian church-affiliated college in southern California, later working as a designer in the church's substantial publishing operation. I freelanced for a while as a cartoonist, illustrator and designer, even contributing to Mad Magazine as my father did decades earlier. Later I returned to the church's employ, becoming design director for their publications. I later began writing, eventually becoming managing editor for a ministry specializing in helping victims of spiritual abuse.
In 2010, my wife and I returned to the Pacific Northwest, where I continued to do editorial cartoons, illustration, writing and editing. Because I liked to spice up my otherwise dull articles with little fictional stories, my publisher commissioned me to write a novel, Chasing 120, about a crooked health guru who used biblical-sounding sales pitches to bilk his unsuspecting Christian customers. It was really a metaphor for cultic Christianity, about which I felt I had something to say, given my family's long involvement in such a group. I set the novel in my native Portland area and had a lot of fun writing it, even though I lost my wife to ovarian cancer during that time.
I guess because my father wrote and drew science fiction comics, I've always enjoyed that genre, including Robert Heinlein, Isaac Asimov and later C.S. Lewis. But aside from the Bible, the books that helped shape my thinking most were nonfiction, about the time I was earning an MA in management/creativity (Goddard College, Vermont). Just to name a few—Robert Kegan's The Evolving Self, James McGregor Burns' Leadership, J.S. Dacey's Fundamentals of Creative Thinking, Walter Wink's Naming the Powers: The Language of Power in the New Testament, and Mark Noll's The Scandal of the Evangelical Mind. Really, writing (and defending) my thesis on management of creative groups made me confident that I could handle any writing project (although at the time I had not yet written much fiction).
My biggest writing challenge is juggling deadlines and other commitments, carving out the big swaths of time required for immersion in a project. I do two syndicated editorial cartoons per week, plus occasional illustrations. I end up working on my laptop here and there, in waiting rooms, parking lots, airports, shopping malls and in front of the T.V. at night. It gets the job done but I prefer the quiet of my studio.
My favorite author remains Stephen King. I loved his Dark Tower series. Two people on separate occasions told me they avoided Stephen King in favor of spiritually positive tales like Shawshank Redemption (which they didn't realize was adapted from a novella by Stephen King). I like King because his work is character-driven, his turns of plot are rarely predictable and his similes are brilliant. Never a cliché.
If I weren't a writer, I would be an editorial cartoonist, illustrator and artist—okay, yeah, that's stuff I'm already doing. Maybe a musician but the money there is even worse. Well, I just finished installing over 600 square feet of tile on my studio floor. I suppose I could do that for a living, if customers weren't too picky. In any case, I like variety and multi-tasking.
If I had a superhero power, it would be the power to expand time, so I could get more work done—or work more slowly—maybe even have time to read a book.
What if there were an Apocalypse and Jesus didn't return? What if the survivors found themselves living in a world ruled by a totalitarian government, where religion is forbidden and all religious texts have been destroyed? In The Remnant, award-winning author Monte Wolverton tells the tale of a band of concentration camp escapees who trek through the lawless American wilderness on a quest for authentic Christianity, only to come face to face with an unthinkable dilemma. The Remnant is a fast-paced story punctuated with dry satire, memorable characters and hard questions about religious institutions.
Describing The Remnant in five words: Epic, Challenging, Satirical, Inspiring, Entertaining. The main character, Grant Cochrin, is a professional geologist, and a hardworking family man who believes in Christ, but has a craving to know more, in a context where religion and religious texts have been banned. As a scientist, his curiosity can turn ideas into obsessions, a proclivity that can be good or bad. If this were a movie, I would cast Robert Taylor (Longmire) as Grant and Lauren Graham (Gilmore Girls) as Grant's wife, Dana.
I picked Minot, North Dakota as a beginning point for The Remnant because I visited them there a few years ago, and became fascinated with the area and its ubiquitous oil industry. Some friends own a cabin and prairie acreage a couple of hours west of Minot. In the evening, instead of watching TV, they sit in their rocking chairs on their rustic front porch and watch their oil wells (in which they own a share) pump away.
The underlying theme of The Remnant is institutional Christianity versus a personal relationship with Christ. Like the main character, Grant Cochrin, many of us spend time searching outside ourselves for something—some group, experience or denomination, when the Kingdom of God is there all the time "within" us (according to Jesus). Institutions can accomplish a variety of worthy goals, but they are not Christian in and of themselves. Individuals are Christian. When institutions accrete power to themselves, it seems to me that trouble is on the way. And what about nominally Christian institutions that have hidden agendas? Those are questions the characters in The Remnant ultimately face.
In the process of this novel I think I learned something more about character arcs. In early drafts Grant was less than likable, because I was leaving room for his growth.
Then an editor suggested that he needed to show more concern for his family—that he needed to be a nicer guy to engage readers. I improved that. Then another editor suggested that Grant wasn't heroic enough—stuff was happening to him rather than him taking the initiative and making things happen. But, I thought, most of us are just not take-charge heroic. More often than not we find ourselves struggling and barely keeping things together. In the face of big decisions we're conflicted. So I kept Grant more realistic and my publisher concurred.
The Remnant as a title was my publisher's idea. At first I didn't prefer it because it carries so much baggage. One denomination preaches "the remnant message." Some groups style themselves as the "remnant" (i.e. the only true Christians left). And yes, there are other books by that title. But then when I saw how the title could have a double meaning when applied to Grant's scrap of Scripture, I decided it was okay. I decided my book could be the one true Remnant—accept no substitutes!
What kind of scenes are harder for me to write? Dialog comes pretty easy, if I just listen to the characters interacting in my head. Painting scenes with credible detail demands research, but that can be fun. I guess the biggest challenge is taking information which would otherwise be narrated, and forcing the characters to present it as dialog while sounding natural and uncontrived.
I'm currently working on a sequel to The Remnant, which will have a lot more political intrigue and conflict. At the back of the current book, we solicited readers' input on the sequel, and I look forward to using many of those thoughts.
Here's something you might not know, unless you were there. Many years ago I ran for president of the Evangelical Press Association. It was exciting and an honor to be a presidential candidate for that august group. But I lost to a much better man for the job. Afterwards my "opponent" and I celebrated by going out with friends to a great little barbecue place in Minneapolis. That kind of thing just doesn't happen in an American presidential election. Maybe it should. Or maybe it would be dangerous.
The character in a novel I recall most identifying with is Tom Builder, from Ken Follett's Pillars of the Earth. He is faithful, sincere, compassionate and a skilled worker at his craft. What better things could you be remembered for—even if you're a fictional character.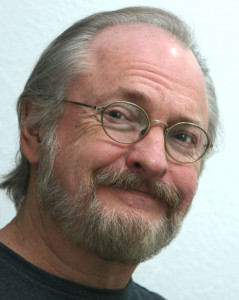 Monte Wolverton is an author, illustrator and syndicated editorial cartoonist. His 2014 novel, Chasing 120, won an Illumination book award. He serves on the boards of the Association of American Editorial Cartoonists and Plain Truth Ministries, where he is also as associate editor and contributing writer. His work has appeared frequently in MAD magazine and more recently in Washington (DC) Monthly magazine. He participated in the 2014 St.-Just-le-Martel Editorial Cartoon Festival in France, and in 2015 was invited to serve as a judge for the prestigious Xaimen International Animation Festival in China. He is an ordained minister and holds an MA from Goddard College in Vermont. Wolverton resides in his native southwest Washington State with his wife Kaye.
Relz Reviewz Extras
Visit Monte's website
Buy at Amazon: The Remnant