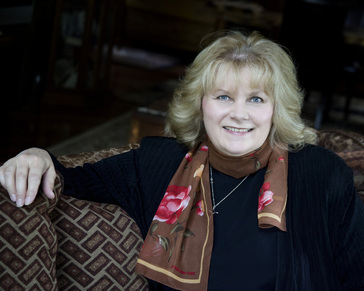 Discover more about
Carrie Stuart Parkes
and her suspense thriller
The Bones Will Speak
Thomas Nelson
********
A book character that sticks in my mind is… 
Mandy, from Frank Peretti's book "Illusion," was a wonderful character. Lost, alone, yet plucky, with great depth. I kept seeing his wife, Barb, (and my dear friend,) in that role.
The last book that made me cry was…
I tend to read suspense and crime books, so I don't do a lot of crying but do double check the locks on the doors and windows…
The last book that made me laugh out loud was…
Can I say my own? I stuck a funny line in "When Death Draws Near," then had to laugh out loud at it.
I'm completely immersed in their storytelling, whenever I read a book by…
Dick Francis. God rest his soul.
The first person who encouraged me to pursue my writing was…
Frank Peretti, who became my mentor.
If I wasn't a writer, I would be…
A fine and forensic artist and law enforcement instructor. Which I am!
I write stories because…
They're yammering in my head and need to get out.
The Bones Will Speak

A forensic artist becomes the target of a serial killer who believes he's God's anointed executioner.

In present day Copper Creek, Montana, Gwen Marcey is struggling to put together her life after cancer and divorce. When her dog retrieves a skull of a murder victim and leads her to the victim's grave, Gwen has a chance to use her forensic art ability to identify a serial killer. She is horrified to discover all the victims look like her fourteen-year-old daughter.

What she soon learns is the murderer is a 'lone wolf,' a member of the terrorist group Phineas Priesthood—and he has a score to settle with her. Unraveling the tangled Christian Identity movement, where race, not grace, provides salvation, Gwen is in a frantic rush against time. She must use all her skills to uncover the killer before he can carry out his threat to destroy herself and everyone she loves.
My latest novel can be described by these 5 adjectives…
Suspenseful, page-turning, unexpected, riveting, satisfying
My main character is…
Gwen Marcey is in her mid-thirties, slender, with short blonde hair and blue eyes. She is trying to get her life into some kind of order after divorce and a bout with breast cancer. She HATES spiders, drinks gallons of coffee, and has a mysterious background (to be revealed in a future book.)
My main character resembles….
A short haired, blonde Sandra Bullock. J
My story's spiritual theme is…
Forgiveness.
The most recent movie or tv show I loved was… 
I just watched a PBS special on Glen Campbell, taking me back to 1969-74 with my family.
The story I'm currently working on is…
Just now getting outlined and will be about the Nez Perce and Gwen's background.
You may not know this about me, but I…
I'm an AKC Junior Showmanship judge and former president of the Great Pyrenees Club of America.
I might go all fan girl if I met…
Carol Burnett
If I could travel back in time, I'd go to…
Sometime in the 1950s so I could once again see my whole family.
I get lost in the music when I listen to…
Most soft rock.
A long held dream of mine is…
To actually have a vacation!!
Carrie Stuart Parks is an award-winning fine artist and internationally known forensic artist. Along with her husband, Rick, she travels across the US and Canada teaching courses in forensic art to law enforcement as well as civilian participants. She has won numerous awards for career excellence. Carrie is a popular platform speaker, presenting a variety of topics from crime to creativity.
Animals have always been a large part of her life. Her parents, Ned and Evelyn Stuart, started Skeel Kennel Great Pyrenees in 1960. Carrie inherited the kennel and continues with her beloved dogs as both an AKC judge and former president of the Great Pyrenees Club of America. She lives on the same ranch she grew up on in Northern Idaho.
Relz Reviewz Extras
Visit Carrie's website and blog
Buy at Amazon: The Bones Will Speak or Koorong