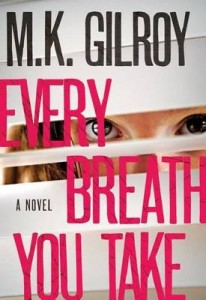 Synopsis:~
A high-profile murder tied to an online dating service has the Chicago news media buzzing. Who better to go undercover in the world of personal profiles and promising matches than an ace detective who is single . . . and as attractive as she is tough?
While Detective Kristen Conner can't figure out her own dating life, she is about to get a crash course on finding true love (or at least a Friday night date) even as she becomes the object of a killer's affections.
My take:~
Kristen Conner returns with a fresh murder, some new Krav Maga moves, and an undercover role she has no clue how to execute!
M. K. Gilroy ensures he is no one hit wonder with his second police procedural starring the ever practical and feisty detective Kristen Conner, her partner and footwear connoisseur, Don Squires, and her interfering yet caring family. Throw in a talented and charming FBI agent with designs on Kristen, a dead wealthy playboy, a former madam, an unknown stalker, and Gilroy's entertaining prose and Every Breath You Take is the perfect way to spend your reading hours.  I love the snappy dialogue, authentic relationships and intriguing suspense that permeate the story as Kristen wrestles unfamiliar territory in her work and personal life, contemplating how her faith interacts with both. While the mystery is solved, there are enough loose ends enticing me back to the next book in this fantastic series.
With thanks to Wynn~Wynn Media and Worthy for my review copy via NetGalley
Relz Reviewz Extras
Review of Cuts Like A Knife
Character spotlight on Kristen
Visit Mark's website
Buy Every Breath You Take at Amazon or Koorong