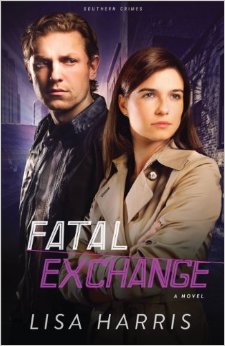 Synopsis:~
Emily Hunt might come from a family of cops, but she never goes looking for an adrenaline rush. She lives the quiet–well, relatively quiet–life of a teacher and thrives on making a difference in the lives of her students. But she'll have to draw on a well of strength and savvy she didn't know she had as student Rafael Cerda takes her class hostage for ransom money to save his brother's life.
Undercover cop Mason Taylor has been working with Rafael to find his brother and bring the cartel thugs who hold him to justice. Can he talk Rafael down from his impulsive actions? And is there something more sinister at work here than he realizes?
My take:~
The second in Lisa Harris' Southern Crimes series, Fatal Exchange, overflows with drama and danger, beginning with a hostage situation which goes south, kidnappings, betrayals, mystery, and murder. Lisa is at her best in this book with the suspense angle, along with the spiritual threads as the characters wrestle with fear, prejudice, and forgiveness. While this could be read as a standalone novel, I'm always in favour of reading a series in order to gain the full impact of the series threads, and to understand the character development. Readers will enjoy picking up Avery and Jackson's ongoing relationship from Dangerous Passage. I enjoyed both Mason and Emily as individuals – Mason is growing in his faith as he strives to shake the accusations that he was the cause of Emily's brother's death, while Emily is finding her place as a teacher, determined to not follow in the footsteps of her law enforcement focused family. Where the story fell a little short for me was in the romance angle – the events of the book take place over a very short period which makes the love story lack authenticity for me, despite Mason and Emily's earlier friendship. It probably stood out more because of the high calibre of the other components of this story.  Lisa's writing remains strong, however, and she sets the scene for the final book, Hidden Agenda, with a great hook. I'm keen to enjoy how Lisa wraps up this well written series.
With thanks to Revell for my review copy via Net Galley
Relz Reviewz Extras
Review of Dangerous Passage
Character spotlight on Paige & Nick (Blood Covenant)
Review of Blood Ransom
Character spotlight on Natalie & Chad (Blood Ransom)
Interview with Lisa
Visit Lisa's website and blog
Buy at Amazon: Fatal Exchange: A Novel (Southern Crimes) or Koorong