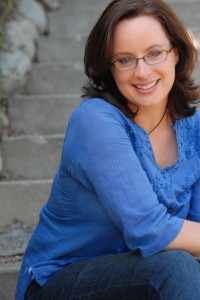 I "met" Lisa McKay online years ago, thrilled to discover an fellow Australian writing amazing fiction (If you haven't read My Hands Came Away Red, you should!) and we have enjoyed sharing with each other off and on over the years.  Knowing a little of her unusual courtship with her American fella through our correspondence and her essays, I was delighted when she told me was writing a memoir about their dance with romance!  
Lisa's Love at the Speed of Email is a brilliantly moving and challenging story; funny and sad; reflecting Lisa's deeply compassionate heart and wicked sense of humour. It is a must read for anyone with a pulse!
Lisa
Please share a little of your childhood
It was … mobile. I was born in Canada. My parents moved back to Australia when I was one and we left again for Bangladesh when I was seven. After two years in Bangladesh there were three years in the US, four in Zimbabwe … and so it goes. Lots of airports. Lots of glimpses into different worlds.
Please share a little of your career prior to writing and motherhood
I studied forensic psychology in Australia a while (gulp, more than a decade) ago now. I've spent most of my professional life working in the area of stress and trauma – most of it based in Los Angeles where I directed a training program for a non-profit that provides psychological and spiritual support services to humanitarian aid workers around the world.
Name five things you can't live without (Faith and family a given!)
Hmmm. Great question. At one point I would have said ice cream and wine, but both have been in shorter supply since we moved to Laos. OK …
The internet
Books
Air conditioning
Some time apart from the baby every day (much as I love him, I treasure those time-outs).
Sleep (said with all the desperate longing of the mother of a 10 month old baby who is not an incredibly talented sleeper)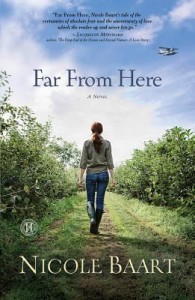 Favourite book ~ Favourite movie ~ Favourite TV show
Books? Movies? I have a ten-month-old baby. The books I read nowadays consist mostly of the word "peekaboo".
OK, OK, I have sneaked in a little reading time just for me. This year I have really enjoyed Nicole Baart's Far From Here. And I've loved watching Downton Abbey.
What do you miss most about the Australia when you are not here? (Something other than friends and family!)
Right now we're living in Laos, I miss how easy some things are in Australia. I miss getting into a car and going to the grocery store and being able to buy cream cheese if I want to make something that needs cream cheese. I miss having an oven inside the house (our current house – although very lovely – has an external kitchen which is a hassle). I really really miss good medical care. I'd give a lot to know that I could take Dominic to the emergency room in an Australian hospital if something went wrong.
You have travelled the globe in many ways but do you have a dream destination that you haven't visited?
I'd like to go to Italy with Mike and drink good wine and eat good pasta and gelato and take in Italian scenery. I've been to Rome briefly, but nowhere else in Italy.
What did you want to be when you grew up?
A doctor. That was my dream for the longest time.
What are two things people might be surprised to know about you?
I am an introvert. Also, I really do treasure being a mother. There's a lot of tongue-in-cheek flippancy about His Royal Babyness on the blog, but I would never send him back.
Love at the Speed of Email
Lisa looks as if she has it made. She has turned her nomadic childhood and forensic psychology training into a successful career as a stress management trainer for humanitarian aid workers. She lives in Los Angeles, travels the world, and her first novel has just been published to some acclaim. But as she turns 31, Lisa realizes that she is still single, constantly on airplanes, and increasingly wondering where home is and what it really means to commit to a person, place, or career.
When an intriguing stranger living on the other side of the world emails her out of the blue, she must decide whether she will risk trying to answer those questions. Her decision will change her life.
How did writing a memoir differ from your experience in writing your first novel?
When I was writing my first novel (My Hands Came Away Red) I found myself getting surprised by what was happening. As I figured out the "what" of plot, however, an understanding my character's actions and reactions followed fairly naturally.
Writing a memoir reversed this process. I already knew what happened – I'd lived it – but I had to work much harder to figure out what it all meant to me, then and now.
The plotting process was different, too. With the novel I wrote my way into the story blind, without an outline. As I wrote, the story gained momentum as events unfolded.
In contrast, I had a clear vision for the start and end of the memoir, but little idea of how I was going to get from one place to the other. Despite repeated outlines I continued to flounder in the middle until the very final drafts of the manuscript.
What was your favourite scene to write?
I had a lot of fun writing the scene where I introduced Mike to my parents for the first time.
Mike and I had been writing letters to each other for three months when he flew to Australia so that we could meet in person. When I picked him up in Brisbane airport and we met for the first time we had never even spoken to each other before. After we met in the airport we drove back to my parent's place and I dropped him right in the middle of my entire family. What happened next was … ridiculous. I won't say any more except to tell you that it involved rubber chickens.
I laughed out loud reading that chapter, Lis!
What was a difficult scene?
I had been involved in several long distance relationships that had not ended happily-ever-after before I met Mike. I found it difficult to write about these previous romantic relationships – particularly ways in which I had failed others and myself.
One chapter (Chasing Silver Dollars) I must have completely rewritten a dozen times. I went over that story over and over again, trying to pin down what had happened during that time and especially how I had contributed to the unhealthy dynamics of that relationship.
It was a difficult process, but I couldn't leave those parts of the story out. Those relationships and some of the mistakes I made helped shape the person I had become when Mike and I met.
Please share a favourite paragraph
I think my very favourite paragraph would have to be the last one (or two) of the book. I won't reproduce it here because I don't want to spoil it for anyone.
Another favourite paragraph? I loved remembering choosing the engagement ring. Here's that scene:
After four months of engagement, three trips to Robbins Brothers, two changes of mind, and a partridge in a pear tree, I finally decided on an engagement ring. Two weeks after Mike arrived in Los Angeles in September we went to finalize the transaction.
"We just bought a small car for your finger," Mike said on the way home, shell-shocked.
"Well, yes. A small secondhand, car," I said and added quickly, "but it will be much more beautiful than a car."
There was an extended pause.
"At least this won't lose value like an actual car would," I said. "That could come in handy."
"How's that?" Mike asked.
"Well, you know, we might need to barter it for something someday," I said. "Like safe passage on a boat during a military coup."
There was another extended pause.
"I cannot believe you said that less than ten minutes after I signed the bill," Mike said.
"I would take you with me on the boat," I said.
"This is one of those times when you should just stop talking," Mike said.
"Hey!" I said. "I was trying to save your life."
"Yet all I can see is all the dirt flying out of that hole you're digging there," Mike said.
I decided to stop talking until I figured out whether Mike was actually upset. I was still trying to figure it out when we got back to my place fifteen minutes later.
Six weeks later the ring was ready and we went to pick it up. When they opened the box I was silent with awe. I had been right – it was much more beautiful than a car. Mike looked at it thoughtfully.
"Wow," he said. "It's really pretty. I'm going to miss it when we have to barter it for boat tickets."
Was it challenging to share intimate moments from your own life or did you find it cathartic? Or both?
Both. I loved that writing the book helped me relive so many good moments and funny conversations. Writing about these things helped me pin down and cement a lot of happy memories. Conversely, however, I didn't enjoy reliving and dissecting some parts of my own story that I'm not proud of.
What was Mike's first response to your desire to write your love story?
He was very supportive. I know it's not always an easy thing to have someone else telling parts of your story, and I'm always careful to let him see anything I write that features him or his writing before it goes public. But he was very supportive as "our" story became the main story arc of the book and my own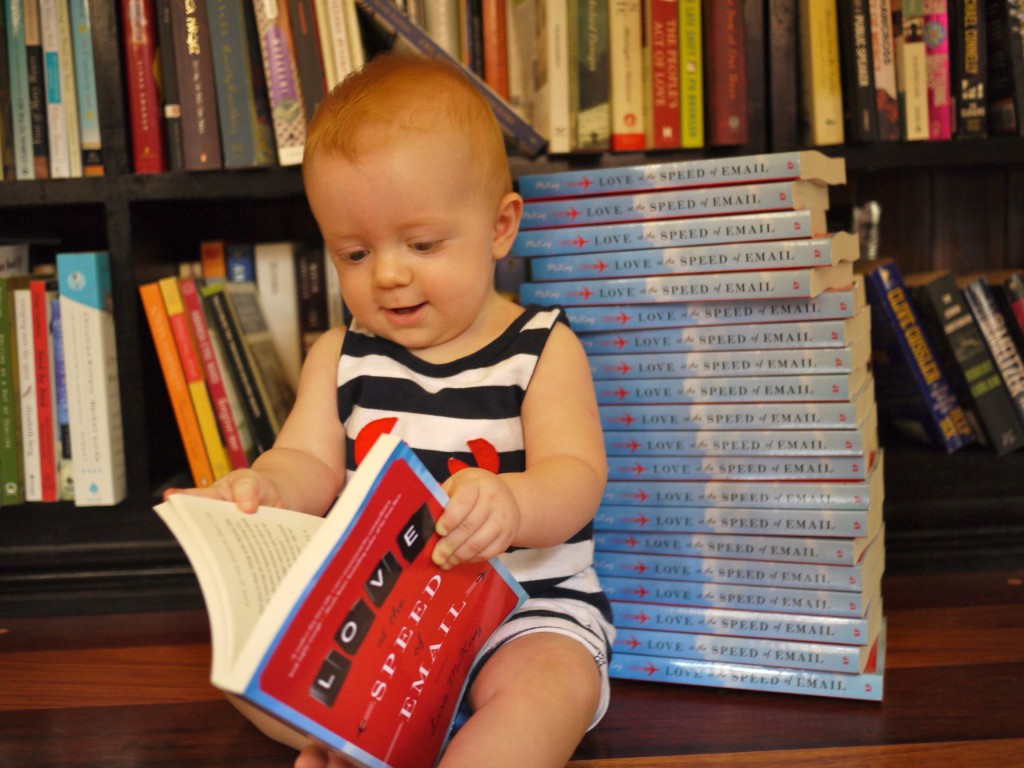 explorations of home became an underlying theme instead of the other way around.
How do you think baby Dominic will respond when he is old enough to read LATSOE?!!
Gosh, this might sound odd, but I really haven't thought much about Dominic reading it. I assume he'll want to, one day. It'll certainly help him see us in a different light, I would imagine – as people with hopes and dreams and pasts and passions rather than just his "boring" parents. And how he responds probably depends on what I write about him in the next 15 years. Maybe he'll hide my books when his friends come over to visit. Maybe I won't blame him.
I adore this picture of Dom ~ too gorgeous!
What's next in your writing pipeline?
I'm not exactly sure. I haven't started working on another book. Right now I'm blogging and resting and doing a bit of freelancing and considering next steps with major projects. I'mopen to suggestions J.
Mike
So what's the best thing about being married to an Aussie girl?! (Bear in mind, an Aussie girl is asking the question ;-D)
I've had a lot of Aussie women as friends and colleagues. Many Aussie women exude self-confidence in a way that enables them to poke fun at others (and themselves). Whilst mocking others/themselves they're usually able to pull it off with a mixture of self-confidence and also acknowledgement that they themselves aren't above being poked fun at/mocked by others. I like that.
If you'd jumped in first and written your romance as a memoir, how would your story have differed from Lisa's?
It wouldn't have been as well written as Lisa's story. She worked really hard on this book. She set out thinking (hoping) that it wouldn't be that hard to write a memoir. It turned out to be more of a challenge than she initially thought. She worked the manuscript over and over, tightening the story, cutting out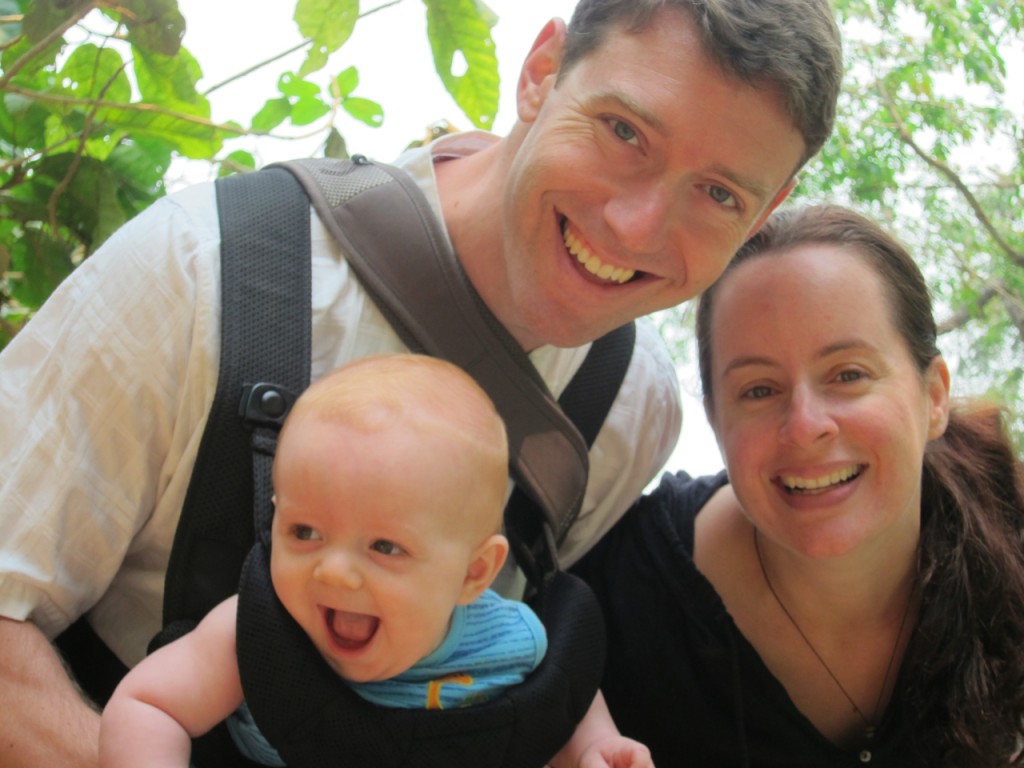 narrative tangents that didn't advance the story line.
Was there a moment in your relationship you would have included that she didn't?
There are lots of moment in our relationship that didn't make it into the memoir because they didn't help advance the story line. After I left PNG I moved to LA so that we could live in the same city for four months before getting married. During that time there were a few "realization" moments. I was able to find short term accommodation in another apartment and when I visited Lisa's apartment I got a better understanding of her ability to leave dishes in the sink (et. al). During those four months we did preparing for marriage course and had a few sessions with a couples counsellor. We walked into couples counselling half expecting that the counsellor would pat us on the back and give us a gold star for having such a good relationship. She didn't. She asked difficult (good) questions that made us really dig down and work hard during the counselling sessions.
What was your favourite scene in the book?
Re: favorite scene – Oh so many. We're re-told a few of the stories in the book so many times to friends, acquaintances, upon meeting people, etc. Some of the stories have been told so many times and are so familiar that we can practically tell them in our sleep. But they still bring a smile to my face. The chicken dance story is always good for a laugh. The story of our engagement brings back all sorts of happy memories (and also laughs), all of the letters that we wrote bring back poignant memories of where I was on the field when I was writing them. So many sights, sounds, emotions are packed into those letters.
Ta
Loved your responses, Lisa and Mike ~ thanks for sharing on my blog. Reading Love at the Speed of Email was a real blessing to me and I'm sure it will be for others! Hugs, Rel
Relz Reviewz Extras
Read the first chapter of Love at the Speed of Email ~ Spinsters Abroad
Review of My Hands Came Away Red
Character spotlight on Cori
Interview with Lisa
Visit Lisa's website and blog
Buy Lisa's book at Amazon or Koorong