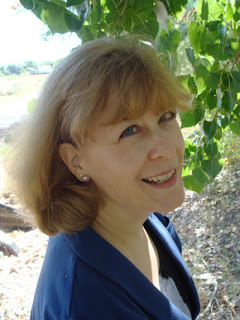 Wife, mother, consumer of chips & chocolate
Author of Biblically inspired fantasy
Prophet, Judge, King
~~~~~~~~
What appeals to you most about writing fiction?
I love having the freedom to dream up fictional characters who bring my stories to life for readers. In the Books of the Infinite, I've also loved the research and I truly enjoyed the challenge of reweaving timeless favourites from the scriptures into a fantasy realm that's fresh, yet familiar. The Lord has blessed me throughout this series by allowing me the chance to dig into some personally perplexing verses from the Bible and truly research them.
Another "Aha!" moment: The ancient major prophets each faced an emotional battleground whenever they proclaimed the Lord's will—something I never truly appreciated until I wrote Ela's story, which began in Prophet and finishes in King.
Why Christian fiction?
Again, freedom. Some authors and readers might argue the point, but writing Christian fiction allows me the freedom to explore my characters' spiritual traits—which are rarely touched in secular fiction. Every person worships something or someone. I worship the living Lord and Christian fiction allows me to learn more about His character and His Spirit with every novel I write. Also, I pray over each book as I work. I love every minute of both the work and the worship.
Name five things you can't live without
The Lord, family, and friends, of course, are the invisible top of my list.
Just below them, I'd say…books, rain, coffee, warm socks, and chocolate. I'd like to add 'potato chips', but I'm trying to reduce my intake. Let's see how long I can stick to that resolution! 😉
Favourite book ~ Favourite movie ~ Favourite TV show
Book: My childhood fave, The Children's Picture Bible, is my sentimental pick. Beyond that…I can't choose. It's just impossible. I love too many books, and they're all friends—as are many of their authors.
Movie: The Mission with Jeremy Irons, followed closely by I, Robot.
The Mission boasts one of the most haunting soundtracks ever, and an epic, heartbreaking storyline.
I, Robot because the robot, Sonny, was so amazingly real.
TV show: Elementary. I'm enjoying the modern spin on Sherlock Holmes, though I'm sure I vex DearHusband when I start picking apart plotlines.
Where is the most interesting place you have been?
Besides being 1,000 feet below the surface of a Colorado mountain (a gold mine) I'd say Guam. I lived on Guam as a child and loved it. Much of the island was still jungle and quite rustic back then. I thought it was enchanting despite always finding bugs in the flour!
What did you want to be when you grew up?
Me, age eight: "I want to be a teacher, because teachers write a lot, and I love writing." Hmm. Obviously my true calling was in the definition, not the title.
What are two things people might be surprised to know about you?
I've stood within mere feet of nuclear weapons, and I've been robbed at gunpoint. Not fun, but nice for research if I ever move into the suspense genre!
King
Against his wishes and desires, Akabe of Siphra has been chosen by his people to be King. But what does a warrior know of ruling during peacetime? Guided by the Infinite, Akabe seeks to rebuild the Temple in the city of Munra to give the sacred books of Parne a home. But dangerous factions are forming in the background. To gain the land he needs, Akabe must forsake the yearnings of his heart and instead align himself through marriage to the Thaenfall family.
Meanwhile, Kien Lantec and Ela Roeh are drawn still closer together…while becoming pawns in a quest to gain power over the region. As questions of love and faith become tangled with lies and murderous plots, each must seek the Infinite to guide them through an ever more tangled web of intrigue and danger.
Which character did you connect to the most?
I love my main character, Akabe—he's a true hero with mortal flaws. However, my heart was quite stolen by Barth, the young page, who is a happy little boy in a world of his own for much of the story, and forever sprawling on floors with his toys. He reminds me of a few kids I know.
Which character was the most difficult to write?
Caitria. I loved her complexity, her vulnerable soul, and her longing to protect those she loves. Bringing her to fictional life while maintaining some mystery in her character was a challenge!
What was your favourite scene to write in King or share your favourite paragraph:
[Dialog between King Akabe and his Council. Akabe speaks first.]
…"I'm well aware of that fact, my lord. My knife-wound from last year and this morning's blisters have made the dangers of kingship abundantly clear. What are you failing to say?"
Faine hesitated, his delicacy at odds with his blunt face. "You need an heir. We've agreed you must marry."
"But have I agreed?" Akabe studied his council members' faces. To a man, they nodded, death-serious.
"Yes, sir, you must." Faine harrumphed, adding with an awkward cough, "Duty."
"Ah." Duty. Perfect reason to marry. Nothing could be less inspiring to a prospective wife, Akabe was sure.
What's next in your writing pipeline?
I have a few more Biblical fantasy storylines to finish, and eventually, I'd like to return to the 1890's historical I was composing when the Books of the Infinite series appeared and took over my writing world.
Thanks R.J.
Relz Reviewz Extras
Character spotlight on Akabe
Reviews of Judge and King
Visit R.J.'s website and blog
Buy King at Amazon or Koorong