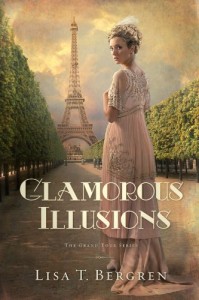 Cora Diehl's world implodes when the man dearest to her collapses and a stranger arrives at their failing farm to reveal a shattering secret and make a life changing proposal to Cora.  Left with little choice, Cora finds herself on a Grand Tour of Europe, isolated and more than a little intimidated by members of her new family who make no secret of their suspicion of her motives.  Derided and confused, Cora finds some comfort in the kindnesses of Will McCabe, the family's assistant guide for the tour.
Will McCabe has great plans for his life but his place in the world as a guide to young and often petulant rich heirs and heiresses frustrates him.  Quietly ambitious, Will hopes his uncle will soon retire so he can graduate from his assistant's role.  Intrigued by the beautiful and guileless Cora, he sets out to keep an eye on her as she is tested and tormented by others in their party.
As the tour progresses, Frenchman Pierre de Richelieu is confounded by the intelligent American beauty who has a direct approach that is refreshing yet naive, while Vivian Kensington's determination to put Cora in her place may drive a permanent wedge between the Kensington family.
Richly drawn with vibrant characters and the splendour of Europe beautifully described, Glamorous Illusions is a stunning beginning to Lisa T Bergren's Grand Tour series.  With all the appeal of Downton Abbey in literary form, this story captivates from beginning to end with adventure,  intrigue, jealousy and attraction woven throughout the pages.  Bergren's prose flows beautifully and her characters exude a depth and complexity not often seen.  Cora's struggle to maintain her identity and ideals as she exposed to the appeal of wealth and privilege is authentically written as is her attraction to the steadfast Will and the charismatic de Richelieu.  The Kensington siblings add further substance and conflict as they are challenged by Cora's lack of pretension and repelled by the threat they perceive she poses.  London and Paris shine as Bergren sets the opulent backdrop for the tour and provides insight into the fascinating practice of sending wealthy young Americans to Europe to complete their cultural education.  Glamorous Illusions is the unique kind of story that both deeply satisfies and leaves you anxious for more.  Grand Consequences can't come soon enough!
As seen at TitleTrakk.com
With thanks to Litfuse for my review copy
Relz Reviewz Extras
Character spotlight on Cora Diehl
Interview with Lisa
Character interviews with Luca,  Lia, Gabi and Marcello
Reviews of Waterfall, Cascade, Torrent, Bourne & Tributary
Character spotlight on Gabi, Marcello, Luca & Lia
Character spotlight on Lord Greco
Visit Lisa's author website and her travel website
Buy Lisa's books at Amazon or Koorong