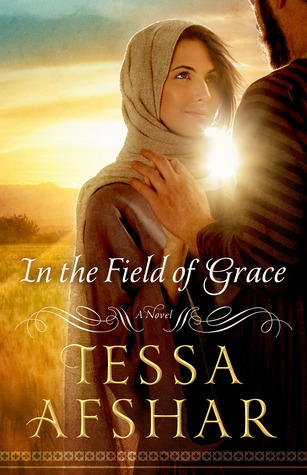 Synopsis:~
Destitute, grief-stricken, and unwanted by the people of God, Ruth arrives in Israel with nothing to recommend her but Naomi's, love. Her loftiest hope is to provide enough food to save Naomi and herself from starvation.

But God has other plans for her life.

While everyone considers Ruth an outcast, she is shocked to find one of the wealthiest and most honored men of Judah showing her favor.  Long since a widower and determined to stay that way, Boaz is irresistibly drawn to the foreign woman with the dark, haunted eyes. He tells himself he is only being kind to his Cousin Naomi's chosen daughter when he goes out of his way to protect her from harm, but his heart knows better.
My take:~
Tessa Afshar's debut novel, Pearl in the Sand, the story of Rahab & Salmone, probably holds the place of my favourite Biblical fiction novel. Her attention to detail – the sensitive and thoughtful creation of emotions, the Biblical backdrop, the evocative scenery – was second to none. It's also no surprise to me that Harvest of Gold is in the running for a Christy Award this year. Tessa's latest release, In the Field of Grace, tackles another well known and oft told Biblical story, that of Ruth the Moabite, who became part of the lineage of King David and Jesus Christ. Once again, Tessa's seemingly effortless talent breathes new life into this beautiful love story and makes it come alive. With vivid imagery and impeccable descriptions the land of Judah, Boaz's fields, the protagonists in this story, Ruth, Naomi, and Boaz, all leap from the page. The sights and smells of the countryside, the bitterness of Naomi, the devotion of Ruth, and the heroics of Boaz are told with insight, tenderness, and authenticity – as much as a 21st century author can imagine of years gone by! The gamut of emotions felt by these people as they negotiated loss, grief, heartache, hope, and love pour out from the pages and into the reader's heart. Ruth's story is one of sacrifice, courage, and deep devotion and Tessa tells is with grace and beauty. While Pearl in the Sand may still hold that very special place in my heart, In the Field of Grace has certainly given it a nudge!
With thanks to Wynn-Wynn Media for my review copy
Relz Reviewz Extras
Reviews of Pearl in the Sand, Harvest of Rubies, and Harvest of Gold
Tessa ~ FamilyFiction Plus interview
Visit Tessa's website and blog
Buy from Amazon: In the Field of Grace or Koorong
[Tweet "Author @TessaAfshar's effortless talent breathes new life into the story of Ruth"]