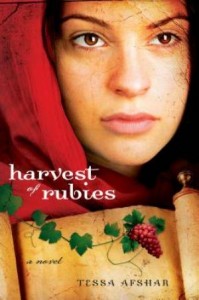 Synopsis:~
The prophet Nehemiah's cousin can speak numerous languages, keep complex accounts, write on rolls of parchment and tablets of clay, and solve great mysteries. There is only one problem: she is a woman.
In her early childhood years, Sarah experienced the death of her mother and her father's subsequent emotional distance and she came to two conclusions: that God does not care about her, and that her accomplishments are the measure of her worth – the measure of her self.
Sarah, the talented scribe and cousin to Nehemiah, is catapulted into the center of the Persian court, working too many hours, rubbing elbows with royalty, and solving intrigues for the Queen. Ironically, it isn't failure but success that causes Sarah to lose her only source of external validation.
Sarah soon learns that she has something of worth to offer beyond her ability with languages and sums – her very being proves to be a blessing to others.
My take:~
Tessa Afshar continues to impress with her second novel set in Biblical times.  In Harvest of Rubies, Tessa immerses her readers in the time of Nehemiah and the intricacies of the Persian empire through the eyes of an intelligent yet insecure young woman who becomes a scribe and begins working for the Queen.  Sarah and Darius are well rounded characters, struggling with the age old difficulties of prejudice, miscommunication and a fear of rejection. Unique historical details are naturally woven into the fabric of this tale alongside palace intrigue, mystery, danger and love. While for me,  this story didn't quite plumb the same emotional depths of Tessa's debut novel Pearl in the Sand, I still highly recommend this book for its original content, clear and enticing prose and appealing romance. With this book Tessa has cemented her place in my list of 'must read' authors.
With thanks to Wynn~Wynn Media and River North for my review copy
Relz Reviewz Extras
Review of Pearl in the Sand
Tessa ~ FamilyFiction Plus interview
Visit Tessa's website and blog
Buy Tessa's book from Amazon or Koorong