Today I'm chatting with Irene Hannon about her favorite season, what she misses most about her childhood, and her latest bad guy. Thanks to her publisher, Revell, I'm giving away a copy of Tangled Webs so be sure to enter the giveaway and post a comment to join in the conversation.
The Writer
Please describe yourself in three words (ask your best friend or family if you are struggling!)
Disciplined, conscientious, hard-working
What's your favourite season, and why?
Spring. I love watching the world come back to life after a long, cold winter. It's a season brimming with hope.
What is the best part of your day?
I try to enjoy every minute of every day—a lesson I learned from my mom.
What do you miss most about your childhood?
Having both my parents with me, happy and healthy and vibrant. I just lost my mom very suddenly, and memories of my wonderful childhood have been scrolling through my mind.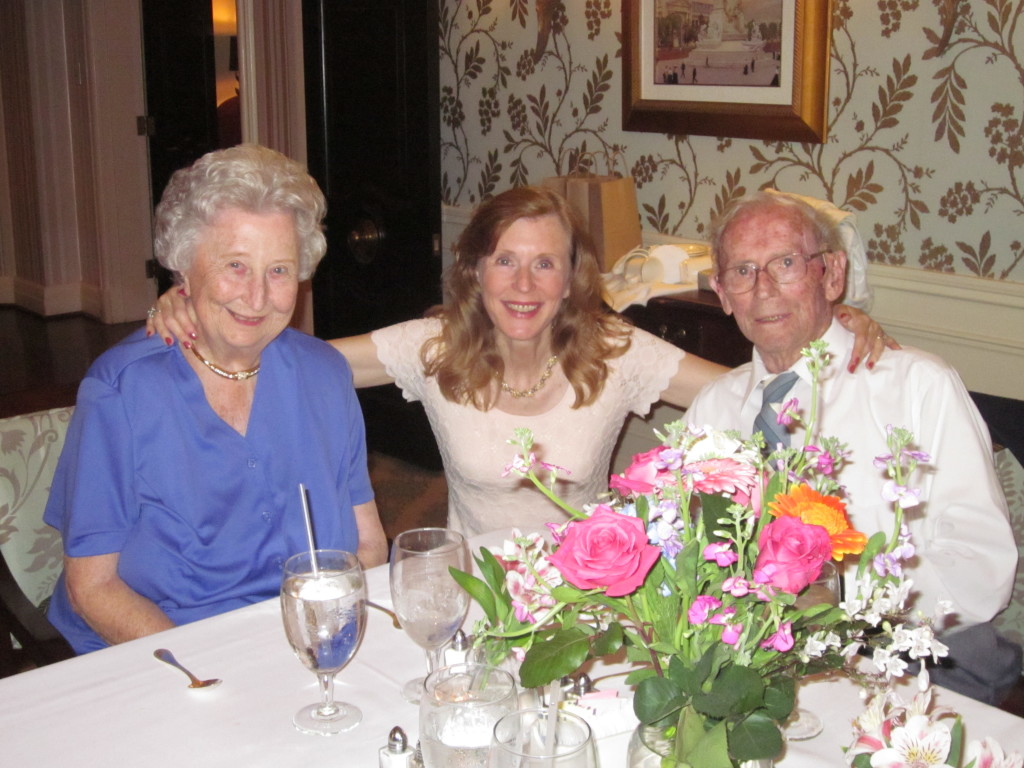 Irene & her parents
Which TV talk show host would you like to be interviewed by? 
None of the current crop—but back in the day, Phil Donahue was an excellent interviewer. I didn't always agree with his opinions and positions, but he did his homework and asked insightful, in-depth questions.
You are at a fruit market – what do you reach for first?
Blackberries—if they're fresh, ripe, sweet and juicy. But they're best when picked right off the bush!
What was the first Christian Fiction novel you read?
"Redeeming Love" by Francine Rivers.
What is one author and/or book you always recommend?
I don't have a favorite author or book. There are so many I enjoy!
What book character has stuck in your mind from a book you have read this year?
Two, actually. Evie and Jack from "The Hearts We Mend" by Kathryn Springer.
The Book
After a disastrous Middle East mission ends his six-year Army Ranger career, Finn McGregor needs some downtime. A peaceful month in the woods sounds like the perfect way to decompress. But peace isn't on the agenda once he crosses paths with publishing executive Dana Lewis, a neighbor who is nursing wounds of her own. Someone seems bent on disrupting her stay in the lakeside cabin she inherited from her grandfather. As Finn and Dana work together to discover who is behind the disquieting pranks, the incidents begin to take on a menacing tone. And when it becomes apparent Dana's foe may have deadly intent, Finn finds himself back in the thick of the action–ready or not.
What was the working title?
Tangled Webs—same as the final title!
Describe your book in 5 adjectives
Suspenseful, romantic, thought-provoking, inspiring, touching
Which character took you by surprise?
The villain. He was not typical—and I found myself in his corner on many occasions. Most "bad guys" have redeeming qualities, and this one had them in abundance. I felt for his dilemma.
What was the latest you stayed up working on this story?
No idea. I was too bleary-eyed on some nights to focus on the clock.
Which character's name was the hardest to choose? Why?
I never have trouble with this. The characters tell me their names, and I just write them down.
What's something that didn't make it into the final copy?
The book that came out is pretty much how I wrote it. I edit and polish and rearrange words as I go, but I rarely delete more than a few sentences.
Thanks Irene!
Irene Hannon is the bestselling and award-winning author of more than fifty contemporary romance and romantic suspense novels. In addition to many other honors, she is a seven-time finalist for and three-time winner of the prestigious RITA Award from Romance Writers of America. She is also a member of that organization's elite Hall of Fame. In 2016, she received a Career Achievement award from RT Book Reviews magazine for her entire body of work.
Relz Reviewz Extras
All Things Hannon @ Relz Reviewz
Visit Irene's website
Buy at Amazon: Tangled Webs or Koorong