The delightful Jen Turano has made a name for herself penning historical rom-coms and coming up with the most fun names for her characters! Jen took on my new This or That interview and I love her responses. Hope you enjoy them, too. Be sure to enter the giveaway, courtesy of Bethany House Publishers, via the Rafflecopter form below!
Cake or Cookies – Cake, definitely cake. But since I'm on this crazy diet/exercise thing ever since I realized I'd gained the proportions of, well, something large, I rarely eat cake or cookies. Having said that, though, I have to admit that if I do pick up a cake from the store, because I don't bake, I adore nothing more than taking a fork and eating the cake without a plate – right out of the box because it just tastes better that way – as if I'm getting away with doing something, er, naughty.  And don't worry that I'm freaking anyone out. It's just me and Al (husband) these days, and since he does the very same thing on the other side of the cake – it's all good.
Call or Text – I prefer to call people, although I mostly only text with my son. He's not a phone person, and only calls me from college when he really needs something. Otherwise, he sends me a one or two-word text, letting me know he's still alive.
Coke or Pepsi – Neither. I gave up soda about two years ago. Now it's unsweetened green tea, which is not exactly tasty, but I get sick of water.
Dogs or Cats – Dogs. I don't currently have a dog. My Australian Cattle Dog died about a year and a half ago. I'd had Sasha for fifteen years and I'm just not ready to get another one just yet.
Eggs or Pancakes – Eggs – and only scrambled.
Facebook or Twitter – Facebook – I have a Twitter account, but I always forget about it.
First person or Third person – Third person. I read first person a lot, but I've never written in first person. My brain just doesn't work that way.
Instagram or Pinterest – I think I might have a Pinterest account, but not certain about that. And, as for Instagram, I made a deal with my son when he was in high school that I wouldn't do Instagram. For some reason, I think he believes I'm like one of those stalker mom-types. Just because I've been known to look who the girls are he's dating – but…oh, hmmm…maybe he does have a point.
Marvel or DC – Neither – Have never been into comics or the movies. I've been to all the movies, mind you, but I can't say they're my favorites.
Paperback or EBook – Paperback. I'm just old school that way. I have an e-reader, but I'm always misplacing it.
Summer or Winter – Winter, I don't like hot weather. My favorite time of the year, though, is Fall.
Sweet or Spicy – Spicy – especially chicken wings.
Tattoos or Piercings – I have pierced ears, but I never wear earrings, and no, I don't have a tattoo.
Tea or Coffee – Coffee – but I only drink one cup right when I get up in the morning. If I have a second cup, I'm crazy for the entire day.
Thornton or Darcy – Darcy – and I don't think there needs to be a reason for that, does there?
Yoga Pants or Jeans – Jeans – because cool shoes just look a little weird with yoga pants.
Zoo or Aquarium – Zoo – Denver has a great zoo which I still visit even though my son is out of the house. We also have an aquarium, but after they put a seafood restaurant in it, well, I've not been back. Seemed a little odd to be looking at all the fish, and then being served up fish for lunch.
Out of the Ordinary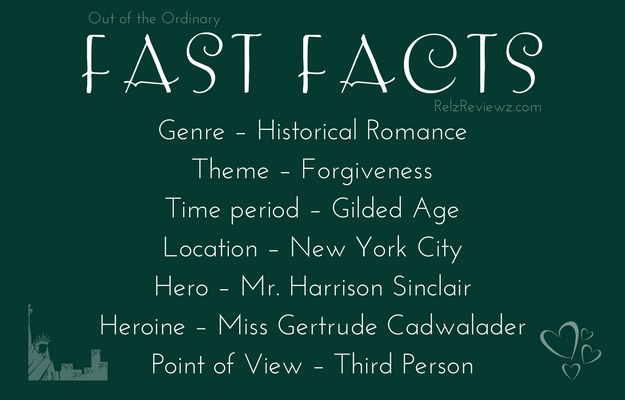 Miss Gertrude Cadwalader hoped her position as the paid companion to Mrs. Davenport would be easy. But as she becomes acquainted with her employer, she realizes the wealthy Mrs. Davenport has a strange tendency to be a bit light-fingered with other people's trinkets. Gertrude is relieved when Mrs. Davenport decides to have a quiet summer away from the social scene–until the woman changes her mind in order to help a young socialite launch into society.

When Gertrude is caught in the act of trying to return one of the trinkets by Mrs. Sinclair, the mother of shipping magnate Harrison Sinclair, the woman jumps to an unfortunate conclusion. Harrison is determined to mend fences with Miss Cadwalader, but he's unprepared for the escapades a friendship with her will entail.
Jen has shared these photos so we can imagine the world in which Gertrude and Harrison lived!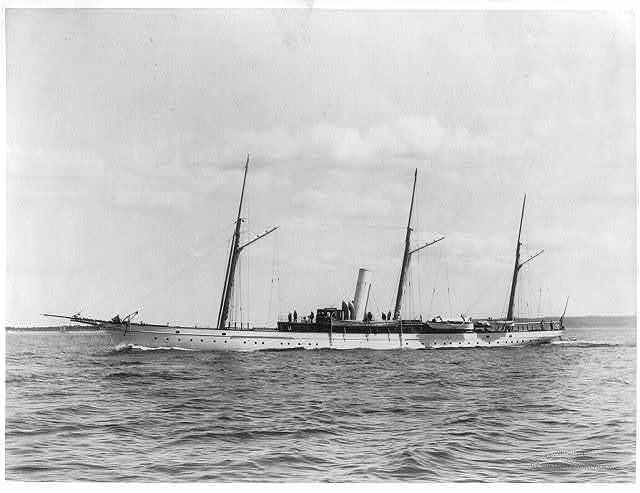 1880's yacht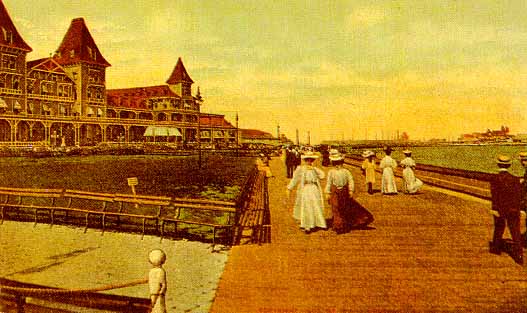 Harrison and Gertrude walk along this boardwalk
Thanks Jen! Always a treat to have you visit
Relz Reviewz Extras
All things Turano @ Relz Reviewz
Visit Jen's website and blog
Buy at Amazon: Out of the Ordinary or Koorong