The Reading Habits
of
Patricia Bradley
*****
Are you a re-reader? Why, or why not? And if you are, what are some of the books you have read over and over?
Other than the Bible, I am not generally a re-reader. There are too many other books on my TBR table as you can see from the photo. That said, I do plan to re-read Exodus by Leon Uris soon. I first read it in the 10th grade and have never forgotten it.
When is your optimal time to read – do you prefer to read in one long block, or do you also read for five minutes here or there when you can?
If a book draws me in, I hate to put it down. I have stayed up until three in the morning to finish a book.
I'd love your thoughts on novellas. Are you thumbs up or down? Or does it depend?!
I love novellas so thumbs up. They can usually be read in one sitting!
Are you faithful to a genre, an author, or simply quality writing?
Quality writing wins every time. I'll even read a genre I don't like if it's a good story with characters I care about.
Which factors most influence your selection of a book?
The first page. I always read it before I select the book.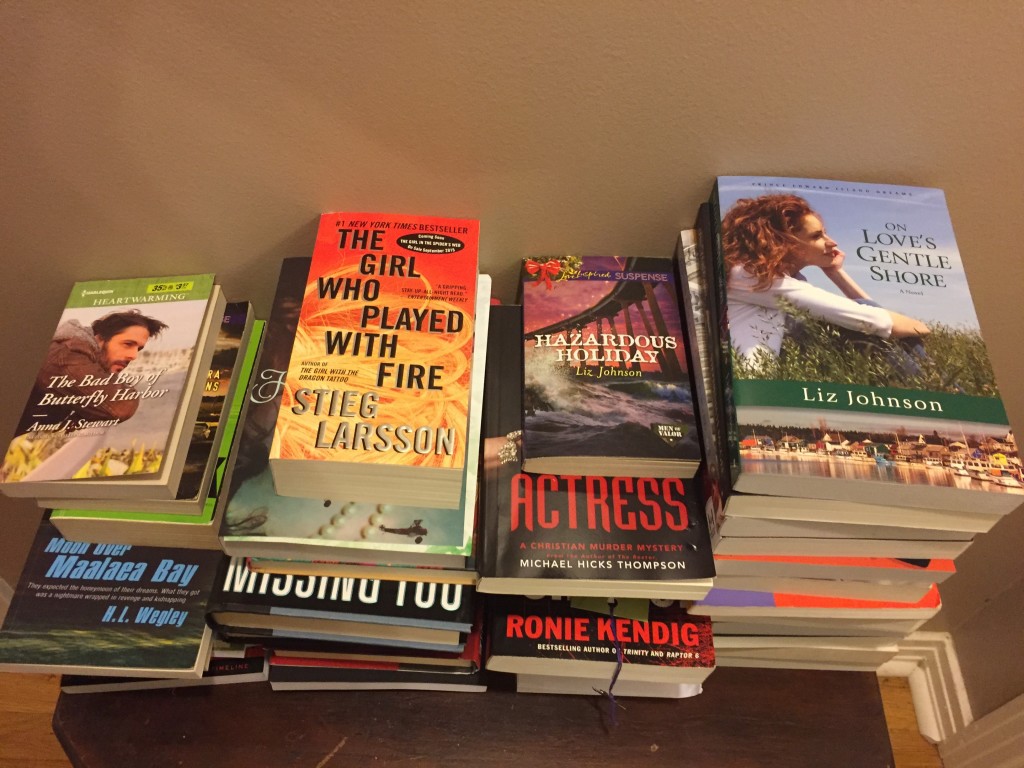 Pat's TBR
Your fiction pet peeve?
When an author does something like putting Tennessee license plates on the front and rear of a car or a safety on a .38 Smith and Wesson revolver. It shows they haven't done their research.
What book have you read this year that you could not put down, and why?
This is one question I hate to answer with one book since I've read so many good books this year. Sandra Orchard's Over Maya Dead Body is the latest one.
How do you mark your spot – folded page corner, bookmark, dollar bill, whatever is at hand?
A bookmark or whatever is at hand. I.Cannot.Fold.A.Corner.
Whose debut novel impressed you more than you anticipated?
Dear Mr. Knightly by Katherine Reay
When reading, what makes or breaks a story for you?
The characters and whether I care about them. If I don't, it doesn't matter how intriguing the plot is, I'll put it down.
What are some of your favourite CF reads from around 10 years ago, or further back?
The O'Malley Series by Dee Henderson and Freefall by Kristin Heitzman.
Snack/drink of choice while reading?
Usually I read at night, so no snack or drink.
What book cover (any genre – ABA or CBA) has really caught your eye?
Mary Ellis's Sunset in Old Savannah.
Which author makes it easy to turn off your internal editor?
Lisa Harris
What book do you wish you had written? Why?
The Butterfly and the Violin by Kristy Cambron. That book haunts me.
Thanks Pat!
Be sure to get your hands on Pat's latest Memphis Cold Case novel…
In an effort to get her security consulting business off the ground, Kelsey Allen has been spending a lot of time up in the air, rappelling down buildings and climbing through windows to show business owners their vulnerabilities to thieves. When she is hired to pose as a conservator at the Pink Palace Museum in order to test their security weaknesses after some artifacts go missing, she's ecstatic. But when her investigative focus turns from theft to murder, Kelsey knows she's out of her league–and possibly in the cross hairs. When blast-from-the-past Detective Brad Hollister is called in to investigate, Kelsey may find that he's the biggest security threat yet . . . to her heart.

Crackling with romantic tension and laced with intrigue, this suspenseful story from award-winning author Patricia Bradley will keep readers guessing–and looking over their shoulders.
Patricia Bradley is the author of Shadows of the Past, A Promise to Protect, Gone without a Trace, and Silence in the Dark. Bradley received the 2016 Inspirational Readers Choice Award for the third Logan Point book, Gone without a Trace, and has been a finalist for the Genesis Award, a winner of a Daphne du Maurier Award, and winner of a Touched by Love Award. Bradley is cofounder of Aiming for Healthy Families, Inc., and she is a member of American Christian Fiction Writers, Romance Writers of America, and Sisters in Crime. Bradley makes her home in Mississippi.
Relz Reviewz Extras
All Things Bradley @ Relz Reviewz
Visit Pat's website and blog
Buy from Amazon: Justice Buried or Koorong
Connect with Pat: Facebook || Twitter || Pinterest