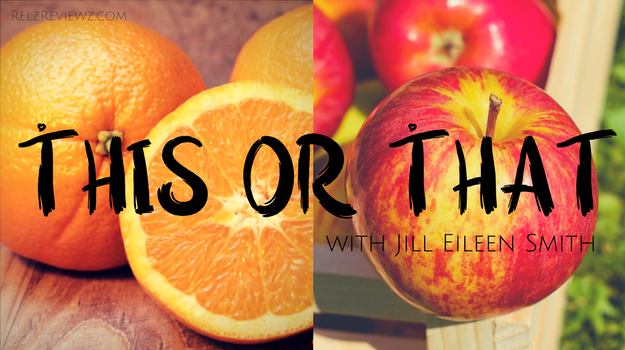 Delighted to have Jill Eileen Smith visit the blog today. Jill is renowned for her insightful, detailed, and intriguing Biblical fiction novels with a focus on women in the Bible who changed lives, influenced others, and often made huge sacrifices for their belief in the one true God. I hope you enjoy getting to know Jill a little better as she shares her preferences below! Be sure to enter the giveaway and free some time tomorrow night to head over to Jill's FB page and join in the fun of her Launch Party!
Over to you, Jill!
***
Cake or Cookies
Cookies without question! Actually, I don't usually eat either one because I avoid a lot of carbs, but my hubby used to make our Christmas cookies every year when the kids were home and there were so many good ones they became the main dessert throughout the holidays. We don't eat as many now that they live so far away.
Call or Text
Call. I love texting to a point. It can brighten the day to have someone text out of the blue to share a thought or say I love you. But a call, to hear their voice, and spend time with them means so much more. It says "I really care." Texts are too impersonal.
Coke or Pepsi
Neither. I don't drink pop/soda of any kind except perhaps on a rare occasion.
Dogs or Cats
Hands down. No contest. Cats! I grew up with a dog, so it's not that I don't like dogs at all. But my sister is the dog lover. We got our first cat the first year of our marriage and he lived 21 years. The next day we brought home another rescue kitty and he lived 18 years. We've had Tiger for 12 – he was our first kitten – and I've told him he owes me at least ten more years.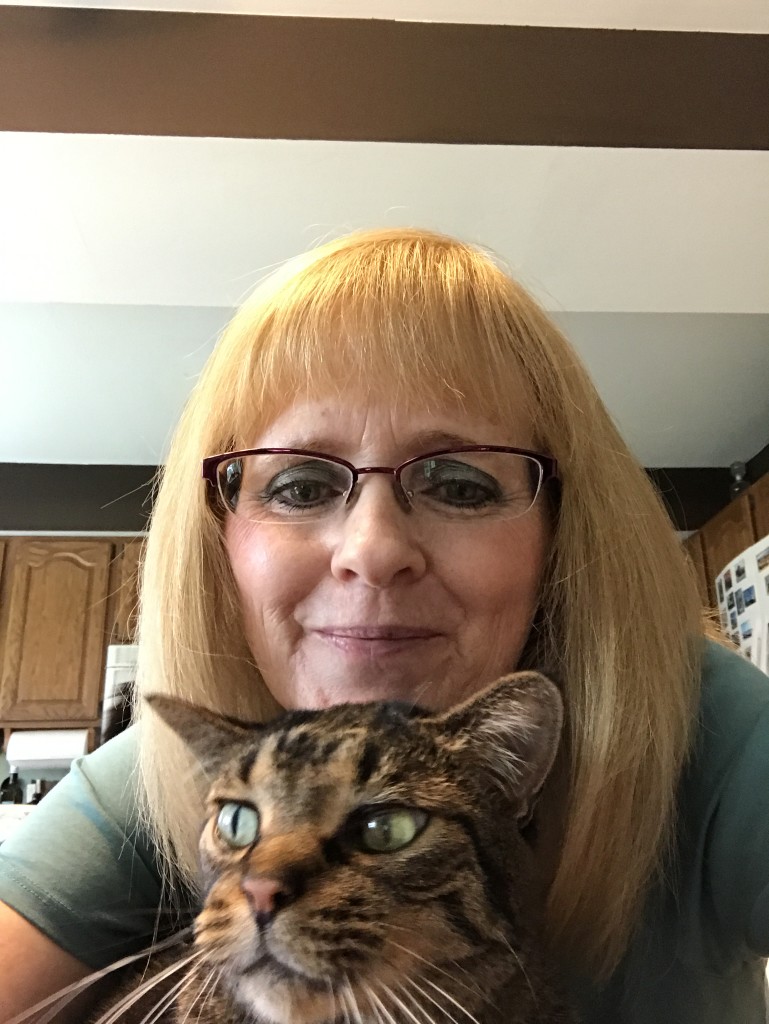 Jill and Tiger
Eggs or Pancakes
Do I have to choose? Eggs because they are better for me. Pancakes because I really like them. Or…you can make flourless pancakes with eggs and bananas and they are honestly really good. So both.
Facebook or Twitter
Facebook. I'm on both, and I will scan Twitter but I spend more time enjoying Facebook and connecting with readers there.
First person or Third person
Both. I usually write in third, but I've dabbled in First in the Loves of King Solomon novellas. And my non-fiction works-in-progress has a first person feel. But for longer fiction, I enjoy third because I love multiple points of view.
Instagram or Pinterest
Instagram, though I have a Pinterest account and I do try to make boards there when I can. Instagram allows me to share quickly and I keep up with certain family members there.
Marvel or DC
Both? I'm not that into superheros, but I've enjoyed movies from both Marvel and DC Comics. So I don't have a favourite.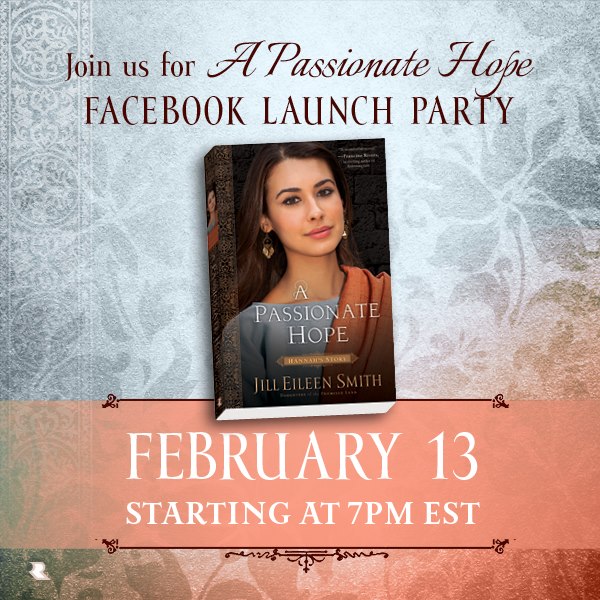 Paperback or EBook
Hmm…Again, I like both. I suppose paperback would win just because they are easier to share with my hubby or my mom when I'm done. And my mom doesn't read Ebooks. But for travel it's Ebook, definitely. I can fit my Kindle Paperwhite into my purse and read on a plane or in a car or at a hotel. Books weigh down the suitcase and I'm all for lightweight these days!
Summer or Winter
Summer, without question. Winter is nice for a few minutes – or maybe a week around Christmas. But I'm a flip flop, sunny beaches, sunshine kind of girl. I live in the wrong state for it though.
Sweet or Spicy
Sweet. I'm not a big spicy fan.
Tattoos or Piercings
Pierced ears, and maybe a nose piercing – at least they look good on younger people. Not into tattoos.
Tea or Coffee
Mostly tea. I drink coffee on the occasion that I didn't get enough sleep, or I have a caffeine deprived headache. Otherwise English Breakfast tea is best.
Thornton or Darcy
I must admit that I have North and South on my Netflix but have yet to watch it, and I haven't read the book. But I love Mr. Darcy. Pride and Prejudice is one of my favourite movies and I loved the book. I could watch Pride & Prejudice multiple times and not grow tired of it.
Yoga Pants or Jeans
Jeans.
Zoo or Aquarium
Hmmm… Depends on the mood I'm in. I would probably say zoo, but I like both.
 A Passionate Hope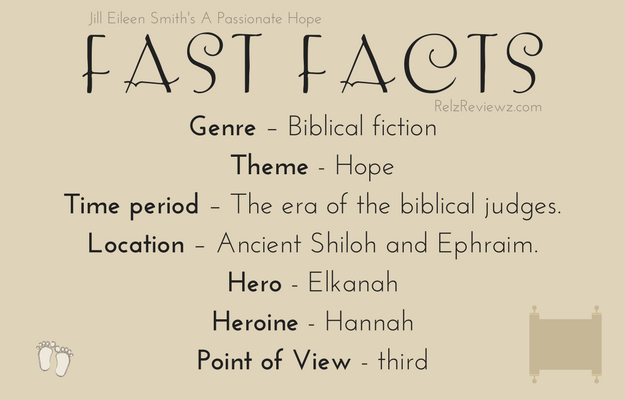 Hannah and her husband, Elkanah, share a deep and abiding love, for each other, for their God, and for his tabernacle at Shiloh. Greatly disturbed by the corruption of the priests, they long for restoration and pray for a deliverer. But nothing changes as the years pass. Years that also reveal Hannah to be barren.

Pressured by his family to take another wife, Elkanah marries Peninnah, who quickly begins to bear children. Disgraced and taunted by her husband's new wife, Hannah turns again to prayers that seem doomed to go unanswered. Do her devotion and kindness in the face of Peninnah's cruelty count for nothing? Why does God remain silent and indifferent to her pleas?

Travel back to the dusty streets of Shiloh with an expert guide as Jill Eileen Smith brings to life a beloved story of hope, patience, and deliverance that shows that even the most broken of relationships can be restored.
Jill Eileen Smith is the bestselling, award-winning author of the Wives of King David series, the Daughters of the Promised Land, the Wives of the Patriarchs, and The Loves of King Solomon series. Her research has taken her from the Bible to Israel, and she particularly enjoys learning how women lived in Old Testament times.
When she isn't writing, she loves to spend time with her family and friends, read stories that take her away, ride her bike to the park, snag date nights with her hubby, try out new restaurants, or play with her lovable, "helpful" cat Tiger. Jill lives with her family in southeast Michigan.
Contact Jill through email (jill@jilleileensmith.com), her website (http://www.jilleileensmith.com), Facebook (https://www.facebook.com/jilleileensmith), or Twitter (https://twitter.com/JillEileenSmith).
Relz Reviewz Extras
All Things Smith @ Relz Reviewz
Visit Jill's website/blog
Buy at Amazon: A Passionate Hope or Koorong