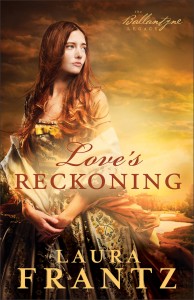 Synopsis:~
On a bitter December day in 1785, Silas Ballantyne arrives at the door of master blacksmith Liege Lee in York, Pennsylvania. Just months from becoming a master blacksmith himself, Silas is determined to finish his apprenticeship and move west. But Liege soon discovers that Silas is a prodigious worker and craftsman and endeavors to keep him in York. Silas becomes interested in both of Liege's daughters, the gentle and faith-filled Eden and the clever and high-spirited Elspeth. When he chooses one, will the other's jealousy destroy their love?
In this sweeping family saga set in western Pennsylvania, one man's choices in love and work, in friends and enemies, set the stage for generations to come. Love's Reckoning is the first entry in The Ballantyne Legacy, a rich, multi-layered historical quartet from talented writer Laura Frantz, beginning in the late 1700s and following the Ballantyne family through the end of the Civil War.
My take:~
Love's Reckoning, the first in the highly anticipated Ballantyne Legacy is a stunning tale of love, loss, courage and faithfulness. Establishing herself as a premier writer of historical novels with an exceptional debut novel, The Frontiersman's Daughter and her subsequent offerings, Courting Morrow Little and The Colonel's Lady, Laura Frantz has exceeded expectations with Love's Reckoning. It is a beautifully rendered story about a young woman whose calm and patient spirit captures the heart of a man whose talent, determined ambition and strength of character destines him for greatness beyond the small town of York and the self seeking father who seeks to control his abilities and his future. Laura crafts characters of immense depth and imbues them with all manner of unique qualities, both appealing and irksome, each one vividly drawn. and unforgettable. With descriptive prose and attention to the smallest detail, I was plunged into 1780s Pennsylvania,  feeling the heat of the forge, the pain of a father's rejection and the love of an honourable man. The path towards love is evocative and intricate, littered with hurts, fears and healing, yet never certain in its conclusion leaving me breathless more than once. If you seek a story of great substance, spiritual depth and superior prose, look no further than Laura Frantz and Love's Reckoning.
Available September 2012  at your favorite bookseller from Revell, a division of Baker Publishing Group
With thanks to the author and Revell for my review copy
Relz Reviewz Extras
Character spotlight on Cassius & Roxanna
Reviews of The Colonel's Lady, Courting Morrow Little and The Frontiersman's Daughter
Character spotlight on Lael Click
Character spotlight on Morrow Little
Visit Laura's website and blog
Buy Love's Reckoning at Amazon and Koorong