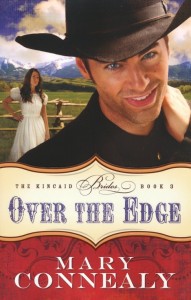 Reckless and more than a little crazy, Seth Kincaid is about to meet his match in a woman he can't remember, despite the fact she is his wife.
Badly burned by a childhood adventure that shattered his whole family, Seth's mental state suffers further damage, wrought by the traumas of the Civil War and the injuries that almost killed him. While he survived the War, he may not survive the wrath of Callie Kincaid, the woman who claims to be his wife and seems intent on seeing him to an early grave.
Callie Kincaid has searched for the crazy man she married in haste, all the way to his family ranch in Colorado, in the hope his brothers Rafe and Ethan can help her. When she discovers Seth is alive, still mentally unstable and with no memory of who she is or their time together, Callie despairs and is appalled by the attraction she still feels towards the man who deserted her.
When Seth and Callie discover a Kincaid family secret that places the ranch at risk and Callie reveals her own revelation that will forever alter Seth's life, the two must work together to keep Seth sane to have any chance of a future together.
Mary Connealy has forged a name for herself with her historical romantic comedies set in the Wild West and Over the Edge continues that tradition. The final instalment in the Kincaid Brides trilogy focuses on Seth, whose questionable mental state has been exposed in the previous stories and is in now in full flight as he comes to terms with a wife he can't remember and the voices in his head. Mary's books lend themselves to precocious and audacious characters that are larger than life and Callie fits the bill as she breathes fire at her recalcitrant husband. There were some moments that I cringed at the patronising tone of the Kincaid brothers towards their wived and at Callie's overbearing personality . That aside, there is laughter, entertainment and a few surprises to be found in all Mary's novels and Over the Edge is no exception. The plot will feel familiar as it follows the themes of the previous stories as it ties up the loose ends for the Kincaid men and the women they love. Fans will be well pleased with the final addition to this series.
As seen at TitleTrakk.com
With thanks to Litfuse & Bethany House for my review copy
Relz Reviewz Extras
Get to know Mary Connealy
Reviews of Over the Edge, Doctor in Petticoats and Out of Control
Visit Mary's website and blog
Buy Over the Edge at Amazon or Koorong
Seekerville
Petticoats & Pistols
Facebook: https://www.facebook.com/maryconnealy
Twitter: http://twitter.com/maryconnealy