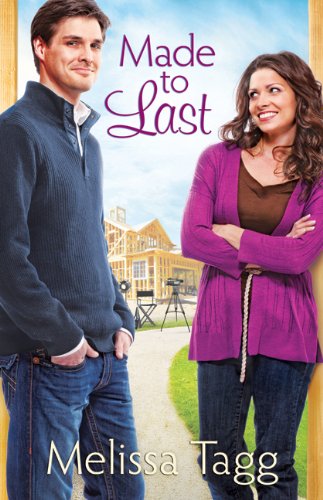 Synopsis:~
Miranda Woodruff has it all. At least, that's how it looks when she's starring in her homebuilding television show, From the Ground Up. So when her network begins to talk about making cuts, she'll do anything to boost ratings and save her show–even if it means pretending to be married to a man who's definitely not the fiance who ran out on her three years ago.
 
When a handsome reporter starts shadowing Miranda's every move, all his digging into her personal life brings him a little too close to the truth–and to her. Can the girl whose entire identity is wrapped up in her on-screen persona finally find the nerve to set the record straight? And if she does, will the life she's built come crashing down just as she's found a love to last?
My take:~
Melissa Tagg's debut novel has been on my radar for some time and having got to know Melissa a little though her blog, my expectations were high for this new voice in contemporary romance. As promised, Melissa's vibrant personality and humour shone in this story about a tv personality whose little deception in the name of ratings becomes a noose around her neck. I loved every character in this book – their authenticity shone and that always draws me in – for their foibles as much as their better qualities, for their struggles and their mistakes. Matthew drew me in particularly, sure he's appealing in the usual romantic ways but the insecurites and errors of judgements made him much more real than most heroes. That said, I spent the first half of the book in state of perpetual anxiety as Matthew wrestles with his attraction to a woman he believes is married. I don't enjoy watching people squirm, feel humiliated, or be racked with guilt when there is no need for it, even characters in a book! I was able to enjoy the excellent writing, witty dialogue, and unique premise so much more once the truth about Randi was out. This is more about how I'm wired rather than a fault with the story – Melissa used the deception and its consequences as an excellent reminder of the harm such behaviour can cause.  I opened this book anticipating a lighthearted and humourous read and while those moments exist, pleasingly, there's a lot more substance to this story than in a standard romantic comedy. Once my ulcer heals, I can't wait to read the next novel from Melissa's talented mind!
With thanks to Bethany for my review copy
Relz Reviewz Extras
Visit Melissa's website
Buy Made to Last from Amazon or Koorong