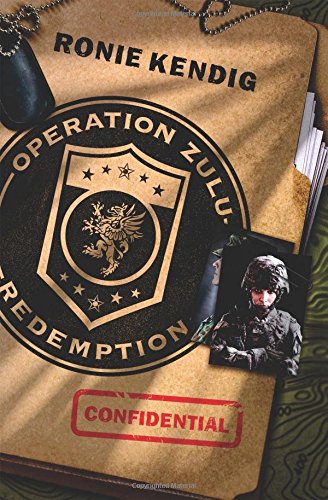 Synopsis:~
They never should've existed. Now they don't.  
Zulu, the first all-female special ops team, was set up to take a devastating fall. Fearing for their lives, Zulu members vanished with new identities. Isolated and haunted by their past, they are terrified of being discovered.  Over the years, the brave women of Zulu have begun to hope they might be safe and the terrible tragedy forgotten.  Until two of them are murdered.
My endorsement:~
There's always been something utterly addictive about Ronie Kendig's writing but she has injected Operation Zulu Redemption with extra high-octane habit forming fuel. You are strapped in and immobilised from the get-go as the incredible women of Zulu, a secret black ops team, are introduced and their hidden lives implode as an unknown enemy sights them in his cross hairs. With the same intensity and adrenaline inducing qualities of an episode of 24, Operation Zulu Redemption doesn't let up for a second as the women are ripped from their homes into the tenuous safety of their former handler, Colonel Trace Weston, a man one of Team Zulu hoped never to see again. Ronie maintains the frantic pace, never downplays the action, nor reduces the emotional kick. Her characterisation is nothing short of brilliant – it's so easy to fall in love with these characters, smile at their quirks, cry with their pain, and fear for their lives! While the story wraps up well, I'm desperately hoping for a sequel as I'm so engaged in these characters stories that I want to know more. Brace yourselves, readers, this is one hair-raising, heart- pumping ride you can't afford to miss!
With thanks to the author for my review copy. This updated review is a combination of my previous reviews of the serialisation episodes that are now contained in one paperback volume.
Relz Reviewz Extras
All Things Zulu @ Relz Reviewz
Visit Ronie's website and blog
Buy at Amazon: Operation Zulu Redemption or Koorong