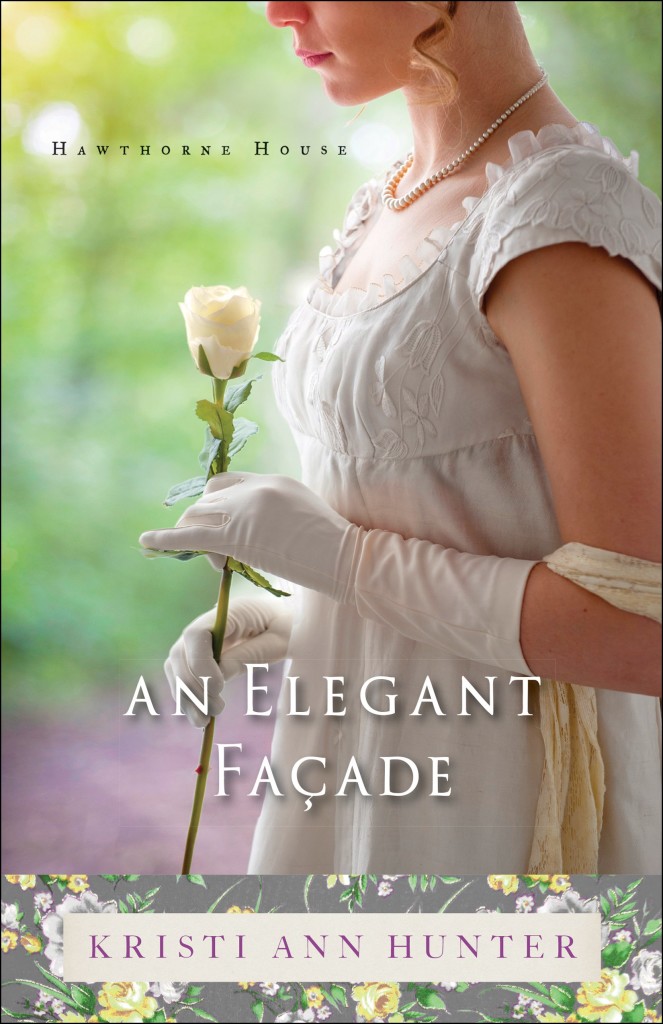 Meet a lady and a sailor in
Kristi Ann Hunter's
Regency romance
An Elegant Facade
Bethany House
*******
The Story

Lady Georgina Hawthorne has worked tirelessly to seal her place as the Incomparable for her debut season. At her first London ball, she hopes to snag the attention of an earl.

With money and business connections, but without impeccable bloodlines, Colin McCrae is invited everywhere but accepted nowhere. When he first encounters the fashionable Lady Georgina, he's irritated by his attraction to a woman who concerns herself only with status and appearance.

What Colin doesn't know is that Georgina's desperate social aspirations are driven by the shameful secret she harbors. Association with Colin McCrae is not part of Georgina's plan, but as their paths continue to cross, they both must decide if the realization of their dreams is worth the sacrifices they must make.
Introducing Georgina and Colin
Lady Georgina Hawthorne
Brief physical description
Blonde and ethereal with green eyes, Georgina is the epitome of English beauty, except for her slightly uneven ears hidden behind her ringlets.
Resembles…
She was based on Taylor Swift. Here's one of my inspiration pictures.
Strengths and weaknesses
One of Georgina's strengths is an ability to work with people. Manipulating might be a better description if we're being honest. This strength was partially developed because of her weakness for believing she can't be herself around others because she's a bit different than they are.

Quirk (if any)
It's a bit of a spoiler alert because this quirk develops as the book goes on, but Georgina has a little person living in her mind, a mental image of her voice of reason. That the person looks an awful lot like the man she's trying to stay away from simply adds to the difficulty.  

Your inspiration for the character
I don't think there's a person alive that doesn't wear some sort of mask. Georgina is the personification of that need to hide our flaws from the world, sometimes at the expense of forming true, deep relationships.
Mr. Colin McCrae
Brief physical description
A Scotch-Irish who grew up sailing and working on boats, he's got blue eyes and reddish-brown hair with a bit of curl to it.
Resembles…
Ian Somerhalder was used as the inspiration, though only certain pictures of him really fit the description. Here's the one that I used.
Strengths and weaknesses
Colin's strength is somewhat similar to Georgina's in that it deals with his people skills. He is very observant and forward-thinking, able to put together people with opportunities and see potential when others don't. His weakness lies in that he has a hard time doing that for himself. He doesn't want to deal with the pain in his past so he throws himself into the more tangible and less personal world of business.

Your inspiration for the character
As a contrast to Georgina's deliberate hiding of herself from the rest of the world, Colin tends to hide from himself. He is created from the moments when we try to fool ourselves into thinking life is a certain way, wearing a mask of sorts in our head while letting elements of ourselves show to those around us.

Background to the story
Georgina played a bit of a villain in the first two books. There's a piece of writing advice I've heard often that says every villain should be the hero of their own story. This was an idea I wanted to incorporate into the Hawthorne House series. At the time I was listening to the Casting Crowns' song, Stained Glass Masquerade, a song about hiding our flaws in order to look better to other people. When the two ideas combined, Georgina and Colin's story was born.
Thanks Kristi!
Relz Reviewz Extras
The Reading Habits of Kristi Ann Hunter
Download the FREE ebook prequel, A Lady of Esteem
Visit Kristi's website and blog
Buy at Amazon: An Elegant Facade or Koorong