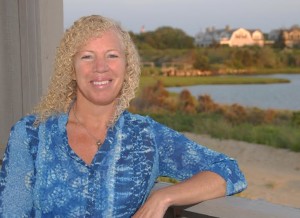 Discover more about
Lisa Belcastro
and her time travel romance
Shenandoah Dreams
Oak Tara
********
A favourite childhood book?
When I was very young, I loved Robert McCloskey's Make Way for Ducklings. My mom or dad would read it to me night after night.  In my teen years, I devoured the Laura Ingalls Wilder books, multiple times. Thirty years later, I flew out to the Midwest with my youngest, also a Little House fan, and we drove to all but one of the home sites.
Do you remember the title of the first story you ever wrote? What was it about?
Is it horrible to confess that I don't remember the exact title? Something like: My Cat Fluffy or perhaps Fluffy and Me. And you've guessed the story was about my cat named Fluffy. My mother made the appropriate oohs and aahs as she read about how I loved Fluffy and Fluffy loved me. I think I was five or six. I wouldn't be surprised if my mother still had it buried in one of the many boxes in the attic.
If you weren't a writer, what career would you/did you/do you have pursued?
I am torn between a landscape artist, as I love plants and designing gardens, or an architect. I remodelled three of the homes I've lived in. I can picture myself thoroughly enjoying the process of creating beautiful, eco-friendly, unique homes of all sizes for families or individuals to live in.
Why do you write stories?
I have to write them because the characters talking and acting out in my head don't stop speaking and moving until I get their stories down on paper. But don't you know, that before I'm done one book, another group of characters starts telling me their story. Fortunately this leads to many incredible dreams. I love the creative process of imaging people, their lives, where they are going, what they are going to say and do, and then watching it all come to life. While I experience this on one level with my children, my novel friends rarely drive me to the point of wanting to pull my hair out. LOL
Shenandoah Dreams
What if she met the man of her dreams…in another century?
Tisbury, Massachusetts, Martha s Vineyard.
It's just a dream, Melissa Smith whispers as she stares into the intense eyes of a man dressed in Colonial clothes, as though stepping out of an American Revolution movie set. A school chaperone with Holmes Hole Elementary, she d boarded the old schooner Shenandoah for a weeklong educational sail. But they are not visiting Plimoth Plantation, the Boston Tea Party Museum, or the Concord Bridge reenactment. They're sailing the waters around the island of Martha's Vineyard. Yet, when she awakes in Cabin 8, the captain claims to be Isaiah Reed, who sailed the original Shenandoah in the eighteenth century. He cannot possibly be real, Melissa thinks. And traveling back in time is impossible. But days pass, and she s still in 1770.
What if Isaiah, who is simply too handsome to be real, is real? What if the fire he ignites in her from barely a touch isn't in her imagination? Can a dream last for weeks on end? If so, how will she find her way home…to the twenty-first century? And can she bear to leave the one man who has captured her heart, when everything in her longs to stay?
Describe your novel in 5 adjectives
Redeeming, romantic, hopeful, adventurous, fantasy
Please share a little about one of your main characters
Melissa Smith, my heroine, is your average woman. I love that about her. She's real. I could be her; any one of my girlfriends could be Melissa. She's smart, kind, talented, independent, and natural. You won't find Melissa spending hours on hair and makeup, nor will she shop until she drops. During the school year, her teacher look is compromised of long skirts with loose shirts or comfy sweaters. In the summer Melissa's happiest in shorts and tee shirts, which is perfect for the days she spends sailing aboard the Shenandoah. Her latest passion is photography, and she's working up the courage to develop a line of greeting cards to sell in the Island gift stores. Melissa's faith grounds her, though she's been known to need a nudge or two in church if the pastor goes on too long. As I was writing Melissa's story, I discovered how much I liked her as a person. She's a dedicated teacher with a heart for her students. Melissa's life is not headline material by society's standards, yet every day, through kindness and love, Melissa impacts people around her in a positive way. I would be honoured to call her my friend.
What spiritual theme or question does your story deal with?
The hero and heroine in Shenandoah Dreams have each experienced heartache and loss. Never wants to walk down the aisle again, and both have careers that they enjoy and are living lives that they believe is the right choice for them. When each of their worlds is turned upside down, Melissa and Isaiah must learn to "Trust in the Lord with all your heart and lean not on your own understanding; in all your ways submit to him, and he will make your paths straight." Proverbs 3:5-6
Share a recent movie or tv show that you have loved, and why?
I'm going to say it and then hide: Frozen.  I LOVE that movie. I love the music. I love the story. I love that I shared it with my girls and we continue to sing the songs almost every day. I'm a sucker for happily ever after endings, and also a true Disney fan.
What novel are you working on now?
I've started a new series tied to the Possible Dreams Auction, a yearly fundraiser for the Martha's Vineyard Community Services. People come from all walks of life to bid, buy, and gawk at the improbable items for sale. In the first book, A Dream for Love, my heroine wins a week stay at a movie star's summer home. She's thrilled to have the time with her daughter . . . until the bad boy Hollywood heartthrob arrives after a scandal hits the tabloids and he's kicked off his latest film location. They are an unlikely pair. Laurel's faith is strong, and she's devoted to being a good mom. Ryan is trouble with a capital 'T' and best observed on the big screen. Situations pull them together, but Laurel is convinced she should never trust a man again, never mind one with a womanizing track record longer than her ex-husband's prison record. Ryan, on the other hand, decided long ago that single moms should be avoided like the plague. I love watching as one or both of them feels a twinge of attraction and then tries to squelch it before the thought becomes something more.
Thanks Lisa!
Relz Reviewz Extras
Visit Lisa's website
Buy at Amazon: Shenandoah Dreams