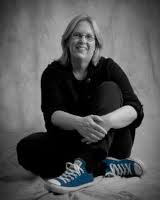 Discover more about
Joyce Magnin 
and her Quilts of Love novel
Maybelle in Stitches
Abingdon Press
~~~~~~~~
What was a favourite childhood book of yours?
Oh boy, tough question right from the start. I loved so many books. Harriet the Spy, Emily of New Moon and a book not too many people know entitled The Banyon Tree.
Do you remember the title of the first story you ever wrote? What was it about?
Yep. It was in third grade. I called it, The Day the Martians Came to Town. It was about  how the Martians came to Earth to knock over Fort Knox for the gold because, as it turns out, Martians eat gold and they had run out.
If you weren't a writer, what career would you/did you/do you have pursued?
There was only one other thing I ever thought I'd like to pursue—Speech Pathologist.
Why do you write stories?
Because it's the only thing I do that when I'm doing it I don't feel like I should be doing something else. And because stories teach, stories help me discover and because I love characters.
Maybelle in Stitches
Maybelle can't sew. But when she finds an unfinished quilt in the attic of her mother's house, she gets the crazy idea to complete it. At first, it's just a way to fill the lonely nights while her husband, staff sergeant Holden Kanzinzki, is away fighting in World War II.
Yet when Maybelle discovers that the quilt is made from scraps of material that can be traced back through her family heritage, the project is suddenly much more important. Then word comes that Holden is missing in action, and with little else to do, Maybelle clings to the quilt as much as to the hope that her husband is still alive. As neighborhood friends gather around Maybelle to help her through the unknown days and nights ahead, it is the quilt that becomes a symbol of her unflagging belief that Holden will return-to her, to their home, and to their quilt-covered bed.
Describe your novel in 5 adjectives
Quirky, Historic, Fun, Poignant, Quilty?
Please share a little about one of your main characters 
Maybelle is kind of cross between me and some other women I've known. She's tall, smart and can't sew to save her life (neither can I) but when she is met with a challenge she goes for it—full force.
What spiritual theme or question does your story deal with?
In a word Hope. Also, perseverance, pressing on.
Share a recent movie or tv show that you have loved, and why?
Well, I guess it would have to be Downton Abbey. Besides the hats, I love Downton because it teaches me about writing. Every time a principle character (and there are many) comes on stage you know there will be a conflict, change, characterization.
What novel are you working on now?
I am working on a quirky romance that is kind of a retelling of May Fair Lady or Pygmallian but there's a dog.
Thanks Joyce!
Relz Reviewz Extras
Visit Joyce's website
Buy Maybelle in Stitches from Amazon or Koorong