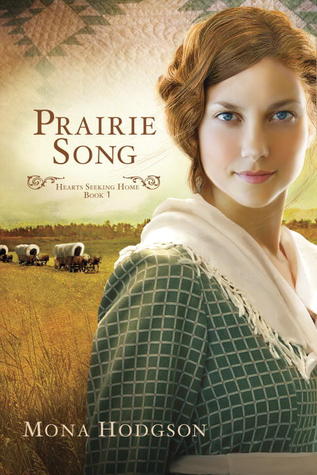 Synopsis:~
The first step in a challenging journey is often the one that means the most. 
 
Though it means saying goodbye to the beloved friends and spiritual mentors of her St. Charles, Missouri quilting circle, Anna Goben is certain that she needs to enlist her family in the Boones Lick Company wagon train. The loss of her beloved brother in the Civil War has paralyzed her mother and grandfather in a malaise of grief and depression and Anna is convinced that only a fresh start in the Promised Land of California can bring her family back to her. Although the unknown perils of the trail west loom, Anna's commitment to caring for her loved ones leaves no room for fear—or even loving someone new.  
 
During the five-month journey, trail hand Caleb Reger plans to keep a low profile as he watches over the band of travelers. Guarding secrets about his past and avoiding God's calling on his life, Caleb wants to steer as far from Anna as she does him, but she proves to be just as he assessed her from the beginning— independent, beautiful trouble. 
 
Led by a pillar of hope, the group faces rough terrain that begins to take a toll on their spirits. Will the wilderness of suffering lead them astray, or will the gentle song of love that echoes across the prairie turn their hearts toward God's grace and the promise of a new home?
My take:~
I seem to be reading a mountain of historical romance novels lately and Mona Hodgson's Prairie Song held its own amongst a range of high calibre novels. This story follows on from her previous series, which is apparent as you meet some of the characters but not detrimental to the story. Mona clearly knows what her readers want from her stories ~ sweet, traditional, expected outcomes ~ but that said, the story delves into some gritty issues with Anna's mother's dependence on alcohol, the bitter fallout from the Civil War, for individuals and as a community, and Caleb's refusal to pursue his spiritual calling. Anna and Caleb are solid characters, each determined in their own way. Prairie Song will satisfy devoted readers and garner new ones for this experienced historical writer, especially those enamoured with wagon trail stories. 
With thanks to Waterbrook Multnomah for my review copy
Relz Reviewz Extras
Visit Mona's website and blog
Buy Prairie Song from Amazon or Koorong