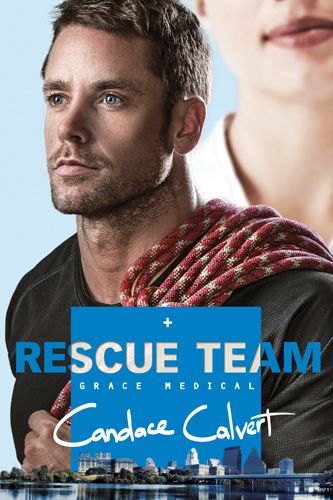 Synopsis:~
Tired of running from her past, nurse Kate Callison intends to become Austin Grace Hospital's permanent ER director and make Texas her home. Despite staff friction, she's moving ahead. Then unthinkable tragedy wraps the ER in crime tape, bringing swarms of media, legal chaos—and a search-and-rescue hero who seems determined to meddle in her life. 
For Wes Tanner, nothing beats finding someone who's lost; he's known that helpless terror firsthand. So he'll expand his team's lifeline of hope: K9 tracking, swift water rescue, even horse-mounted searches. He's ready for anything—except Austin Grace's prickly and dismissive ER director. 
As Kate and Wes discover more about each other, new respect becomes something deeper. Kate wonders if her heart might have finally found a home. Then an unsolved missing persons case—and a startling new one—become catalysts that threaten the loss of all she and Wes have found.
My take:~
Candace Calvert makes hearts race, raises anxiety levels, and heightens emotions ~ all against doctors' orders ~ but it seems to be an ultimate cure for anyone in need of their reading fix! Rescue Team is another fast paced, evocative, romantic drama from this talented nurse turned author, populated by a humble and hunky hero, a dedicated yet defensive heroine, and a cast of intriguing minor characters that only add to this story's appeal. Candace writes genuine stories that reflect her intimate knowledge of the ER and the need for healing, of both the physical and emotional kind. Candace has truly found the perfect niche for her literary skills creating warm and tender characters finding love, amidst the difficult but always interesting hospital setting. Can't wait for more, Candace!
With thanks to Tyndale for my review copy