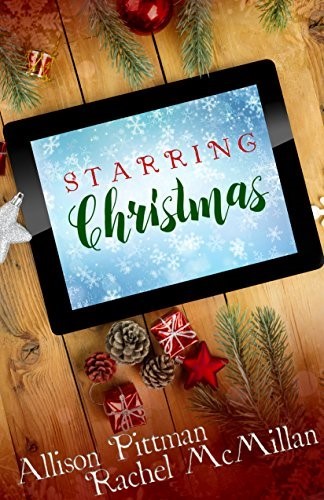 Synopsis:~
Starring Christmas features two Christmas novellas by beloved novelists in one set!
Falling for a Christmas Star by Rachel McMillan
Sam Medina has finally made it. A last minute casting change finds him en route to Toronto to star in the latest entry of the Serendipity Network's annual Christmas movie extravaganza, My True Love Gave to Me. Finally, he will have the chance to shake off his reputation for supporting roles as the best friend or kind-hearted barista and prove that he is leading man material.
Merry Strathford is too busy for love. When she's not pursuing a tenure track position in Medieval Women's studies, she's serving plum pudding lattes at the Holly and the Ivy Café. Thus far, the only romance in her life occurs when she falls under the spell of her favourite made-for-TV movies. That is, until Sam Medina walks through the coffee shop door.
Suddenly, both Sam and Merry are living the romance of a Serendipity movie. But life isn't all snowflakes and sugar plums and real life —and relationships—are far from cookie cutter shortbread.
Lone Star Christmas Lights by Allison Pittman
Mari Medina is in love…with her neighborhood. She's converted her historic ancestral home into a cool coffee shop and party space, with an apartment upstairs big enough to share with her mother. It's a comfortable, safe existence, even if it lacks the spark to fuel her unsuccessful attempts to break into the world of writing romance. Still, she's always on the lookout for a new taste to bring to her patrons.
Larsen Clarke had everything that comes with a successful career: a luxury apartment, a flashy sports car, and his pick of society women. When hardship strikes his family, he gives it all up, trading for a room in his brother's home, and a venture into creating craft beer. He's traded his expensive suit for a plaid shirt, and the only risk he's willing to take involves bold Texas-based brew.
When Mari and Larsen meet, it's a collision of retail and romance. She's looking for a story, he's looking for himself. Together, they just might find a little lone star magic.
My take:~
So here I am again writing a review of a Christmas themed novel, the kind of book I rarely seek out. But it was worth it! Two of the sharpest and wittiest writers I know have joined forces in Starring Christmas, penning a love story each for siblings, Sam and Mari Medina. Pittman and McMillan's love of Christmas, festive movies, craft beer, and romance make for enchanting reading, with the perfect amount of sugar and spice. I'm not ashamed to admit I was very much taken with Pittman's Larsen Clarke! Authentic and super fun, Starring Christmas is a must read this Christmas season and beyond.
With thanks to the authors for my review copy. Later this week I'll be posting a character spotlight, so you will get to meet Larsen, Merry, Sam and Mari.
Relz Reviewz Extras
Visit Allison's website and blog
Visit Rachel's website and blog
Buy at Amazon: Starring Christmas