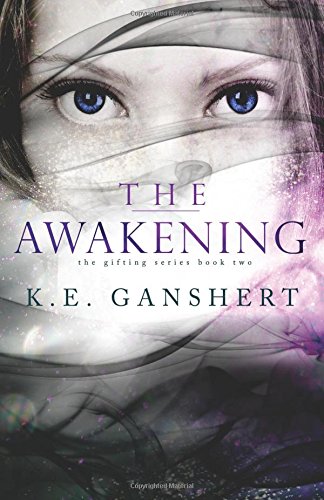 Synopsis:~
"I can't go home. It's not safe. Nowhere is."
Tess Eckhart isn't crazy. She's not suffering from psychosis. She and Luka Williams are part of The Gifting. Before they can find out what that means, the man with all the answers turns up dead. The only thing he left behind? A few patient files that lead to the nation's most lawless city.
With authorities chasing them, Luka and Tess escape into the very heart of peril and against all odds, find an underground community of people just like them. They aren't gathered together for the sole purpose of survival, either. They have a plan and a purpose–to awaken as many people with The Gifting as possible. It's dangerous and deadly work. Tess wants to help. Luka is desperate to keep her safe–a task that proves increasingly difficult as Tess's gifting comes to light.
Is Tess Eckhart the One they've been waiting for? The One with the power to save them all?
My take:~
Gripping. Evocative. Mesmeric.
K. E. Ganshert's The Awakening, book two of her Gifting series deserves those superlatives and more. The ongoing drama of Tess and Luka's predicament is engrossing with intriguing characters emerging as the young escapees begin to realise the extent of their abilities and the evil that is stalking them and their kind. The story has it all going on! Danger, drama, jealousy, romance, action, adventure, twists, and smokescreens, supernatural occurrences, and real life heartache. The beauty of this novel is that K. E. Ganshert balances these elements to perfection. Teens will devour these stories but as someone long past those years, do not discount this series due to its target audience. I guarantee it will keep any lover of adventurous storytelling glued to the pages. Bring on The Gathering!
*The Awakening was my own purchase. I'll be sure to be adding paperback copies to my Christmas list!
Relz Reviewz Extras
Review of The Gifting
Character spotlight on Tess & Luka
Subscribe to K.E. Ganshert's mailing list
All Things Ganshert @ Relz Reviewz
Visit Katie's website and blog
Buy at Amazon: The Awakening