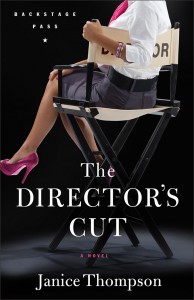 Synopsis:~
Tia Morales is used to calling the shots. She's the director of the popular sitcom Stars Collide, and her life on set is calculated and orderly. Well, most of the time. But her life outside the studio is another matter. If only she could get her family to behave as well as her stars do! When she starts butting heads with handsome camera operator Jason Harris, it's enough to send a girl over the edge.
Will she ever learn to let go and take life–and love–as it comes?
My take:~
Janice Thompson's novels are always fun and invigorating and her final Backstage Pass novel continues that trend. Displaying her personal experience as a screenwriter with a Hollywood background, all the technical details and uniqueness of a TV show setting are teamed with genuine, down to earth characters wrestling with life, love and family.  Faithful readers will enjoy the little nods to characters in some of her previous series and the ever present funny moments that make  Janice Thompson's stories uniquely hers.  If you are looking for a story to relax with and enjoy, pick up a copy of The Director's Cut today.
Available June, 2012 at your favourite bookseller from Revell, a division of Baker Publishing Group
With thanks to Revell for my review copy