The Inside Scoop!
Naomi Rawlings
and her historical romance
Love's Sure Dawn
**********
I grew up in… Warren (just outside of Detroit), Michigan, USA, but now I live in northern Michigan just a few miles from the Lake Superior shoreline. It makes for much better scenery than Detroit!
I was inspired to write my first published novel by… My high school history teacher. I remember learning about the French Revolution and reading how the aristocrats who had the world at their fingertips lost everything overnight. Thus Sanctuary for a Lady was born, but it took me another decade to get around to writing the story and finding a publisher.
The books that have most influenced my life are… Gone with the Wind still haunts me.  It's a story that lives inside you for forever once you read it.
A Voice in the Wind by Francine Rivers is probably my all-time favorite inspy novel, followed closely by A Passion Most Pure by Julie Lessman. A Passion Most Pure showed me that you could write deep characters with spiritual struggles and romantic attraction and come out with a phenomenal Christian novel. Not everything had to be arranged marriages and puppy dog eyes set on the prairie.
My biggest challenge when writing is… LOL! I don't know. It's different with every book. On average, I usually end up tossing out and rewriting about 10,000 words in every novel. I have a plot planned out in my mind, but it seems like I always end up fizzling at some point. Usually that point is a bit early on, but for Love's Sure Dawn, I ended up completely rewriting the climax and the last two chapters of the novel. My characters' motivations just weren't matching their actions, or if the motivations and actions did match, it was in a way that made the reader frown and want to set the book aside, not smile and cheer for the characters.
It's all fixed now, but I was cyber-throwing vases at my critique partner, Melissa Jagears, when she sent me eight typed pages about why I needed to rewrite the last two chapters of my novel.
One of my favourite authors is… That's not a fair question to ask an author who has other author friends.
I'll go with Melissa Jagears—when I don't want to throw something at her for making me rewrite part of my novel
Roseanna White—the writer with the most overactive imagination on the planet
Julie Lessman—for putting some romance and physical attraction into her novels
Mary Conneally—for making me laugh
If I wasn't a writer, I would be… A lot less sleep deprived, and a mom with a much cleaner house. And I'm sure I'd be a pretty heavy book blogger.
The superhero talent I would love to have is… Cleaning. I want to be like Samantha in Bewitched and just wiggle my nose and have the house clean.
Love's Sure Dawn

No matter how hard she tries to help, Rebekah Cummings always ends up causing more problems than she solves. This time, though, things will be different. She'll find a way to pay her family's debts, even if doing so requires leaving Eagle Harbor. Maybe then they'll start treating her as a capable woman who makes her own choices.

Gilbert Sinclair is going to marry an heiress. With his latest business venture sunk at the bottom of Lake Superior, he needs money to replace the steamship he lost, so he heads to Chicago where his father's business connections should land him a suitable wife. Like most things in his meticulously planned life, everything goes as expected—until he discovers Rebekah Cummings working as the new cook on his ship.

Rebekah well remembers the pain she endured the last time she tried trusting Gilbert, and Gilbert can't afford to pursue the love of a working class woman. But they can't stop the forgotten feelings swirling between them–or ignore the sacrifices they'd both have to make for a future together.
My latest novel can be described by these 5 adjectives… I'm pulling these from what my reviewers are saying because there's no way I can give you an unbiased answer.
Dramatic, fast-paced, delightful, absorbing, realisti
My main character is… A tomboy. In the first scene I ever wrote with her, she tries jumping aboard her brother's rowboat as his rescue team is about to go save sailors stranded on a wrecked ship. That scene was for a different novel, Love's Every Whisper, but ever since Rebekah popped onto the page, I've just loved her. She's strong and determined and not cowed by what anyone else thinks—not even the rich, infuriating Gilbert Sinclair who was born with a silver spoon in his mouth. She'd rather sail and fish with her brother than sit around mending or attend the Eagle Harbor Beautification Society meetings that all the other women in town go to. And she's determined to prove her worth and value to her family, who would like her to spend a whole lot more time mending and a whole lot less time plotting ways to rescue shipwrecked sailors.
My main character resembles… The exact model I have on the cover! That's one of the beauties of self-publishing. I had this cover before I started the novel, so it was one of those things where I was scanning pictures on the web and when my eyes landed on this one, I said, "That's Rebekah Cummings."
A previously unknown fact about this novel is… I wrote half of it while I was in the hospital for six weeks with a very high risk pregnancy. The cool thing was that I was hospitalized in Duluth, Minnesota, which has an active harbor, and the hero of Love's Sure Dawn is part owner of a shipping company. Ships have certainly changed between the 1880s and today, but it was still really neat to watch the freighters and barges approach the harbor while I sat at my makeshift desk, looking out over the water as I wrote. And yes, I did actually have a view of Lake Superior for a couple weeks–until I had to switch rooms and got stuck with a view of an alley.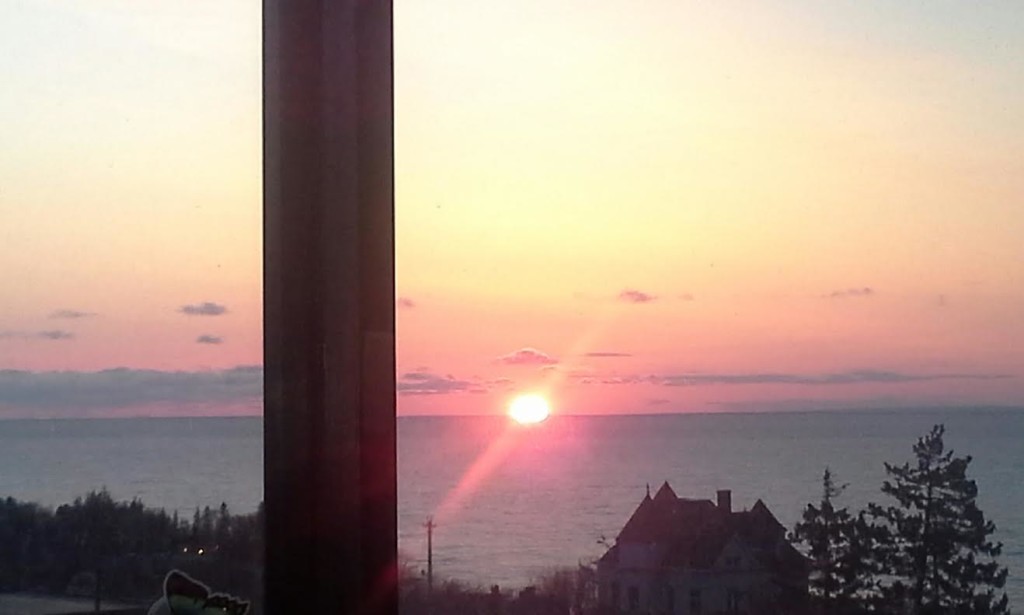 Naomi's view
My story's spiritual theme is… This might seem like a dead giveaway for a romance novel, but Song of Solomon 8:7 kept popping into the story.
"Many waters cannot quench love, neither can the floods drown it: if a man would give all the substance of his house for love, it would utterly be contemned."
Love's Sure Dawn is a novel about love and family and the sacrifices often required of people who love each other.
While writing this novel I was challenged by… The fact that true love, spiritual love, Christ-like love is sacrificial. If you truly love someone, then that love is all about the other person, not yourself. You'll often end up making sacrifices for that person, and that's a good thing. Sometimes I feel like society portrays love as selfish, that it's all about what you can personally get from a relationship and whether your needs are fulfilled. But that's not what the Bible says love is.
The title was chosen by… Me. That's another benefit of self-publishing, at least sometimes. I knew I wanted a series with the word love in every title, and I went round and round throwing words and ideas together for the first two titles, Love's Unfading Light and Love's Every Whisper, but when it came to Love's Sure Dawn, the words just popped into my mind. They were perfect for the characters that the book would be about.
As an author, the hardest scenes for me to write are… The beginning and the end are always hard for any author because they have to be exactly right, but I'll also add the emotional scenes with a lot of internal tension that needs to be portrayed perfectly. This is especially true if it's later in the novel and you're about to have your character make a wrong decision. It's hard to have a character do something wrong—something that keeps them away from the person they love—without turning away your readers.
And don't ask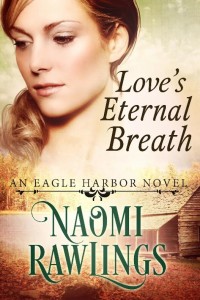 me why I put those scenes in almost all of my novels. I like making things hard for myself, I guess.
The story I'm currently working on is… I'm in between. Since I don't have that cleaning super power I mentioned earlier, I figured I needed to take a break from writing and clean before my family decided to move out. But I have a couple novellas planned for a state flower collection I'm participating in. Like my Eagle Harbor novels, these will be set on Lake Superior, but not in Eagle Harbor. And then I have book 4 of the Eagle Harbor Series, Love's Eternal Breath. I'm hoping to start on that by February. And speaking of titles that are difficult to come up with… that one gave me a whole slew of headaches.
You may not know this about me, but I… Heat completely with wood, just like in the historical novels I write. But no, I don't use a wood cook stove, thankfully. However, if we're having stew or a roast or something that can slow cook in the winter, a lot of times I'll set the pot on top of the stove in our living room.
If I could be a character in any novel, I would want to be… Um, one with a much cleaner house and who gets a lot more sleep. I'd want to be the boring character, not a heroine. Too much always goes wrong for the heroine. I'm a big fan of drama in novels, just not in my own life!
Thanks Naomi!
Relz Reviewz Extras
Character spotlight on Elijah & Victoria
Visit Naomi's website and blog
Buy at Amazon: Love's Sure Dawn