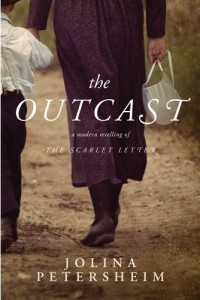 Synopsis:~
Raised in an Old Order Mennonite community, Rachel Stoltzfus is a strong-willed single woman, content living apart from mainstream society until whispers stir the moment her belly swells with new life. Refusing to repent and name the partner in her sin, Rachel feels the wrath of the religious sect as she is shunned by those she loves most. She is eventually coerced into leaving by her brother-in-law, the bishop. 
But secrets run deep in this cloistered community, and the bishop is hiding some of his own, threatening his conscience and his very soul. When the life of Rachel's baby is at stake, however, choices must be made that will bring the darkness to light, forever changing the lives of those who call Copper Creek home.
My take:~
Although I'm not one to read Amish or Mennonite fiction, I couldn't wait to read this contemporary retelling of Nathaniel Hawthorne's The Scarlet Letter, a book that impacted me greatly in my teen years. I was not disappointed. Jolina Petersheim is a talented storyteller as she takes the bones of the original story and modernises the setting and some of the tale, creating moving and sympathetic characters, and generating a myriad of emotions as Rachel refuses to bear witness to her baby's paternity and bears the brunt of her sin in a community that barely tolerates her. Adding to the complexity of this story is the unique relationship she has with her twin sister, and her childhood friendship with Judah King, the brother of the bishop who forces who to depart their community. Just as the soul deep damage of rejection, bitterness, and sin is revealed within the tight knit community, the healing powers of acceptance, love, and forgiveness shine through multi-layered characters like Ida May and Norman Troyer. For those who aren't usually readers of this genre, I recommend you ignore the bonnet on the cover and pick up The Outcast to discover a powerful and poignant story that transcends genre stereotypes and is not easily forgotten. The calibre of Jolina's prose defies her debut author status and I'm eager to read more when The Midwife hits shelves in 2014.
With thanks to Tyndale for my review copy
Relz Reviewz Extras
Visit Jolina's website and blog
Buy The Outcast from Amazon or Koorong