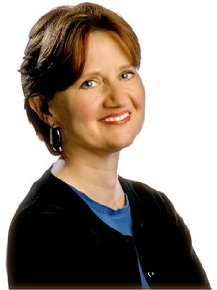 Catch up with Leslie's wonderful reading recommendations as she shares about books she has re-read, one of my all time favourite novels by Lisa Samson, and her drink for choice while reading! Don't forget to enter the giveaway of Amish Weddings via the Rafflecopter form below.
Are you a re-reader? Why, or why not? And if you are, what are some of the books you have read over and over?
Definitely! I re-read To Kill a Mocking Bird and Jane Eyre every five years or so because they're so brilliant. I've read Their Eyes Were Watching God by Zora Neal Hurston and Till We Have Faces by C.S. Lewis multiple times. As a writer, I learn so much from studying how other writers put everything together, so, yeah, I'm definitely a re-reader. There's so much more to learn on the second, third, or fourth time through a good book.
When is your optimal time to read – do you prefer to read in one long block, or do you also read for five minutes here or there when you can?
I read whenever I can. I usually have a few physical books that I'm reading at the same time—a novel, a non-fiction book, and often a book on writing too. I also have lots of e-books available that I either read on my Kindle or phone, which means I can read while I'm brushing my teeth, drying my hair, and making dinner, lol. I read at night before bed.
I definitely have a reading addiction to the point that if I'm close to a deadline, I won't start a new novel because I know chances are I won't have the self-discipline to choose writing over reading.
I'd love your thoughts on novellas. Are you thumbs up or down? Or does it depend?!
I don't read a lot of novellas, but I don't have anything against them.
Are you faithful to a genre, an author, or simply quality writing?
I'm absolutely faithless. A good story is a good story, no matter the genre or author. I love to read a variety of different things.
Which factors most influence your selection of a book?
A recommendation from a friend or someone I trust is my number one influence.
Your fiction pet peeve?
Omniscient point of view done badly.
What book have you read this year that you could not put down, and why?
Athol Dickson's River Rising. It was mystical, lyrical, and redemptive. I loved it!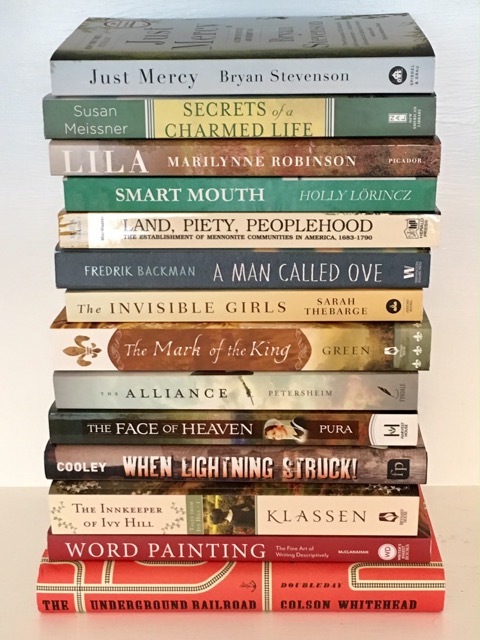 Leslie's TBR stack
How do you mark your spot – folded page corner, bookmark, dollar bill, whatever is at hand?
All of the above. Yeah, I'm one of those horrible people who dog-ear pages—but only if I own the book.
Whose debut novel impressed you more than you anticipated?
This is another one that I've actually re-read—both last year and this year. 
The Light Between Oceans by M.L. Stedman. I loved it! The stakes are incredibly high and everyone in the story has so much to lose. The plot and story are so strong, and the writing is amazing.
When reading, what makes or breaks a story for you?
I need at least one character with a moral center. She doesn't necessarily have to be super likeable, but she does have to choose what is right by the end of the story.
What are some of your favourite CF reads from around 10 years ago, or further back?
The Passion of Mary Margaret by Lisa Samson is one of my all time favorite books. I read it soon after it released in 2009, about the same time I read Marilynne Robinson's Gilead. Ever since I've wanted to write an epistolary novel—I've had an idea for years, but I just haven't gotten to it yet.
Snack/drink of choice while reading?
Black tea with milk. It keeps me reading and writing.
What book cover has really caught your eye?
Homestands by Sally Bradley. I just ordered it, lol.
Which author makes it easy to turn off your internal editor?
This goes back to the first question, but I've re-read The Help several times with the intention of seeing how Kathryn Stock "did it," but each time I got so absorbed in the story that it was impossible for me to deconstruct it, lol. So, yeah, I involuntarily turned off my internal editor on that one.
What books do you wish you had written? Why?
Jane Kirkpatrick's last two novels, lol. As a schoolgirl, I read a biography on Eliza Spalding (1837-1919) over and over. (I grew up in Pomeroy, Washington, near where Eliza's parents were missionaries.) A few years ago I took a research trip and began collecting sources on Eliza, hoping to write a novel about her, not knowing that Jane was already working on her idea. Jane's novel, The Memory Weaver, released in 2015!
In my twenties, I curated a museum in Ashland, Oregon and did research about the Applegate Wagon Trail, including on a woman named Tabitha Brown (1780-1858), who travelled the trail in 1846. I researched her extensively, wrote about her some (strictly non-fiction), and even attended a reunion of her ancestors. I was so surprised last year to hear about Jane's book, This Road We Traveled, (2016) about Tabitha Brown!
I'm certain Jane did a better job with both stories than I could have, and I have to be consoled by the fact that I share some of the same interests with such a fantastic writer. I love Jane's work!
Thanks Leslie! Don't miss Leslie's latest novel in her Neighbors of Lancaster County series..
Gregarious Rose Lehman, who's always the life of the Amish youth singings, is determined to marry the bishop's son, Reuben Byler–until the handsome Army buddy of her future brother-in-law shows up in Lancaster County. In comparison to Trevor, Reuben seems downright boring. Trevor shares Rose's sense of fun and adventure, and her easygoing disposition.

When her sister Lila's buggy is rear-ended and Lila is horribly injured, Rose finds herself with more freedom than she's ever experienced. Everyone is so concerned about Lila that no one realizes Rose is sneaking out with Trevor. Except for Reuben. But in his usual passive way, he doesn't confront her, nor does he address the situation with her Dat or anyone else in the district. Rose appreciates Reuben's discretion, but she also resents it. Part of her relishes the freedom she's found with Trevor, but the other part of her wishes Reuben would "fight" for her, as much as any Amish man would. Too late, she realizes the foolish choice she's made. Has she ruined her best chance at love, or is there another path to happiness she just hasn't seen yet?
Leslie Gould is the coauthor, with Mindy Starns Clark, of the #1 bestselling The Amish Midwife and The Amish Nanny. She is also the author of numerous novels including two Lancaster Amish series. She holds an MFA in creative writing from Portland State University and has taught fiction writing at Multnomah University as an adjunct professor. She resides with her husband and four children in Oregon. Learn more at www.lesliegould.com.
All Things Gould @ Relz Reviewz
Visit Leslie's website
Buy at Amazon: Amish Weddings or Koorong