The Reading Habits of Lynette Eason
Lynette shares about Clive Cussler, novellas, and a debut writer who has impressed her! Be sure to enter the giveaway below for your change to win a copy of her latest romantic suspense, Moving Target…
Are you a re-reader? Why, or why not?
I love to get lost in a story just as much as the next person. A story where I don't already know the ending. Ha! This is where I'm funny. I read a book once. That's it. There are too many great books out there to read the same ones twice or more!
When is your optimal time to read – do you prefer to read in one long block, or do you also read for five minutes here or there when you can?
I love to read in long blocks of time, but take what I can get when I can get it. Usually that means in the drive thru line or while waiting to pick up my kid from school.
I'd love your thoughts on novellas. Are you thumbs up or down? Or does it depend?!
It depends. Thumbs down if there's nothing that comes after. Thumbs up if it's a long prologue to the rest of the story! LOL.
Are you faithful to a genre, an author, or simply quality writing?
I love quality writing. I have a wide variety of interests and especially love historicals after my own beloved Romantic Suspense genre. I also enjoy YA and dystopian.
Which factors most influence your selection of a book?
The author is number one, then the blurb on the back and last, the cover.
Your fiction pet peeve?
Sloppy writing in what's a great story. In other words, the story holds my interest, but the bad writing makes me cringe.
What book have you read this year that you could not put down, and why?
I've read several secular books that have really drawn me in. I'm reading Pirate by Clive Cussler and Robin Burcell. So far, I'm loving it and can't wait to get back to it!
How do you mark your spot – folded page corner, bookmark, dollar bill, whatever is at hand?
I usually read on my kindle or computer or phone so…:)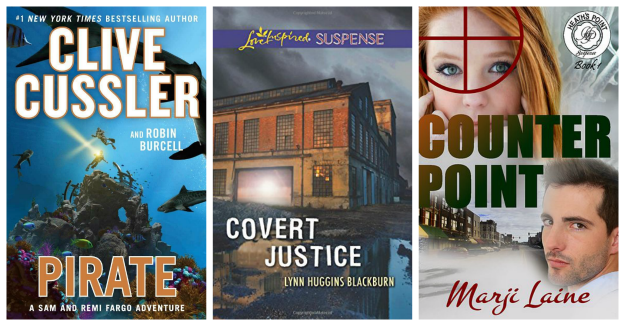 Whose debut novel impressed you more than you anticipated?
Probably Lynn Blackburn's Covert Justice with Love Inspired Suspense. She's a fabulous writer with a lot of great ideas and I look forward to watching her career explode.
When reading, what makes or breaks a story for you?
It's a toss up between the plot and the characters. If the story doesn't flow or make sense in the first few chapters then I won't bother reading the rest of the story. Same with the characters. If I don't like them in the beginning, then I'm done.
What are some of your favourite CF reads from around 10 years ago, or further back?
Anything by Terri Blackstock, Janette Oke, T. Davis Bunn, Dee Henderson, Brandylin Collins, BJ Hoff, Angie Hunt, and Deborah Raney. Those are just a few.
Snack/drink of choice while reading?
M&Ms.
What book cover (any genre – ABA or CBA) has really caught your eye?
Marji Laine's Counter Point cover is really cool. I think she designed it herself. It's just a catchy cover.
Which author makes it easy to turn off your internal editor?
Anything by Terri Blackstock.
What book do you wish you had written? Why?
Anything by James Patterson because he makes like $90 million a year. LOL. At least if you're talking money. Spiritually, I wish I had written something like The Purpose Driven Life or that fiction book that the non-Christian picked up and found Jesus between the pages.
 That would be super cool.
Thanks for having me, Rel!! And thanks to all the readers who keep buying the books so that I can keep writing them. God bless you!
Thank you, Lynette!
Be sure to get your hands on Lynette's latest romantic suspense novel…
When Maddy McKay and Quinn Holcombe don't show up for Quinn's surprise birthday party, his friends know that something is very wrong. Their search turns up little beyond evidence that Quinn and Maddy just decided to take off for a long overdue vacation. But it soon becomes apparent that they did not leave of their own accord.

Maddy awakens in a cement room with no idea where she is. But it's not long before she realizes she's in the clutches of a madman exacting revenge by hunting. His prey of choice? Humans. Now Maddy and Quinn must run for their lives, hoping to find their killer before the next game begins. Because if they don't win this game, they die.

Fast, furious, and flirty, Lynette Eason's relentless suspense barely gives her readers time to catch their breath in this third thrilling installment of the Elite Guardians series.
Lynette Eason is the bestselling author of the Women of Justice series, the Deadly Reunions series, and the Hidden Identity series, as well as Always Watching and Without Warning in the Elite Guardians series. She is the winner of an ACFW Carol Award, the Selah Award, and the Inspirational Readers' Choice Award. She has a master's degree in education from Converse College and lives in South Carolina. Learn more at www.lynetteeason.com.

Click on the graphic to sign up to attend this fabulous multi-author FB event and be entered to win a brilliant door prize!
Relz Reviewz Extras
All Things Eason @ Relz Reviewz
Buy at Amazon: Moving Target or Koorong