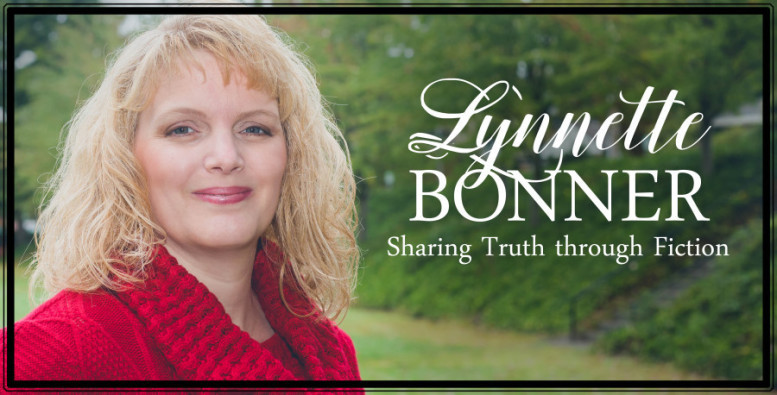 Lynnette shares about her reading habits and reveals the new cover of her latest Wyldhaven novel, On Eagles' Wings, releasing 1st December. One commenter will receive a free eBook copy of On Eagles' Wings when it becomes available.
Are you a re-reader? Why, or why not? And if you are, what are some of the books you have read over and over?
Oh Yes! I re-read lots of my favorites. I've re-read the Thoene's Zion books several times. The DMZ by Jeanette Windle. The Mark of the Lion series by Francine Rivers. Lots of MaryLu Tyndall's pirate stories. Lots of Linda Chaikin's pirate, and knight stories. The Theyne Chronicles by Angela Hunt. I could probably go on for far too long, so I'll stop there.
When is your optimal time to read – do you prefer to read in one long block, or do you also read for five minutes here or there when you can?
I have to be careful when I start a book because I'm bad about making myself put it down once I've started. So I'm a "long block" reader. I'd rather go without sleep than go without story.
I'd love your thoughts on novellas. Are you thumbs up or down? Or does it depend?!
I've written novellas, but they are neither my favorite story to read nor to write. I always feel like something is missing.
Are you faithful to a genre, an author, or simply quality writing?
I like to read all kinds of genres, though I stick mostly with Christian fiction. I don't like coming away from a story feeling dark, dirty or depressed. Christian fiction generally, no matter the genre, has at least an uplifting message if not a happily ever after ending.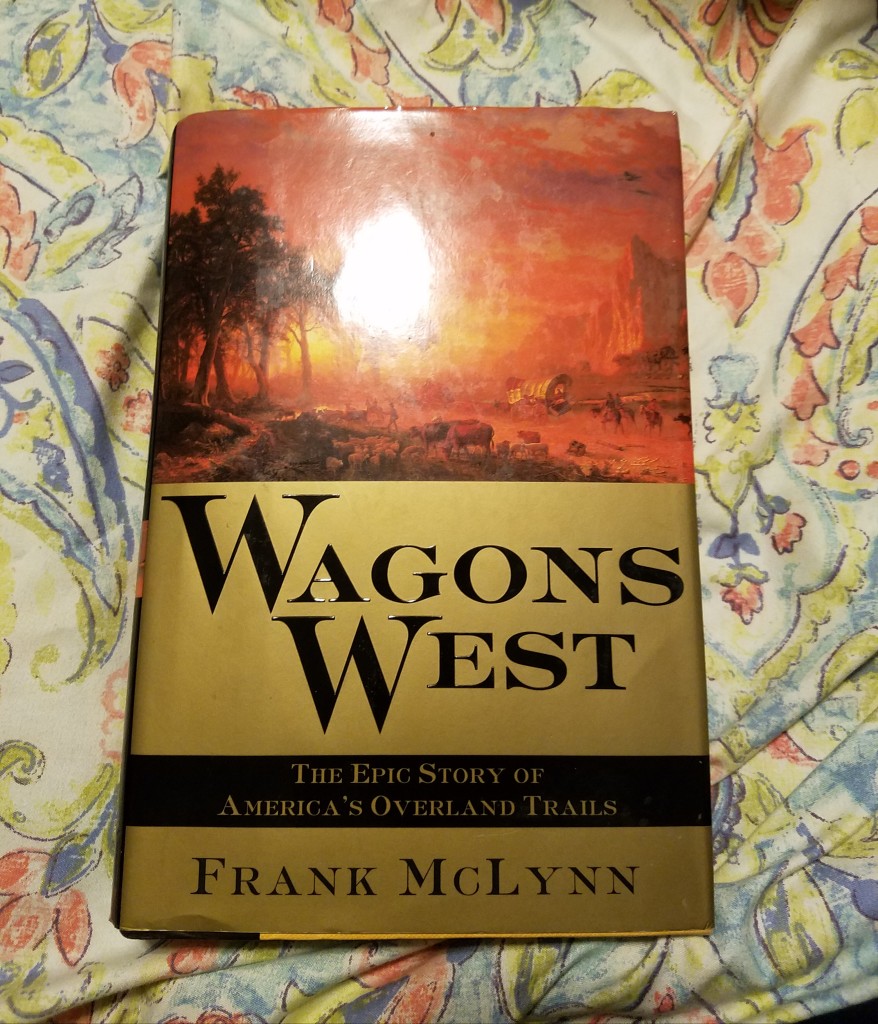 The book that is currently on my bedside table is one I'm reading for research for a future series. It is Wagons West by Frank McLynn.
Which factors most influence your selection of a book?
I love romance, I love history, and I love suspense. If you put all three into a story you'll probably hook me but good. I have to confess that a cover is a huge make or break part of a book for me. If I don't like the cover I rarely will read the book. Quite snobbish I know, but I figure if an author or publisher can't take the time to put together a great cover, then the writing is also probably sub-par.
Your fiction pet peeve?
There is a new tendency to write very marred/flawed characters. Give me a hero and heroine that I can look up to! They don't have to be perfect, obviously, but I don't want to dislike them so much that I can't bring myself to cheer for them. This is my biggest pet peeve, but I run into this mostly in secular shows and the rare secular fiction book I might try to pick up.
What book have you read this year that you could not put down, and why?
That would probably be a Tamara Leigh book, though I don't remember the name of the last title I read of hers. Why? She usually has all my favorite elements—history, romance, and suspense/intrigue.
How do you mark your spot – folded page corner, bookmark, dollar bill, whatever is at hand?
I read eBooks so my iPad marks it for me. I rarely read paperbacks anymore.
What book cover has really caught your eye?
This is sort of an unfair question since I'm also a cover designer.
I promise not to pick a cover that I designed. Mostly covers that catch my eye catch my eye for the wrong reasons, and you don't want me posting those here. One that recently caught my eye for all the RIGHT reasons was for the book Poetry and Life: Grace and Cowboys, book 2. I love the blend of the colors and I love the font work.
Thanks Lynnette!
Cover reveal of On Eagles' Wings…
Take the next stagecoach to Wyldhaven,
where the coffee's perked hot,
the sheriff likes his apple pie fresh from the oven,
and adventure invariably waits just around the next river bend.

Boardinghouse owner Dixie Pottinger has done her best to avoid the attractive Dr. Griffin. But now that her mother-in-law is sick and he's going to be coming around more to care for her, Dixie knows she must inform him about her past. She works up her courage and feels great relief when she finally tells Dr. Griffin that she's a married woman…maybe…if her husband, Steven Pottinger, survived the bullet put into him before she fled.

Dr. Flynn Griffin can't believe he's been having feelings for a married woman! His honor requires that he immediately put those feelings to rest. As for the man who had abused Dixie so badly that she retreated into hiding… If he was still alive, he better never show up in Wyldhaven, because Flynn had plenty of ideas on how to teach the man lessons in gentlemanly conduct.

Little does Flynn know that Steven Pottinger is about to become his patient. Gravely injured by an accidental gunshot, Steven lies on the brink of eternity. Never in all his life has Flynn been tempted to break his Hippocratic Oath.

Until now.
Be sure to leave a comment to be entered into the draw to win an ebook copy of On Eagles' Wings upon its release. You can also preorder On Eagles' Wings here: http://www.lynnettebonner.com/OEW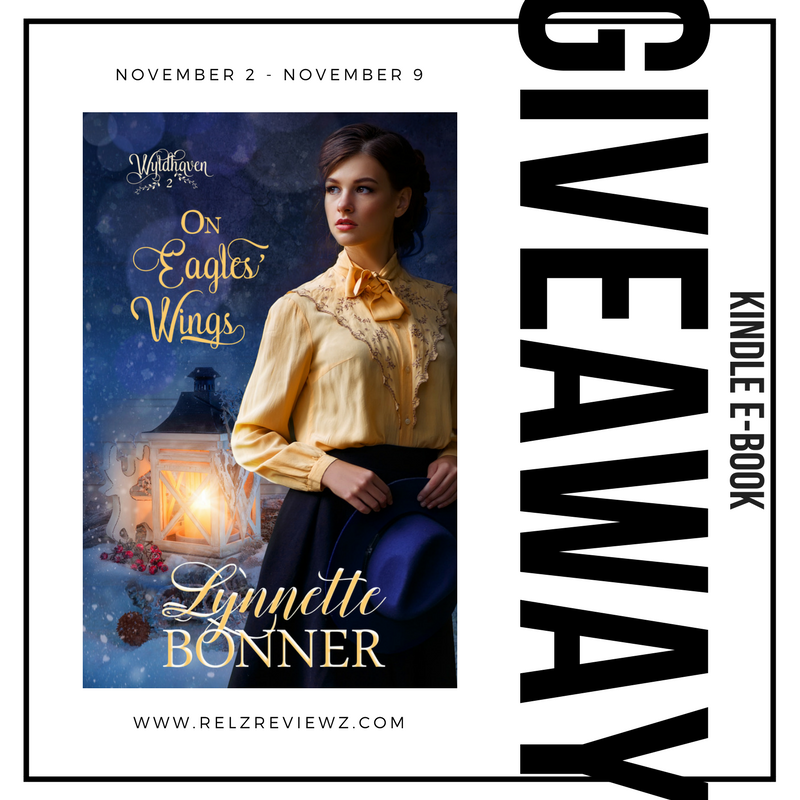 Relz Reviewz Extras
All Things Bonner @ Relz Reviewz
Visit Lynnette's website
Subscribe to Lynnette's newsletter and enjoy a free romance, My Blue Havyn
Pre-order On Eagle's Wings