The Reading Habits
of
Roseanna M. White
******
Are you a re-reader?
I was when I was younger, for sure! I would read all of my favorite books over and again—L. M. Montgomery's books (all of them—I think I've read every single one of hers at least 3 times), Lori Wick's books . . . These days, my reading time is far more scarce (I homeschool my kids, which takes a lot of my day!), so I don't do much re-reading. Although I will occasionally listen to an audio book of a novel I've already read. I did that with The Scorpio Races by Maggie Stiefvater (not a CF title, but amazing) and thoroughly enjoyed both versions.
When is your optimal time to read?
In order to really get into a book, I like to have a solid chunk of time to dedicate to it, usually in the evenings or on a Saturday afternoon. Once I'm involved, I'll steal 5 minutes anywhere I can. =)
I'd love your thoughts on novellas. Are you thumbs up or down? Or does it depend?!
For me, it definitely depends. I've found some authors are amazing at novellas, making them feel full and complete and perfectly developed. Others feel rushed and too short to me. So . . . yeah. All a matter of how they're done.
Are you faithful to a genre, an author, or simply quality writing?
Quality writing always wins the day for me! I read in absolutely every genre and love most of them. But I've also gotten to the point where I'll put a book down if it's not holding my interest, or if my internal editor won't hush up long enough for me to enjoy it. As someone who edits for a publishing company too, there are just times when I can't stop thinking of how I'd recommend the author rewrite a section—and that's no fun. So I LOVE finding an author whose style is so beautiful that my editor voice is silenced and I'm just impressed instead.
Which factors most influence your selection of a book?
Aside from if it's by an author that I know and love, it's usually one of two things: everyone else has been talking about it so much that I feel out of the loop and need to remedy that, or the blurb is so amazing that I just have to read it.
Your fiction pet peeve?
Tension that is there solely for tension's sake. I can't stand it when the entire conflict of a story could be resolved by a simple conversation between the characters.
What book have you read this year that you could not put down, and why?
A few, actually! If I Run by Terri Blackstock—oh gracious, that book was edge-of-the-seat, and she did an amazing job of handling a hero and heroine who don't even meet until the last chapter. Fabulous. Also really loved Mike Nappa's Annabel Lee—intriguing, and perfectly done backstory. One of my favorites that I'd just read, but which is an older title, is The Shape of Mercy by Susan Meissner.
How do you mark your spot – folded page corner, bookmark, dollar bill, whatever is at hand?
I'm definitely a "whatever is at hand" kind of girl. These days that happens to often be a bookmark—this happens when you're an author with literally thousands of them in boxes, LOL—but anything will do. Ponytail holders, scraps of tissue, price tags torn off clothes…
I've taught this to my kids too—I don't think my daughter even knew it was an option to turn down a corner until a friend of hers did it. And then she was all wide-eyed and offering bookmarks to her instead. 😉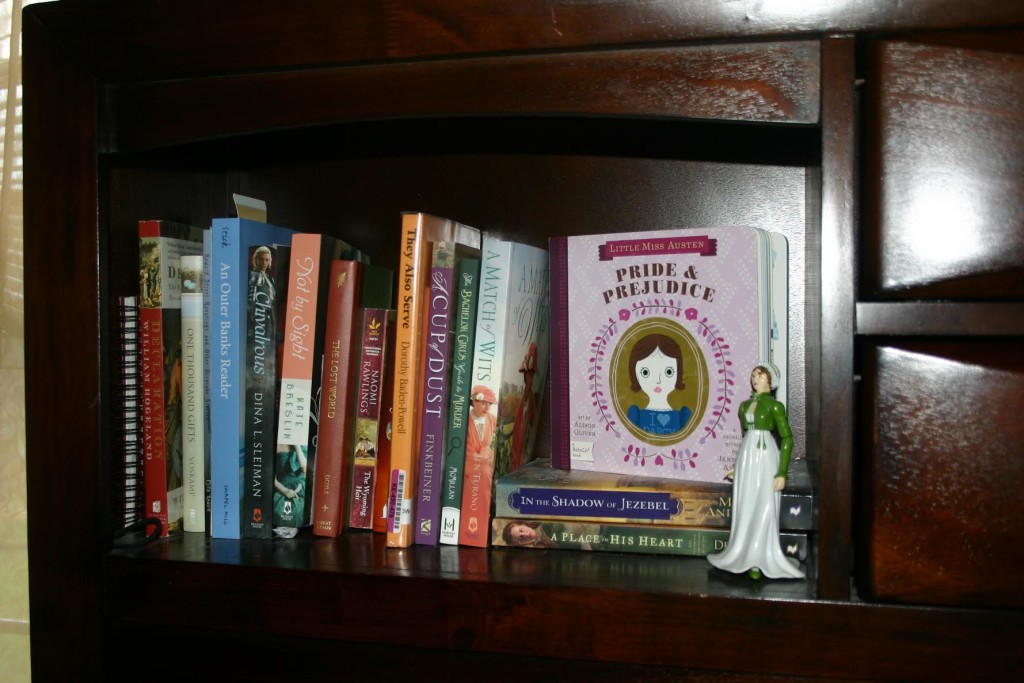 Roseanna's TBR
Whose debut novel impressed you more than you anticipated?
Lori Benton's Burning Sky. Of course, the whole world agreed with me on that. 😉
When reading, what makes or breaks a story for you?
Characters and voice. Give me beautiful turns of phrase that help define a character, and I'm hooked. Give me no distinctions between the characters and a book that could have been written by anyone, and you get a big "meh" from me.
What are some of your favourite CF reads from around 10 years ago, or further back?
Julie Lessman's A Passion Most Pure (2008) and Trish Perry's The Guy I'm Not Dating (2006). Love the epic love story of the former and the laugh-out-loud humor of the latter.
Snack/drink of choice while reading?
Though I'm a chocolate and coffee girl in general, I do most of my reading in the evening, which means that, if I have anything at hand, it's a cup of tea (decaf) and maybe some pretzels. With hummus to dip those pretzels in, if I'm on the ball and have made a fresh batch that week.
What book cover has really caught your eye?
This is a hard question for me, solely because I am always keeping a close eye out on covers, since I design them, so my eye is caught by everything! I love noting the subtle (or not so subtle) differences between genres, and how designers will brand a particular series or author.
One of my absolute favorites will probably always be Laura Frantz's Love's Reckoning. (Although if I'm allowed to name one designed for my own books, The Reluctant Duchess definitely takes the cake with that red dress and the absolutely perfect expression on the model's face!)
Which author makes it easy to turn off your internal editor?
In the ABA realm, it's Maggie Stiefvater, hands down. Her voice is just amazing. A few from CBA are: Lori Benton, Laura Frantz, Susan Meissner, Lisa Samson, and Terri Blackstock
What book do you wish you had written? Why?
I don't tend to think that way very often, but the two times I remember having thoughts along those lines (they were more, "Why didn't I write X book more like this?") were when I read Sandi Rog's The Master's Wall, and Laura Frantz's Courting Morrow Little.
Thanks Roseanna!
Don't miss Roseanna's latest historical romance…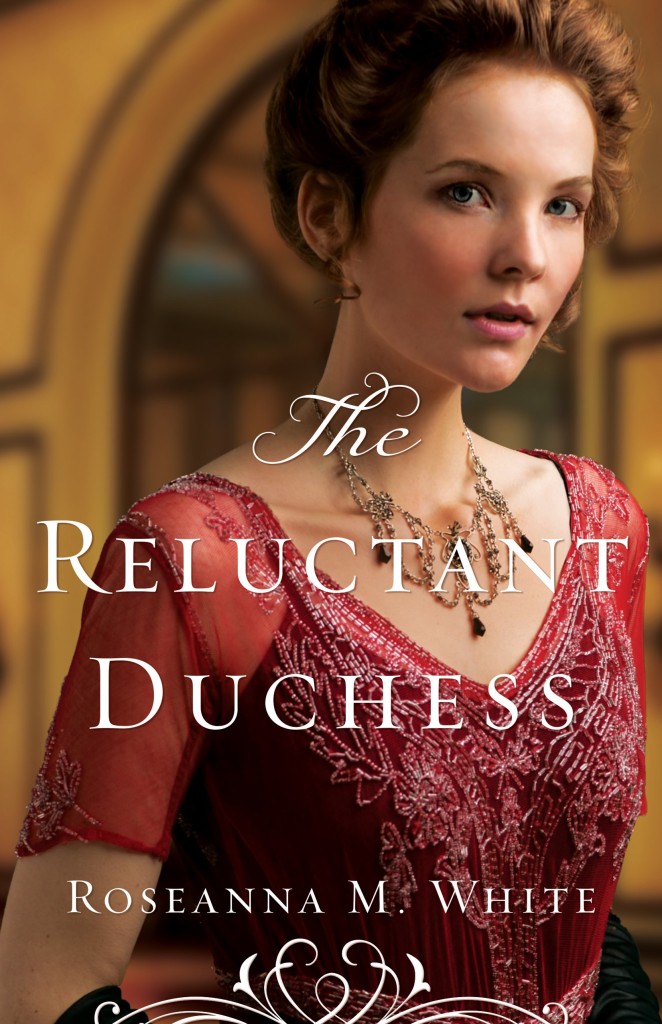 A Riveting Edwardian Series Set among Britain's High Society

Lady Rowena Kinnaird may be the heiress to a Highland earldom, but she has never felt good enough–not for her father, not for the man she thought she'd marry, not for God. But after a shocking attack, she's willing to be forever an outcast if it means escaping Loch Morar.
Brice Myerston, the Duke of Nottingham, has found himself in possession of a rare treasure his enemies are prepared to kill for. While Brice has never been one to shy away from manor-born ladies, the last thing he needs is the distraction of Lady Rowena, who finds herself in a desperate situation. But when Rowena's father tries to trap Brice into marrying his daughter, Brice makes a surprising decision.
Rowena wanted to escape the Highlands, but she's reluctant to marry a notorious flirt. And when she learns that Brice is mixed up in questionable business with a stolen treasure, she fears she's about to end up directly in the path of everything she was trying to avoid.
Relz Reviewz Extras
Visit Roseanna's website and blog
Buy at Amazon: The Reluctant Duchess or Koorong