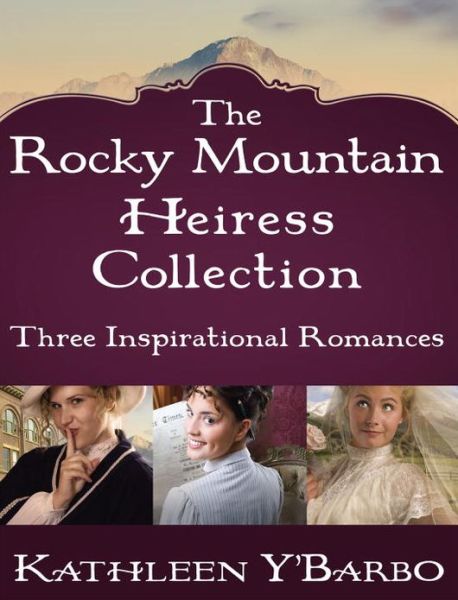 Kathleen Y'Barbo's historical romance trilogy is now available in an eBook omnibus
The Rocky Mountain Heiress Collection
Waterbrook Press
I'm reposting my reviews of these books to tempt new readers to download this fun and fabulous series!
Take a trip back to the nineteenth-century Wild West in these three inspirational romance novels, attractively priced and packaged as an eBook omnibus entitled, The Rocky Mountain Heiress Collection (WaterBrook Press/Dec. 4, 2012). These three inspirational romances include: The Confidential Life of Eugenia Cooper, Anna Finch and the Hired Gun, and The Inconvenient Marriage of Charlotte Beck. This trilogy follows the rollicking romances of three amazing young women: an adventure-seeking heiress pretending to be a governess to go west, a feisty well-to-do society girl longing to become a journalist and chase the story of a lifetime, and the millionaire's daughter who is being asked to marry for the good of the family business. Fans of westerns will find themselves transported to frontier Colorado and into stories with independent heroines, adventure, love, and ambition. All three novels take place in the late nineteenth century and feature real life historic figures such as Doc Holliday, Wyatt Earp, and Buffalo Bill Cody who are brought to life through Y'Barbo's intriguing fiction.
The Confidential Life of Eugenia Cooper 
New York socialite Eugenia Cooper longs to enjoy one last escapade before she marries banker Chandler Dodd. Opportunity knocks, and she heads for rough-and-tumble Colorado. When she takes the job as governess for silver baron Daniel Beck's daughter, she wonders where her future lies. With Chandler—or with Daniel?
My take:~
I'll confess, I thought this story might be just another pleasant yet formulaic historical romance. You think I would have learnt by now not to judge a book by its cover! Kathleen Y'Barbo has penned a delightfully funny and sassy tale that had me thoroughly entertained from start to finish. Gennie's adventurous spirit is infectious and Daniel is more than appealing! With electrifying attraction, the complication of Daniel's mischevious, defiant young daughter and the Wild West setting, The Confidential Life of Eugenia Cooper is a sweet treat.
Anna Finch and the Hired Gun
Despite her father's attempts to marry her off, Anna Finch dreams of becoming a reporter. A chance encounter with legendary gunslinger Doc Holliday gives her the opportunity of a lifetime, but Pinkerton agent Jeb Sanders is about to ruin everything. Though her father hired Jeb to keep her out of mischief, Anna's inconvenient attraction to her hired gun only multiplies her troubles. She doesn't realize Jeb has a score to settle with Doc Holliday, or that her association with the famous outlaw will affect more than just her marriage prospects.
Between her father's desperation to see her wed and Jeb shadowing her every move, getting the story and fulfilling her journalistic ambition just got far more complicated than she ever imagined.
My take:~
Kathleen Y'Barbo's latest historical romance is an absolute delight! Anna Finch defines feisty and independent while Jeb personifies the potent and courageous hero. Throw in some fact with fiction with real life characters Doc Holliday and Wyatt Earp and you have a story that entertains and intrigues. Anna Finch and the Hired Gun sits at the top of my list of Kathleen's novels, a fabulous adventure of two independent hearts, battling attraction and an interfering father, while seeking justice for past wrongs. This engaging tale is the perfect way to escape the mundane and return with a smile!
The Inconvenient Marriage of Charlotte Beck
Unlikely romance is sometimes just an inconvenient marriage away.
Charlotte Beck may be entering adulthood, but she can't seem to keep to her stubborn, independent spirit from bucking social protocol. Fed up with her behavior, Charlotte's father Daniel pressures her to settle into a nice marriage despite knowing she is set on going to college. Then Daniel sees Charlotte with the handsome but annoying English astronomer Alex Hambly, and everything changes.
Though Alex and Charlotte can barely stand one another, Daniel offers them a deal they can't refuse: if they agree to marry, he will save Alex's family from financial ruin and grant Charlotte the freedom to go to college. Reluctantly the couple agrees, but in private they plot to annul the marriage as soon as possible.
But when Alex's feelings change and he refuses to dissolve their contract, will Charlotte find a way out of her vows? Or will she discover that maybe this marriage isn't so inconvenient after all?
My take:~
Kathleen Y'Barbo's latest historical romance is the perfect remedy to any dreary day. Delightful humour, charming and vivacious characters, a little intrigue and plenty of romantic tension make The Inconvenient Marriage of Charlotte Beck a captivating read. Readers will recognise Charlotte as the irrepressible child in The Confidential Life of Eugenia Cooperand the impatient teen in Anna Finch and the Hired Gun, now grown and attempting to find her way in English society with plenty of mishaps along the way. Charlotte's nemesis, Alex Hambly, astronomer, English Lord and audacious, at least when it comes to Charlotte, holds great appeal. Kathleen makes her characters' personalities shine with witty dialogue and amusing predicaments. If you are looking for an entertaining and engaging read, don't miss Alex and Charlotte's somewhat rocky journey to love and faith.
Relz Reviewz Extras
Visit Kathleen's website
Buy the omnibus at Amazon