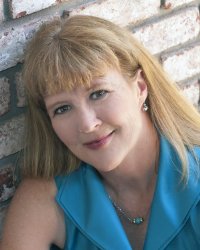 Welcome to 
Suzanne Woods Fisher
Amish fiction author
Revell
~~~~~~~~
What appeals to you most about writing fiction?
Using "story" is such a wonderful medium to translate wisdom. I like to sneak it in, painlessly, through my characters' flaws and foibles.
Why Christian fiction?
I read a lot of books, including many non-Christian fiction books, and while I admire the writing of the ABA writers, I feel as if they leave a reader with hopelessness. Most of the books are all about the underbelly of mankind. Christian fiction lifts a reader, and points toward God's highest and best.
Name five things you can't live without
Computer, iced tea, puppies (though…they're not really a thing), playing tennis, working in my garden
Favourite book
So many! Can't choose one.) ~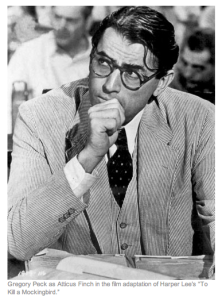 Favourite movie
To Kill a Mockingbird. Love, love, love Atticus Finch
Favourite TV show
I'm a Food Network Junkie
Where is the most interesting place you have been?
Nantucket Island (Which is why I will have an historical fiction series coming out about it soon!)
What did you want to be when you grew up?
Oh…always, always a writer. Sadly, no one ever ever ever told me I was a good writer. But…undeterred…I persevered!
The Lesson
In her wildest dreams, spunky and impulsive nineteen-year-old Mary Kate Lapp never imagined herself behind a schoolteacher's desk.
A run-in (literally) with the schoolteacher compels her to act as a substitute teacher, just as her restless desire to see the world compels her to apply for a passport . . . just in case. The only thing of interest to M.K. in the sleepy Amish community of Stoney Ridge is the unexplained death of a sheep farmer that coincided with the arrival of a mysterious young man into the community. Frustrated that no one takes the crime seriously, she takes matters into her own hands. Unfortunately, as tends to be the case for M.K., she jumps headlong into trouble.
What was your favourite scene to write in or share your favourite paragraph.
[This is a scene between nineteen-year-old Mary Kate and ninety-nine year old Erma Yutzy. I took this idea right out of an obituary in my local newspaper.]
The sound of horse hooves on the driveway caught their attention. Fern had arrived in her buggy. M.K. was shocked to discover that two hours had flown by. They were just scratching the surface! There was so much M.K. wanted to know about her—what was life like for her as a little girl? What changes had she seen in her lifetime?
Erma covered M.K. hand with hers. "Mary Kate, I was born into a world of horse-drawn carts on dirty paths, gas streetlights, when you could mail a letter for pennies and a box of Kellogg's Corn Flakes only cost eight cents. Now, I live in an age where there are eight-lane highways and men on the moon and strange little computers that fit in people's pockets."
"Most people call those cell phones."
Erma squeezed her hand. It didn't matter what they were called. She was trying to make a point. "Mary Kate, do you know what keeps me alive?"
M.K. leaned forward in her chair. "What?" She wanted to know.
"I want to see what happens next."
Which character did you connect to the most?
Mary Kate Lapp is one of those characters whom you remember, long after the book is closed. Even as I slipped into her point of view to write, I was grinning ear-to-ear. You just can't help but wonder what's coming next! Something unexpected, something outrageous.
Which character was the most difficult to write?
I waffled back and forth between which love interest M.K. should end up with: Chris Yoder or Jimmy Fisher. It could have gone either way…but I think I made the right decision.
What's next in your writing pipeline?
Flying down the pipeline is 'The Adventures of Lily Lapp,' a children's chapter book series that I'm co-writing with Mary Ann Kinsinger, who was raised Old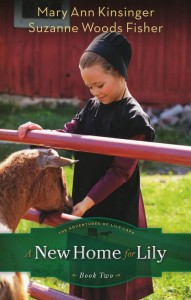 Order Amish. These four books fictionalize Mary Ann's warm, loving, amusing childhood. The first book, Life with Lily, just released and is off to a gallop! A New Home for Lily, Book 2, will release February 1st. Revell, our publisher, complemented the series with an interactive website for children: downloadable coloring pages, games and puzzles, recipes from the books, information about the family, about the Amish, and an "Ask Lily" contact form. Check it out! www.adventuresoflilylapp.com
As for other project…this summer, a new series, 'The Inn at Eagle Hill,' will kick off with The Letters. Set in Stoney Ridge, with a true story about the Plain people woven into the larger story arc. The Letters is about a family whose life has recently turned upside down. They start an inn for non-Amish guests on their farm. You'll see some familiar faces!
Thank you for sharing my work with your readers! Thanks for your support and interest—I appreciate each one of you more than you might think! A small way to say thank you is through book giveaways, like this one on TBNC, and others that I host on my website/FB page. You're always welcome to stop by www.suzannewoodsfisher.com and toss your name in the hat. Also, I'd like to invite each of you to download my free app: Amish Wisdom. It delivers a daily Amish proverb to your iPhone or iPad. A little bit of peace and calm in the midst of your busy days.

Relz Reviewz Extras
Character spotlights on Sadie (The Haven), Roman &  Julie (The Keeper), Jaime & Mattie (A Lancaster County Christmas)
Reviews of The Choice and The Waiting
Visit Suzanne's website and blog
Buy The Lesson at Amazon or Koorong