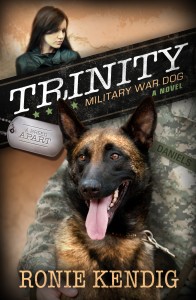 Synopsis:~
A year ago in Afghanistan, Green Beret Heath Daniel's career was destroyed. Along with his faith. Now he and his military war dog, Trinity, train other dogs and their handlers. Though his passion is to be back in action, the medical discharge has forced Heath—and Trinity—to the sidelines.
Military intelligence officer Darci Kintz is captured while secretly tracking the Taliban. Only one dog can handle the extreme conditions to save her. Trinity. Only one man can handle Trinity. Time is running out on the greatest—and most dangerous—mission of their lives.
My endorsement:~
A damaged soldier. A hunted woman. A dog unleashed.
Trinity: Military War Dog begins a new series for Christy Award winning author, Ronie Kendig. Known for her intense military action scenes, spirited and complex characters and evocative prose, she brings all those characteristics to Trinity and then some!  This remarkable series highlights, not only the heroics and sacrifice of the people who serve in the armed services, but the special dogs that work alongside them. The unbreakable bond between Heath and Trinity is powerful and moving, especially as both man and dog battle the fallout from the trauma they sustained in action. An aura of mystery surrounds Darci Kintz, but it is her calm spirit that immediately intrigues Heath and has him contemplating more than friendship. As always, Ronie's cast of supporting characters are unique and appealing -from Aspen and Timbrel to Candyman and Jibril – and I can't wait for more of their stories. Ronie's attention to technical detail and realism are impressive and she continues to provide the perfect balance of evocative characterisation, explosive action and intense relationships. If that isn't enough, her dialogue is brilliant – incisive,  funny and smart. Like a dog with a bone, Trinity will pull you in and not let go!
With thanks to the author for my review copy
Relz Reviewz Extras
Watch Trinity's book trailer
Reviews of Wolfsbane, Digitalis and Nightshade
Meet the team: Max ~ Colton ~ Canyon ~ Griffin ~ Azzan ~ John  ~ Marshall
Meet the women: Sydney ~ Piper ~ Dani ~ Kazi
Character spotlights: Max & Syd ~ Colton & Piper  ~ Canyon & Dani
Visit Ronie's website and blog
Visit Ronie's Discarded Heroes website
Buy Trinity at Amazon or Koorong