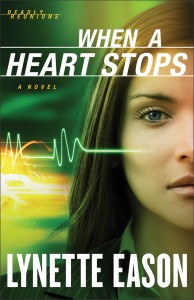 Synopsis:~
Spunky and outgoing, nothing much bothers medical examiner Serena Hopkins–except for the thought of falling in love again. But when a serial killer is picking off her former classmates, Serena's life becomes intertwined with her old high school crush, FBI agent Dominic Allen.
Is the secret she's keeping putting her next on the killer's hit list? Can she trust Dominic with the truth before it's too late?
My take:~
Lynette Eason returns with her second Deadly Reunions novel focusing on Serena Hopkins, the medical examiner introduced to readers in When the Smoke Clears. The mystery flows from the first book so this is definitely a series worth reading in order and much in this book may be confusing if read as a stand alone novel. Lynette includes plenty of murder and mayhem, danger, suspense and gentle attraction which will please fans but it wasn't a favourite read for me.  The chemistry and growing relationship between Serena and Dominic was a little underdeveloped for me and there wasn't enough revelatory scenes surrounding the underlying mystery – I was hoping for some more insight into why Serena's class is being targeted in the lead up to the final story. I am still looking forward to the conclusion of this series as Lynette's writing is always solid and enjoyable – I was just anticipating more from When A Heart Stops and this series.
Available October 2012 at your favorite bookseller from Revell, a division of Baker Publishing Group.
With thanks to Revell for my review copy
Relz Reviewz Extras
Reviews of When the Smoke Clears,  A Killer Among Us, Too Close to Home & Don't Look Back
Visit Lynette's website and blog
Buy When A Heart Stops at Amazon or Koorong