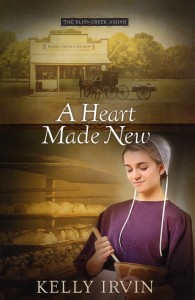 Meet two of Kelly Irvin's favourite leading men in
A Heart Made New
Harvest House
The Story
In the second novel of Kelly Irvin's Bliss Creek Amish series, readers will be delighted to return to a town and a family they've already come to love.
Annie Shirack is trying to fight her feelings for David Plank, a young Amish man who's struggling with an aggressive case of Hodgkin's lymphoma. David loves Annie too much to let her into his life, only, he fears, to leave her.
When a homeless young woman named Charisma and her two-year-old daughter, Gracie, show up in Bliss Creek, Annie welcomes them into the Shirack household and tries to help them establish a new life. But all the good deeds in the world can't change the ache in Annie's heart…or help her forget the man she loves.
Introducing David & Josiah
David Plank
Brief physical description
David is fighting Hodgkins Disease so he's thin, but he's also wiry. He's not a tall man. He's worked outdoors all his life so he's strong, despite the disease. He had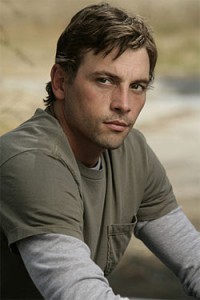 brown hair before the chemo and he's happy he wears a hat to cover his bald head. His eyes are brown and big and reflect his emotions at any given moment.
Resembles…
As I wrote David's scenes I pictured actor Skeet Ulrich, who played Jake in the TV series "Jericho" and has had numerous other acting roles. He has that dark, brooding look, but a sweet face when he smiles, which isn't often. He has a slight build, but his body is hard and sinewy.
Strengths
David's strengths include his dedication to family, along with his desire to work hard and contribute to their well being despite his illness and the side effects of the treatments. He is a loyal, faithful man who puts others before him. That's why he tries so hard to keep Annie Shirack at arm's length. He doesn't want her to be hurt, sad, and lonely, if the treatments are unsuccessful and the man she loves dies.
Weaknesses
His weakness is that he tries to stand alone instead of allowing the people who love him to support him through his treatments. He can't step out in faith and let God's plan take its course. Until he figures out how to do that, he's alone and lonely.
Your inspiration for the character
I can't think of any particular inspiration that caused me to write David's character, but I wanted a character to be in a situation where he has to step out in faith. I wanted his willingness to allow God's plan to unfold to be tested. David has to learn to live in the here and now and not worry about what comes next, knowing God will be there, either way.
Josiah Shirack
Brief physical description
Josiah, 19, has been plying his trade as a blacksmith for about a year when A Heart Made New opens. This hard work has given him a thick chest and strong arms. He has brown eyes and has a mop of unruly, curly brown hair covered by his hat most of the time, but curls insist on escaping. He's growing into the job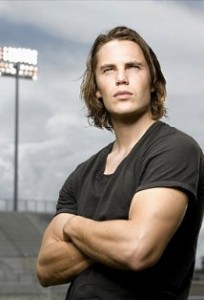 and notices his suspenders are a little tight—he's still getting taller.
Resembles…
I imagine Josiah to look a lot like Taylor Kitsch (during his "Friday Night Lights" days as Tim Riggins, not the movies like "Battleship" and "Savages."), only with darker, curlier hair. He has that muscular build and height, with a face women swoon over.
 Strengths
Josiah's strengths and weaknesses grow out of the same character traits. He feels deeply and as a man, wants to control those feelings. He has a wide streak of independence and a rebellious nature that doesn't serve him well as a Plain man. His wild rumspringa (running around) nearly killed him. He wants to be a farmer but has to work at the blacksmith shop so his brother Luke can return to their family farm to raise their younger brothers and sisters. He struggles against these ties that bind him.
Josiah also is deeply faithful and loyal to his family and community. The two sides of his nature do battle as he tries to decide whether to remain in his community of faith and marry Miriam, who has loved him since childhood, or leave to be with a Mennonite girl who says she loves him, but led him down the path that led to near ruin during his rumspringa. The two women represent all the conflict Josiah is feeling.
Weaknesses
His weakness are stubbornness and in letting his emotions rule and jumping into things too quickly while his strength are in the depth of his love and loyalty, his empathy, and his passion for what he believes is right. He is a good man who needs a little time to finish growing up. If he makes the right decisions, he will grow into a wonderful husband and father.
Inspiration for your character
I didn't have specific inspiration for Josiah. His stubbornness and rebellion remind me of me. He's one of my favorite characters because I think his struggle is so realistic for a boy/man that age. To figure out who you love and want to spend the rest of your life with—how you want to spend the rest of your life—at such a young age is asking a lot. Josiah has been through a lot, with the death of his parents in a tragic accident—and now he has to decide between two women who say they love him. One will mean staying with his family and community, the other will mean living apart from them for the rest of his life. The stakes couldn't be higher and I love how Josiah barrels his way through it all.
Relz Reviewz Extras
Visit Kelly's website
Buy A Heart Made New from Amazon or Koorong