I'm running behind today, I'm sorry to say. But that didn't stop me from recording a LONG video on indie books! I'm a wee bit passionate about them and I might have got carried away a little! Despite that, I still forgot to give a shout out to the fabulous Serena Chase and Melissa Tagg whose most recent indie novels I've just had the pleasure of reading. You will have to wait a wee bit longer for Serena's as it isn't released yet, but it's worth the wait. Do take the time to read the thoughts the author share below on how readers have impacted them. And be sure to enter both the giveaways – they are AMAZING!
Meet the Authors
Joanne Bischof ~ The Lady and the Lionheart
What is the most encouraging or challenging reader feedback you have received?
My mind races to the encouraging feedback I've received over the years from readers or industry professionals and then I make myself halt for a second, look over my shoulder to the not-so-great feedback, and it's there that I see the challenges. More importantly, I see God shining in the challenges, using them to grow me as a writer. It's often in that hard to take feedback where the Lord draws ever so close, draping the situation in His strength and wisdom and in that, there is so much courage and comfort to be had.
Of all these moments, the one that shines the brightest is the final rejection my agent and I received for The Lady and the Lionheart. It had made the publisher rounds and this was the last editorial team to have it. Then came the final word from them—a rejection declaring that it was "too different." I was saddened and deep was the loss of hopes for traditional publishing, but it also wasn't disappointment that took the upper hand. It was freedom and joy and the satisfaction of what felt like a job well done. Placed before me had been a task to spin a tale that was very different. That went to places I didn't know if Christian fiction could go. But God was there, each step of the way, continually shattering those doubts. Because of that joy rushed in, as did a peace and trust that God had not given me this story for nothing. A few years later and with the book now in readers' hands and with those readers expressing how much it has blessed them, I look back on that season and see so much more than a book. I see a reminder that God completes the good works that He begins, even if the journey is much different than we expected.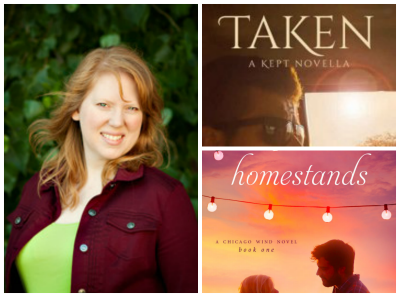 Sally Bradley ~ Taken & Homestands

In what ways are readers important to an indie author?
Being a writer is such a solitary profession, but I think it's solitary to an exponential level, maybe, as an indie author. I don't have a publisher behind me,
endorsing my book with their name, with their PR, with their staff. It's all on me, and after twenty-some reads of a manuscript, I can get to a point where I pretty much despise my own book. I mean, there's no surprise or twist getting by me at that point, you know?
So the reader is all the confirmation I get that, hey, this is a good book. There is an audience for my characters. This is meeting a need in the Christian book world. All those hours I spent? Yes, so worth it!
I've had readers contact me to tell me they loved my book hours after a scathing review was posted all over the internet. I've had readers tell me how a book changed the way they viewed something–and then changed the way they behaved. That will drive you back to the keyboard faster than anything. The readers are the reason we write, and hearing from them isn't an ego stroke. It's that motivation that sometimes you desperately needed to hide yourself again in the unfinished, unheated basement office and write, write, write.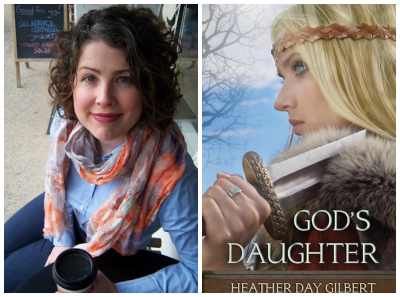 Heather Day Gilbert – God's Daughter
What is the most encouraging or challenging reader feedback you have received?
I keep a file of emails from readers who respond to various elements in my books–even readers from other countries, such as this reader from the Dominican Republic: "I just finished reading God's Daughter and I must say it captivated my heart. I've never read a book whose heroine portrayed the struggles of a Christian married woman so vividly. In so many ways I identify myself with her and I pray I will always have the wisdom she displayed in alluring situations rooted in her faith in Christ. It's comforting to know I'm not alone in my battles."
Sometimes as an author, you'll get strings of low reviews or receive no recognition for a book you poured your heart into. Then you get an email like this, and you realize that even if your book moved only one reader, made just one person think they weren't alone in feeling the way they do, then God has blessed your writing and made an eternal impact. My readers are a joy to me and I savor the personal notes they have taken time to share. They encourage me to keep writing.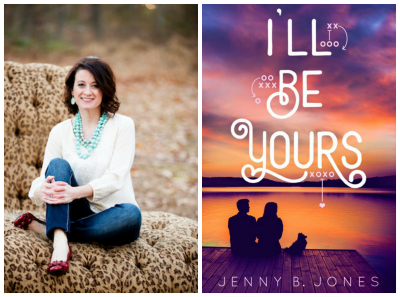 Jenny B. Jones – I'll Be Yours
What is the most encouraging or challenging reader feedback you have received?
The most encouraging are the emails/messages about the books bringing some happiness, laughter, or just an escape to someone who needed it at that moment or season in life. The teacher in me also adores the messages from kids who claim to be nonreaders, but found themselves devouring a book. (This makes me happy no matter whose book they're reading.)  The most challenging would be feedback from very, very conservative readers who feel all my books should have a heavy faith message. Now that I've transitioned from Christian fiction to just clean/sweet fiction, my books might not be for a handful of my previous readers. Fortunately there are lots of folks writing awesome Christian fiction who can meet that need for these readers.
In what ways are readers important to an indie author?
Readers are everything. I'd be writing into the void without them. I'm not really one who writes for my own enjoyment, so I'm in this to entertain others and bring some levity and joy into my readers' lives. I think any author–indie or traditionally published–greatly benefits from readers who spread the word if they likeda book, leave reviews, or even send an encouraging note. Readers are why we're here, and I'm so grateful for each.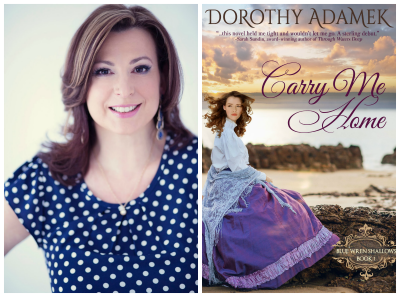 Dorothy Adamek – Carry Me Home
What is the most encouraging or challenging reader feedback you have received?
As an author, it's my intention to move readers with deep emotion. If I can, I want to make you cry. Break your heart a little, and send you to a shady corner to mop your tears.
My debut historical romance, Carry Me Home, was released in December 2015, three days before Christmas. In the January, I began receiving reader feedback from all over the world, and in particular from Aussie readers on their summer holidays. One Aussie reader saved her copy for her return to work and commute into the city. She messaged me one evening with this…
I have been reading Carry Me Home on the train. So, on my trip in this morning (SPOILER HAPPENED) as I got to my stop!! Oh, how my heart broke. I thought about (character) for hours. I couldn't wait until the end of the day to wrap myself in the ending of your beautiful story on my journey home! Well, as I read I couldn't stop the tears from flowing…all the way home! (I did get quite a few enquiring looks from the people in the seats opposite me!) Congratulations, and thank you so much for sharing your gift with the world. I can't wait for Carry Me Away!
Knowing I pushed someone to tears in a public place, and messed with her workday until she could return to my characters, was just the encouragement I needed as a debut indie author. I'd wrestled these characters to life over a period of three years. Displaced them and pushed them to the brink, but I had no idea if others would follow them there with the same emotional intensity. Well, now I knew.
This particular reader is not a formal member of my 'street team' but she's bought and gifted over 10 copies of this book and spread her love of the story to her reading friends. She's invited me to speak to the Women's Ministry she leads and opened the door for other speaking engagements, and I am SO blessed God has brought her, and many like her, to walk beside me.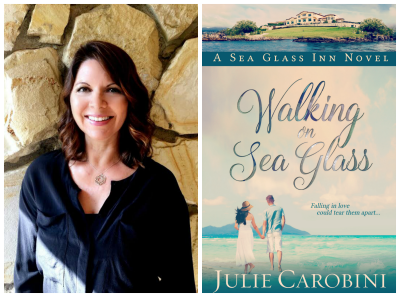 Julie Carobini – Walking on Sea Glass
In what ways are readers important to an indie author?
As an indie author, readers are my number one motivator to write–and to give it my all. I don't have a team of people reminding me of the deadline, or sending notes of encouragement, as I did when I was traditionally published. So I rely on readers to pull me out of the isolation that I find myself in when I'm deep into a story. So thankful for interaction on social media from readers, including those who write me with "Hey, Julie, when's the next book coming out?"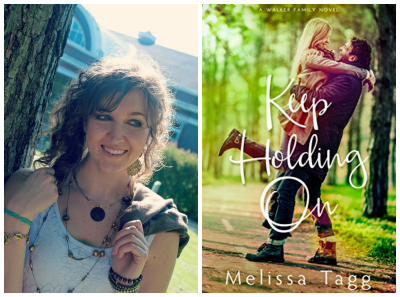 Melissa Tagg – Keep Holding On
What is the most encouraging or challenging reader feedback you have received?
Definitely the most encouraging feedback is when a reader tells me something in a story I've written resonates with her in a deep way. My absolute favorite part of writing is how God uses my own characters and my own storylines to connect with my heart. I always start out thinking I'm writing about one thing…and at some point in the story, God does his magic and suddenly, I'm writing something much more personal, much more reflective of the work he's doing in my heart…often without even realizing it! So then when I get to hear he's also working in readers' hearts, it's just wonderful and uplifting. At the same time, it's also somewhat of a challenge…because it's a reminder that words and stories have power. It's a weighty privilege to be a part of God speaking to someone else's heart!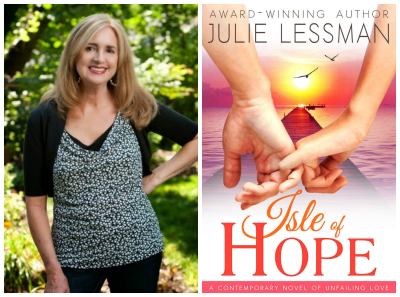 What is the most encouraging or challenging reader feedback you have received?
My indie novel, Isle of Hope, is a book loosely based on my dysfunctional relationship with my own estranged father, so the spiritual lessons within are very real and very deep concerning forgiveness, hope, and restoration. That said, some of the most encouraging feedback I have ever gotten on Isle of Hope was from a young woman who said it impacted her so much, she felt compelled to contact a woman who once had been her best friend, but who she hadn't seen or spoken to in over ten years due to a falling out. She told me about the luncheon she planned with this woman, and I told her I would pray for her before and during the meeting. There wasn't a dry eye on either side of the email when she wrote me that they talked for hours and are now dear friends once more, becoming an important part of each other's lives all over again. So much so, in fact, that her friend also read Isle of Hope so that the two of them could discuss it. Trust me, Rel— it doesn't get any better than that for a Christian author!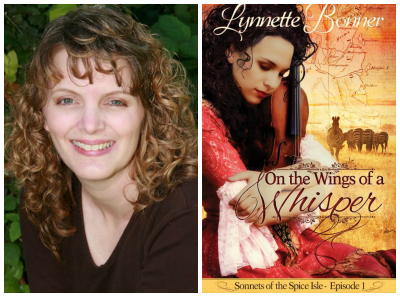 Lynnette Bonner – Sonnets of the Spice Isle
What is the most encouraging or challenging reader feedback you have received?
For one of my favorite pieces of feedback I'd have to go back to very early in my career, perhaps because it was the first time I realized what a truly powerful opportunity I had to reach people for the Kingdom. I did a book signing at a Borders bookstore. The manager of the store bought one of my books, probably more as an encouragement to me than anything. But a few weeks later she called me up and asked me if I could come back in for another signing just before Christmas. I was surprised because my first signing hadn't *cough* sold a ton of books, but I agreed. When I arrived for that 2nd signing she had set me up at the front of the store (not lost to one side in the middle as I'd been before) and she'd put up a display of my book in the center aisle. She had also put up a poster in a stand on the table with a quote signed by herself as the manager of the store. The quote said that my book was the first Christian fiction book she'd ever read and that the characters had lived long in her memory after she finished the final page. She went on to say that the story had challenged her and made her think about life. That's a paraphrase because the actual poster (which I asked if I could keep) is buried in a box of mementos somewhere. But it opened my eyes to the power of story to convey truth. I still pray for her when I think about her. I don't know where she is today as that store shut down only a few weeks later. But I hope and pray that she remembers the message of love and redemption that book contained and that it impacts her life and eternity for the good.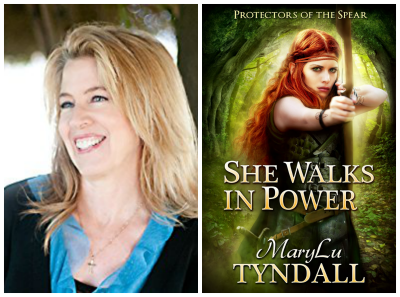 MaryLu Tyndall – She Walks in Power
In what ways are readers important to an indie author?
Obviously readers are very important to any author. Without readers we wouldn't sell any books!  But I believe readers are even more important to an Indie author. The reason? Indie authors do not have a powerful publisher backing them up. A publisher that would spend money on marketing, place ads in magazines, pay for trips for book signings, and get authors' books in bookstores.  Because we Indies don't have any of that, we rely solely on our readers to help get the word out about our books, to generate buzz about them, recommend them to friends and libraries, write glowing reviews on online sites, etc. Without a strong reader base willing to do that, we Indies are doomed to fail, even if we have written the best book on the planet.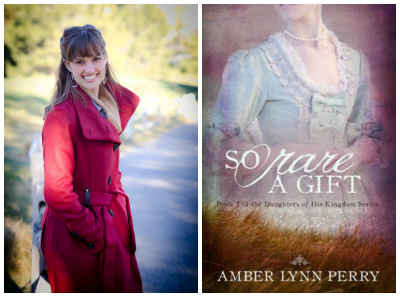 Amber Lynn Perry – Daughters of His Kingdom Series
What is the most encouraging or challenging reader feedback you have received?
Once I got an email from a reader who said she was *so* inspired by the history of my series. She said she'd had no idea how much the colonists sacrificed for our independence, and that it resonated very deeply with her. That above any other compliment is what I love to hear! I love to know my stories are bringing history to life and helping people know more about the Revolutionary era.
In what ways are readers important to an indie author?
They are VITAL! Without my readers I would have no way of getting the word out about my stories–I *live* by word of mouth. As an indie, I have little to no budget for promotions and advertising–without my reader-friends telling their friends and "sharing"…I don't know what I'd do! I can't begin to express my gratitude for everyone who has been so supportive to me in my tiny corner of the book world. 😉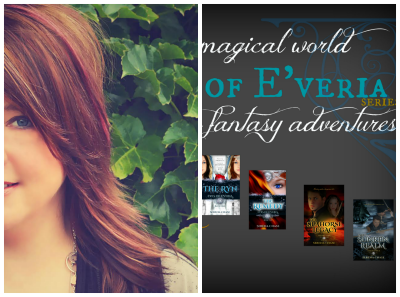 Serena Chase – Eyes of E'Veria & Intermission
What is the most encouraging or challenging reader feedback you have received?
I've been blessed with a lot of complimentary reviews, but every once in a while a random reader will be offended by something–or even a subplot or theme–in one of my books. It is really hard not to respond to those reviews, those readers who seem to question my faith based on the fictional happenings within my books. But… I'm usually able to choose to be amused by the negative reviews rather than hurt or discouraged. As Randy Ingermanson says, "That's not your audience."
I love hearing from readers, and when they write to tell me that something in one of my books helped them through a difficult time or encouraged them, I am moved, sometimes to tears. It's a good reminder for me as an author, an artist, and a human being, that stories matter, regardless of sales. THAT ONE PERSON is the reason that particular moment of story was created, even if that particular book exists only for the benefit of that ONE PERSON, ever. To me, touching the heart of even one reader is the definition of success–and the reason to continue–as a Christian author.
In what ways are readers important to an indie author?
Oh, wow. Readers are everything. Most indie authors cannot afford big marketing campaigns (or even small ones!) We don't get advances against royalties to cover our expenses while we research and develop the next book or promote the existing ones. Most of us can't afford full-time (or even part-time!) assistants to help out with the business end of operating our own publishing companies or the promotional and clerical busy-work aspects of being an author … while also being a publicist, marketing department, accountant, designer, service contractor, paperwork filer, etc.
Without readers, indie authors are invisible. Our books don't naturally show up in Wal-Mart or Target stores or brick and mortar bookshops. Indie authors absolutely depend on readers' word of mouth (and keystrokes, nowadays) to make our books visible to the greater reading public. And those little notes of encouragement, those social media post tags readers bless us with? You have no idea how timely they can be, how often independent authors need that little boost of encouragement to know that someone out there likes the stories we produce . . . and that they want us to keep writing. Readers are a FORCE and an absolutely essential part of any indie author's business model . . . and the author's mental wellbeing, as well.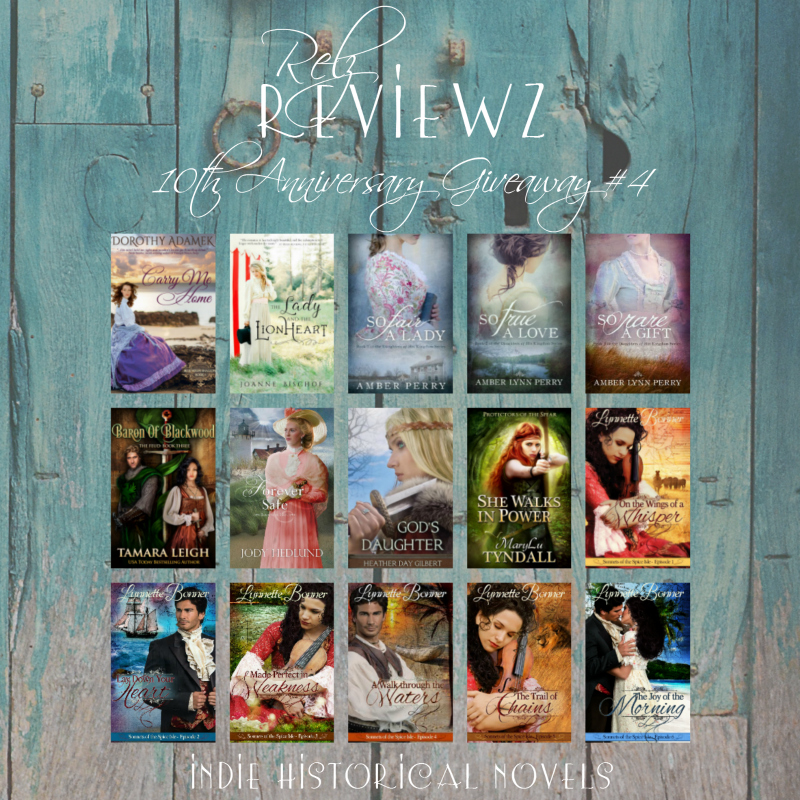 Historical Indie Bundle contains one copy of each of the following:
The Lady and the Lionheart by Joanne Bischof (paperback)
Carry Me Home by Dorothy Adamek (paperback)
Baron of Blackwood by Tamara Leigh (ebook – or winner's choice of another Tamara Leigh ebook)
Forever Safe by Jody Hedlund (paperback)
She Walks in Power by MaryLu Tyndall (paperback)
God's Daughter by Heather Day Gilbert (paperback)
Sonnets of the Spice Isle series by Lynnette Bonner (ebook – 6 episodes)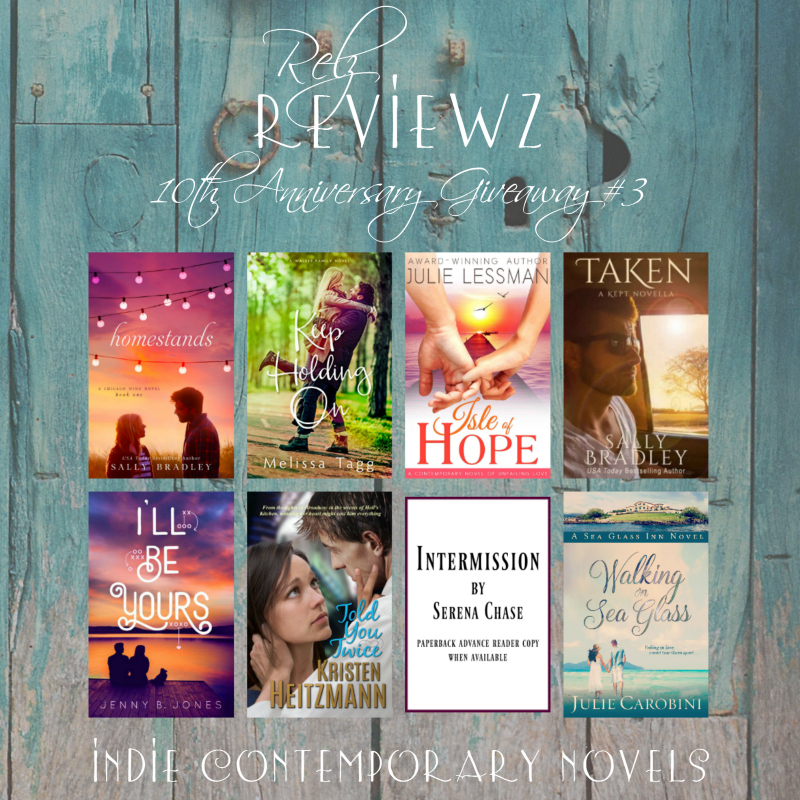 a Rafflecopter giveaway
Contemporary Indie Bundle contains one copy of each of the following:
Taken by Sally Bradley (paperback)
Homestands by Sally Bradley (paperback)
Walking on Sea Glass by Julie Carobini (paperback)
Keep Holding On by Melissa Tagg (paperback)
Isle of Hope by Julie Lessman (paperback)
Hazardous Duty by Christy Barritt (paperback)
Told You Twice by Kristen Heitzmann (ebook – or Told You So ebook)
I'll Be Yours by Jenny B. Jones (paperback)
Intermission by Serena Chase (ARC paperback when available or winner's choice of one Eyes of E'Veria paperback)