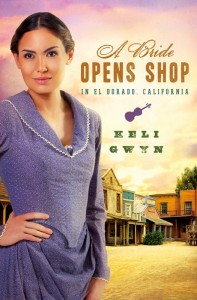 Synopsis:~
An ever-resourceful widow, Elenora Watkins arrives in El Dorado ready to go into partnership with Miles Rutledge. When he refuses, Elenora becomes the competition across the street. Is this town big enough for the two of them?
Miles can't help but stick his well-polished boot in his mouth whenever he comes face-to-face with Elenora. Can he find a way to win her heart while destroying her business? Miles's mother, Maude, is bent on Elenora becoming her new daughter-in-law while Elenora's daughter, Tildy, thinks Miles would make a perfect papa. How far will these meddlers go to unite this enterprising pair?
My take:~
Keli Gwyn provides readers with a real treat with her first foray into the world of fiction. Penning an entertaining and in depth historical romance, she ensures readers will be coming back for more of her dynamic and genuine characters, snappy dialogue and intriguing storylines.  Keli has created a unique hero in Miles, charming and intractable in equal measure, while Elenora is fiercely independent, compassionate and determined. Infused with humour, authentic interactions and a glimpse into the Wild West, A Bride Opens Shop in El Dorado, California is a stellar beginning to what I hope is a long career for Keli Gwyn.
With thanks to Barbour and the author for my review copy
Relz Reviewz Extras
Character Spotlight on on Miles and Elenora
Keli's Author Alert
Visit Keli's website and blog
Buy Keli's book at Amazon or Koorong