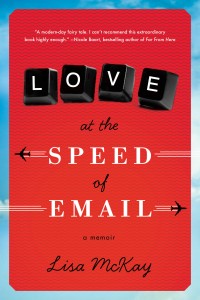 Synopsis:~
Lisa looks as if she has it made. She has turned her nomadic childhood and forensic psychology training into a successful career as a stress management trainer for humanitarian aid workers. She lives in Los Angeles, travels the world, and her first novel has just been published to some acclaim. But as she turns 31, Lisa realizes that she is still single, constantly on airplanes, and increasingly wondering where home is and what it really means to commit to a person, place, or career.
When an intriguing stranger living on the other side of the world emails her out of the blue, she must decide whether she will risk trying to answer those questions. Her decision will change her life.
My take:~
Nothing short of brilliant!
Lisa McKay writes with heart and soul in this beautifully honest memoir about her journey towards love and a place to call home. Written in a relaxed and intimate manner, Lisa shares memories from her nomadic childhood that instilled in her a passion for humanitarian work yet leaving her wondering where to call home. With wit and insight, Lisa traces her uncommon connection to a man she has never met, their mutual heart for humanity and the resultant internal questioning regarding suffering and faith. Self deprecating humour, penetrating observations and authentic self disclosure make Love at the Speed of Email a brilliantly moving and challenging story; both funny and sad; reflecting Lisa's deeply compassionate heart and wicked sense of humour. It is a must read for anyone with a pulse!
With thanks to the author for my review copy
Relz Reviewz Extras
Interview with Lisa and Mike
Read the first chapter of Love at the Speed of Email ~ Spinsters Abroad
Review of My Hands Came Away Red
Character spotlight on Cori
Interview with Lisa
Visit Lisa's website and blog
Buy Lisa's book at Amazon or Koorong