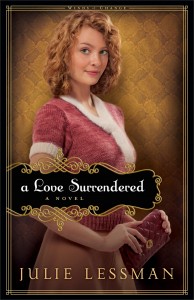 Synopsis:~
Orphaned in Iowa, Annie Kennedy moves to Boston to stay with her spinster aunt. She longs for romance to fill the void left by her parents' death. But when she falls hard for Steven O'Connor, the man who broke an engagement to her sister, Annie is worried. Will he break her heart too when he discovers who she really is?
With heart-pounding romance, intense family drama, and emotional twists and turns, A Love Surrendered is everything Julie Lessman's many fans have been waiting for.
My take:~
The final instalment in the Winds of Change series has everything readers have come to love about a Julie Lessman novel ~ drama, angst, passion, love, Irish tempers, feisty woman, and stubborn men! Steven's poor choices have been highlighted in previous books so it was enjoyable to see him challenged to become a man determined to do what was right rather than what suited his own desires. Annie is a sweet girl, a little vulnerable as she ventures into Boston's nightlife before taking responsibility for her actions and renewing her faith. When Steven and Annie's paths cross, both wrestle with attraction, secrets, and dreams of a future. Julie's stories are always entertaining and never boring but I found myself frustrated by the deceptions perpetuated by a number of the characters upon  their spouses, once again. This is a familiar thread in both of Julie's series and I would have preferred a little more originality in the storyline. While I'm not always a fan of tying up all the loose ends, it was charming to see the O'Connors all experience their happily ever afters. Julie has certainly created a family that will stay in readers hearts and minds for a long time to come. In the meantime, I look forward to some meeting more memorable Lessman characters when her new series launches with Love at Any Cost, set in San Francisco during the Gilded Age.
Available October 2012 at your favorite bookseller from Revell, a division of Baker Publishing Group.
With thanks to Revell for my review copy
Relz Reviewz Extras
Reviews of A Light in the Window,  A Hope Revealed,  A Hope Undaunted, A Passion Most Pure, A Passion Redeemed & A Passion Denied
Character spotlights on Sean & Emma, Cluny & Katie, Lizzie & Brady
Julie's FamilyFiction Plus
Interview with Julie
Visit Julie's website
Buy A Love Surrendered at Amazon or Koorong