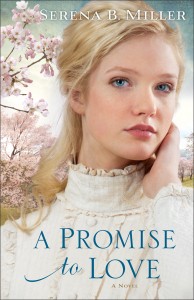 Synopsis:~
Ingrid Larsen, a young Swedish immigrant, arrives in Michigan in 1871 to search for her brother who has disappeared into the woods to work the dangerous lumber camps. Destitute and barely hanging on to hope, she encounters a newly-widowed farmer who is struggling to raise five children on his own. Marriage would solve both of their problems, and so Ingrid proposes to a man she barely knows. She will fight to protect her new family–but the hardest battle of all will be winning the heart of her new husband.
My take:~
Serena B. Miller takes the well used marriage of convenience tale and turns it into an engaging story with multi-layered characters,  a unique setting and faith that matters. I enjoyed Ingrid's devotion to her new family and her determination to hold Joshua accountable for his attitude and behaviour towards her. While I find dialogue in broken English a little distracting, I appreciate the effort to be authentic to Ingrid's circumstances. The circumstances surrounding Joshua's first wife's death add substance to the story, particularly when Joshua realises some truths about their relationship.  While there was an abrupt transition or two between some scenes, Serena has penned an appealing historical romance readers will enjoy. Serena's inspiration for the story is a personal one and many of the events based on true occurrences, making them more fascinating.  For those who adore a marriage of convenience story, A Promise to Love should not be missed.
Available October 2012 at your favorite bookseller from Revell, a division of Baker Publishing Group.
With thanks to Revell for my review copy
Relz Reviewz Extras
Visit Serena's website and journal
Buy A Promise to Love from Amazon or Koorong