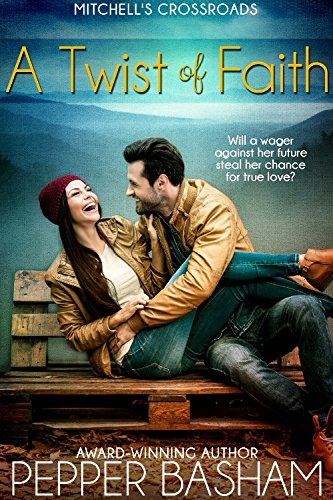 Synopsis:~
Love does not have an accent …
Dr. Adelina Roseland has worked ten years in research as an accent reduction specialist to attain her dream job. But a secret wager to transform Appalachian cattle farmer Reese Mitchell into corporate material challenges Adelina in ways she never expected, threatening her new position.
For one, Adelina didn't plan for the faith and friction of Reese, or the unexpected influence of his chaotic family. Now, drawn into a culture she'd tried to forget, Adelina finds the warmth of family, the hope of faith, and the joy of love melting away the deep wounds of her past.
But when Reese discovers that he's a pawn in her climb up the academic ladder, will he forgive Adelina's deceit or will their miscommunication end in two broken lives?
My take:~
Contemporary romance readers are in for a treat when they pick up Pepper Basham's first Mitchell Crossroad's novel, A Twist of Faith. Engaging and witty dialogue is coupled with electric attraction between Adelina and Reese, enhanced by entertaining secondary characters, and a fun twist on the My Fair Lady trope readers will love. Pepper's experience as a speech-language pathologist lends authenticity to the tale and her love for Appalachia shines. Pepper has penned a joyous story, still including the necessary conflict and heartbreak required to give a great romance is substance and heart. If Melissa Tagg's and Denise Hunter's stories float your boat, you will want A Twist of Faith in your hands today!
With thanks to the author for my review copy
Relz Reviewz Extras
Review of The Thornbearer
Visit Pepper's website
Connect with Pepper: Facebook || Twitter
Buy at Amazon: A Twist of Faith