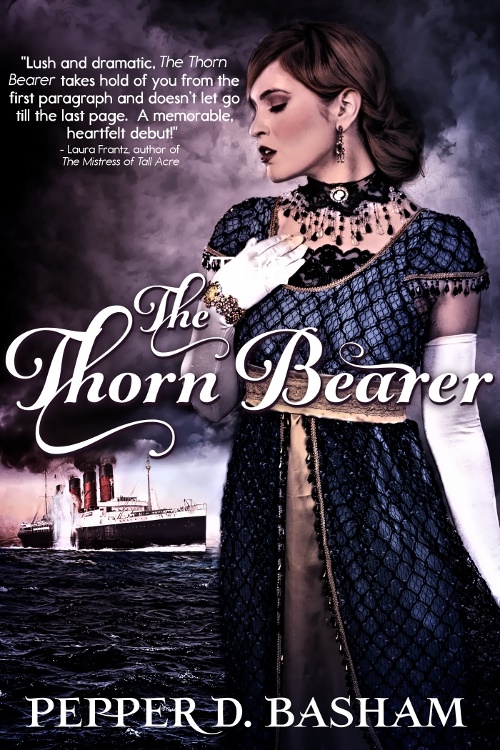 Synopsis:~
Ashley Dougall has a terminal disease and forgiveness is the only cure.
Ashley Dougall's father stole her innocence, her selfish fiancé stole her heart, and unforgiveness is slowly stealing her life.  Drawn by the desire to help others, she tries to escape haunting memories and enlists her services as a nurse in war-torn Europe.  Along with her childhood friend and fiance's brother, Samuel Miller, the fragile threads holding Ashley's life in place one-by-one begin to snap. From the deck of the ill-fated Lusitania to the smoke-filled trenches of WWI, Ashley must choose between forgiveness of the past, life in the present, and a Savior who is willing to help her face them both.
My endorsement:~
Nothing engages my reader heart more quickly than a debut author who surprises me with an evocative and enthralling novel. Pepper Basham is once such author and her novel, The Thorn Bearer, harbours both sweet gems and gritty shale within its covers. Tender, unrequited love touches your heart, while the shame cloaking a young woman from childhood will rend your soul. Set against the epic backdrop of World War I and the sinking of the Lusitania by the German Navy, The Thorn Bearer is a story of survival and sacrifice that kept me turning pages well into the night. Readers of Elizabeth Ludwig, Elizabeth Camden, and Maureen Lang will be fascinated by this fresh voice.
With thanks to the author for my review copy
Relz Reviewz Extras
Visit Pepper's website
Connect with Pepper: Facebook || Twitter
Buy at Amazon: The Thorn Bearer