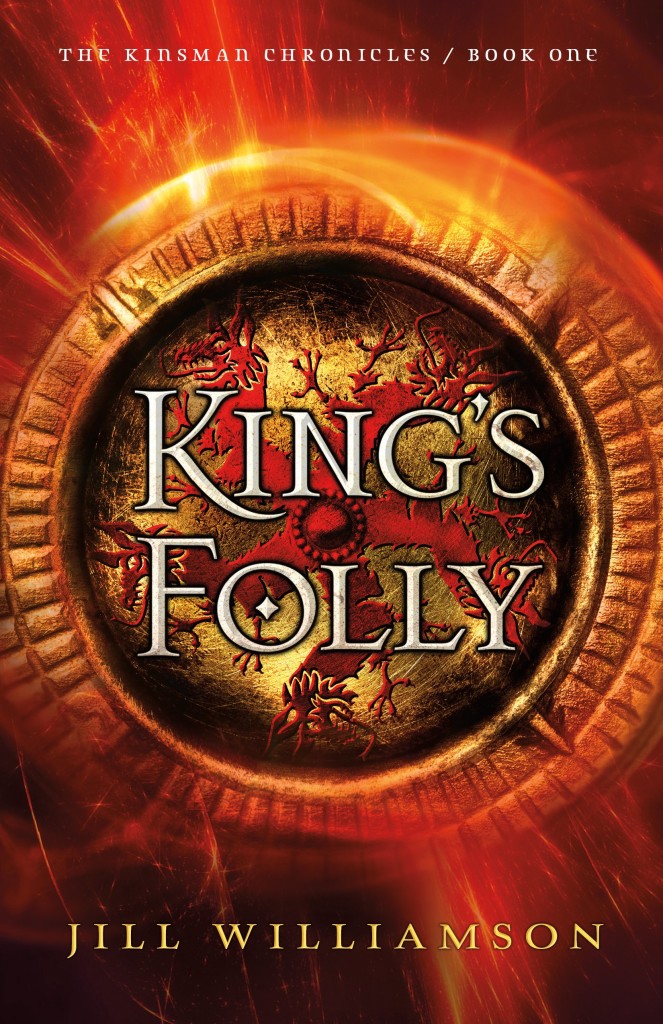 Meet Prince Trevn in
Jill Williamson's
fantasy novel
King's Folly
Bethany House
******
The Story

The gods are angry.

Volcanic eruptions, sinkholes, ground shakers–everything points to their unhappiness. At least that is what the king of Armania believes. His son, Prince Wilek, thinks his father's superstitions are nonsense, though he remains the ever dutiful First Arm of Armania.

When a messenger arrives and claims that the town of Farway has been swallowed by the earth, the king sends Wilek to investigate. But what Wilek discovers is more cataclysmic than one lost city. Even as the ground shifts beneath his feet, Wilek sets out on a desperate journey to save his people and his world. But can he do it before the entire land crumbles?
Introducing
Prince Trevn Echad Chorek Nathek Hadar of Armania
(I once stumbled onto Prince William's full name. It was so crazy long that I decided to give the princes in my Kinsman Chronicles series long names as well. For Trevn, each name simply works its way up his family tree. For example, his father is Echad. His grandfather is Chorek, etc.)
Brief physical description
At fourteen, Trevn is in that awkward adolescent stage where he is growing way too fast. He's tall and skinny. He has a dimpled smile and long neck. His clothing is only wrinkled because he often sleeps in it and is too impatient to wait for his servant to help him dress each day. He often has charcoal-smudged fingers because he loves to draw maps of the surrounding land.
Resembles… 
Trevyn looks like Alfie Enoch (who played Dean Thomas in the Harry Potter movies). It always helps me to print out a picture of my characters so I can look at them when I'm writing. I also think of him as Jack Skellington: super tall and super skinny.
Strengths and weaknesses
Strengths: Trevn is incredibly smart. Unlike the other princes, the commoners like Trevn because he knows how to talk to them and treat them like humans. He is artistic, in that he likes to draw maps of the ever-changing coast lines in my storyworld. He is also great with details.
Weaknesses: Trevn isn't so good at listening to those in authority (or any noble, for that matter), and tends to tune people out. He feels like people only want to know him to take advantage of his political connections. This makes him sensitive and indifferent at times.
Quirk (if any)

Trevn likes to run everywhere, often to get away from his bodyguards. He also likes to climb the walls of the castle and run across the rooftops of the city. He has dubbed himself a Renegade—someone who stands against the establishment—and seeks to be his own man, even if it completely annoys his parents.
Your inspiration for the character

I mentioned the historical figure of "King Trevn the Explorer" several times in my Blood of Kings books, and so when I started writing this prequel series, I knew I wanted to write about Trevn in particular. The title of "King Trevn the Explorer" was too tempting not to "explore" for myself to see what this fellow was all about.
Background to the story 
In my Blood of Kings trilogy, I mentioned that hundreds of years ago Arman (who represents God) bestowed the magic of bloodvoicing upon those with royal blood when the kings first came to the land of Er'Rets. That got me thinking about where these ancient kings had come from and why they'd left their homeland. I started playing around with the idea of a prequel series, and I was hooked.
Thanks Jill
Relz Reviewz Extras
Visit Jill's website and blog
Buy at Amazon: King's Folly or Koorong