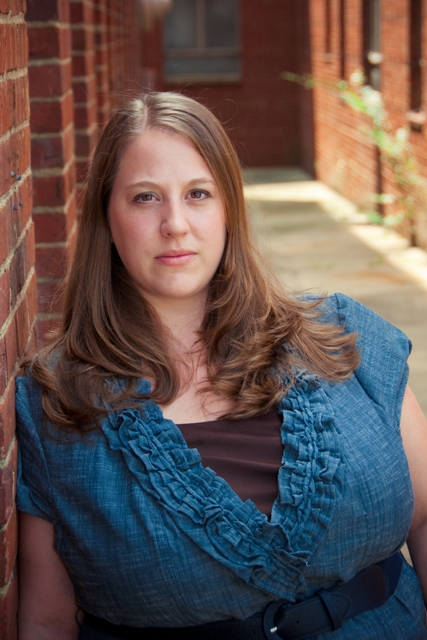 I'm delighted to introduce
Erynn Newman
and her debut romantic suspense
Out of Darkness
*****
Who is Erynn?
ERYNN NEWMAN is a pastor's kid, raised in churches all over the Eastern Seaboard. Since earning her degree in Christian Studies, she has traveled the world and served as a missionary, a counselor, an ESL teacher, and a nanny. Though she has never worked with the CIA, her DVR contains a veritable Who's Who of international spies. She is a Carolina girl, a wife, and Mama to a very busy little boy, two cats, and a gaggle of characters that live inside her head.
When her husband is killed by a car bomb on their wedding day, Elisabeth literally watches her dreams go up in smoke.  Three years later, she's beginning to figure out life without Drew—with the help of his best friend and CIA partner Gabe. 

But Drew is alive! He escapes his captors and returns for Elisabeth. Together they must rebuild what was lost with international arms dealers on their trail and an ever shrinking list of people they can trust. Gabe should be at the top of that list, but his feelings for Elisabeth may stand in the way. All three of them end up in a fight for their lives that will test their loyalty to God, country, and each other.
Here's an excerpt from Out of Darkness
Gabe put some coffee on and rummaged through his liquor cabinet for something he could add to it—something to take the edge off. Wasn't there something he was supposed to be doing? He found his cell on the counter and checked his calendar. Nothing planned.
Then, what?
A memory from yesterday flashed like a physical blow, and he closed his eyes against it. But that only made it more vivid. He was holding Elisabeth, looking down into her face as he dipped her. Her smile was radiant. And Drew. He'd pulled her away and kissed her like the world outside their happiness didn't exist. But then he'd handed her back, placed her in Gabe's arms. "Take care of her."
And Gabe had promised. "I'll guard her with my life."
Elisabeth. How could he be standing here self-medicating and feeling sorry for himself? His best friend made one request of him. One.
He ripped the coffeemaker plug from the wall and threw on a pair of jeans and a T-shirt. The drive to the house was too familiar. His stomach knotted as he stopped under the huge oak in their front yard. The smell of a family barbecuing down the street only added to the quiet and picturesque atmosphere. This place was the backdrop of a Norman Rockwell painting. It didn't seem possible that inside, all the life and laughter had been ripped out.
He pounded up the stairs and knocked on the door. When she didn't answer, he started to walk around back, but as he passed the dining room window, he stopped. Nothing could have prepared him for what he saw.
Elisabeth stood in the middle of the living room surrounded by canvases, the paintings, as well as her hands and her wedding dress, all covered in bright orange and red paint. She stabbed frantically at the painting in front of her.
All of the air leaked out of his lungs. He found the silver key on his key ring, the one Drew had given him in case of emergency. This definitely qualified. He ran around to the front door and let himself in. She didn't turn when the door clicked shut behind him.
Three of his long strides brought him to her side, and he gently took the paint brush from her hand. "Elisabeth . . ."
She looked up at him, the sparkle gone from her brown eyes. "You're here."
Her knees buckled, and he caught her, bringing them both down to the floor. "I should've been here sooner. I'm sorry."
Her bottom lip trembled, and she looked away. He was way out of his depth here.
He squeezed her shoulder awkwardly. "Have you slept?"
"I couldn't. I kept . . . seeing it. Every time I closed my eyes. I thought maybe if I could paint it, I could get it out of my head, but it's like it's burned into my brain." She scratched at the dried paint on her hands. "It's never going to go away, is it?"
He wanted to promise her it would, that everything would be okay. That one day she'd wake up and feel whole again. "I don't know."
They lapsed into silence, sitting on the living room floor, surrounded by her images of death. Grief spilling out of both of them and filling the too-small living room. Do something.
"Is there any food here? Contrary to popular belief, I can cook things besides pasta. I make a pretty mean omelet."
She shook her head. "I didn't buy any groceries. We were . . ." Her chin trembled, but she drew in a shaky breath and met his gaze. "We were supposed to be on our honeymoon."
Right. Way to go, idiot.
"Well, I can run out and get stuff. I'll make you anything you want. Just name it."
"Can you get the stuff for Fluffernutters . . . and milk?"
"Absolutely. I'll be back in a flash."
She attempted a smile, and the result broke his heart.
As soon as he hit the porch, he reached for his cell phone and scrolled down to "Allen Home." Her mom answered on the second ring, her voice sounding thin and strained. "Gabriel?"
"Yes ma'am, it's me."
"Are you with her? Is she—?"
"She will be." He started the Charger and backed out of the driveway. "I'm going to take care of her."
"Thank you." She sniffled, and he could tell she was crying again.
"Mrs. Allen, I need your help."
"Of course, dear. Do you need me to come over?"
"No, it's nothing like that. It's just . . . can you tell me what a Fluffernutter is?"
**********
Enticed?
Erynn has released a novelette, First Light, a series of vignettes set over the course of fifteen years about Drew and Elizabeth, leading up to the culmination of their story in the full-length romantic suspense novel Out of Darkness. It's available as a FREE digital download.
Drew and Elisabeth meet as teenagers, and they fall in love. Sounds like a perfect recipe for happily ever after. But when Drew's father is killed at the Pentagon on September 11th, he finds himself spiraling into an abyss of rage. To avoid dragging the woman he loves down with him, he has to walk away, even if it means losing her forever. He joins the CIA and eventually makes things right with God, but is it too late to make things right with Elisabeth?

Get your hands on it here
If you are fan of romantic suspense novels, then be sure to add Erynn's books to your wishlists and TBR piles!
Connect with Erynn